Osprey is a pack company headquartered in Cortez, Colorado and has been around since 1974. The packs are made in Vietnam where the company founder now lives. The Osprey Switch 36 is the biggest of the Osprey Snow Series. This pack does not look or feel like a 36 liter pack when it is on your back. The hatchback style lid accesses the main compartment from the back of the pack. The Snow Shed back panel keeps snow off the pack. It is designed to hold a water bladder with the tube and nozzle shielded from the weather by the insulated shoulder strap.
Osprey Switch 36 Pack Review
Weighing it at 3 lbs. / 1350 g, this is a decent 36 liter pack. It sits quietly and comfortably on your back while skinning up or skiing down. This pack is intended for slack country day use, but functions well for longer day tours.
The main compartment is accessed by a large zipper with large loops on the zipper handles. This compartment is separated by a divider to keep your snow gear away from your clothes. This creates two pockets, with one larger then the other. On one side of the divider are pouches to keep misc. items, like your note pad, organized. You can also access this pack from the side, but I rarely used this feature since access from the top is easy. This access also keeps the back panel away from the ground as you access the main compartment.
The large hip belt pockets offer easy access to many small items. The large loops on all the zippers are great and allow for easy gripping with your gloves on. The large zipper of the main compartment provides easy opening and the large teeth are robust and should endure their fair share of abuse. When open, the main compartment lid exposes more than half the circumference of the opening allowing easy manipulation of the pack contents.
The shoulder straps contour into your chest keeping the pack snug to your body. The chest straps also aids in keeping the pack to your body. The top of the main compartment has a smaller pouch that can be used to store your helmet, or other items you need easy access to. This pocket has high sides so when it is open your smaller items don't fall out.
One limitation is the 360 cm probe will not fit into the smaller of the main compartments so must be in the larger side where the clothes are. All pockets are accessed via zippers. It would be useful to have a pouch that you can easily slip items in and out of without a zipper.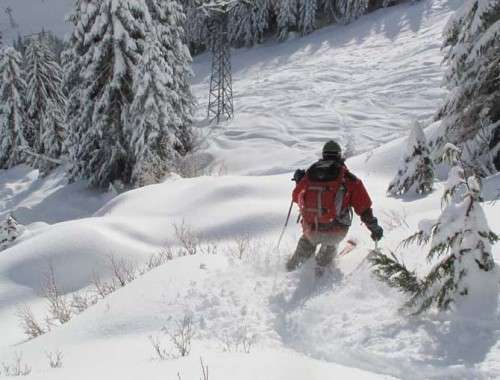 Good Switch 36
Comfortable fit, very good suspension system
Compartments can separate dry and wet items
Easy top access
Flexible and easy-to-use ski carry system
Bomber construction
Bad Switch 36
A plethora of zippers can be prone to failure, but after 65 days I've had no problems
An outside mesh, quick-access pocket would be nice to have
Is not expandable like many other top-loaders
Typical Pack Contents
For a typical day tour I carry: A down jacket, Gore-tex jacket, spare climbing gloves, downhill gloves, extra toque (that's a beanie for you folks down South) and balaclava, 500 ml thermos, 750 ml water bottle, lunch bag, extra softshell jacket, skins.
The Bottom Line on the Osprey Switch 36
The Switch 36 is great day ski pack for shorter or longer tours. It also worked great for inbounds turns since it is quite compact. When you have to take it off and place it on your lap when going up a chair lift it is comfortable to hold and not cumbersome. It has been very durable comfortable all season long.
Buy Now: Find Osprey Ski Packs at REI