Osprey has been in the pack business since 1974 and is headquartered in Colorado. The Osprey Variant 28 is the smallest pack in a line designed for "ultimate climbing and scrambling". Osprey wanted me to try the Variant 28 for ski – mountaineering. I sometimes think of ski-mountaineers as people who climb mountains by easy ways so they can ski off relatively mellow (by climbing standards) aspects.
It is, however, a difficult outdoor activity for which to design equipment since a ski-mountaineer confronts a wide variety of conditions and has to use different modes of locomotion to get up and down mountains. Translation one – this means that a pack must potentially be able to carry a lot of gear. Translation two – this also means that a pack must be able to carry a load in a secure fashion. Ski-mountaineering is best not accomplished with bits of equipment dangling all over the place. Not only will you look like a Christmas tree; it simply isn't safe.
Osprey Variant 28 Overview
The Variant is a light pack. The color (a brilliant pyro red) is also dead sexy . I personally want to be as visible as possible if I'm skiing trees or out on a summit or icefield (and not just for pictures). Looks aside, I won't use a heavy day pack. The Variant 28 weighs 790g or 2lbs 6 oz. It has 1700 cubic inches or 28 liters of carrying capacity. My previous day pack, a Marmot LaMeije was a nice pack but it weighed 3lbs 8 oz. I can carry a pound and two ounces of extra food (for example) when using the Variant with more comfort and without sacrificing useful features – this is very important to me..
I touched briefly on comfort. Osprey's suspension system is magnificent. There is no other word to describe its sheer comfort. The packstraps, hipbelt and back are adequately padded but not overly so. It is easy to carry a load using the Variant and more importantly, it is easy to secure the load so it doesn't swing wildly while you are engaging in either ascent or descent. The load is also somehow magically suspended off your back even when the Variant is fully loaded so at least a bit of air circulates between your back and the pack.
The Osprey Variant has useful features without being gimmicky. I admit to preferring the black hole type of packs where one can drop all manner of equipment into a basic sack. I don't need a separate shovel pocket, or pocket for cosmetics, hip pockets for food or other useless accoutrements. The Variant is this type of pack. As with a standard top-loader black-hole design, the main compartment has a spin drift collar secured by a cord loop. The top compartment can be taken off but is light enough and has enough functional utility that I usually left it on. The only zippers on the Variant are on the top compartment, which was roomy enough for a miscellany of smaller items or things you might want to access quickly.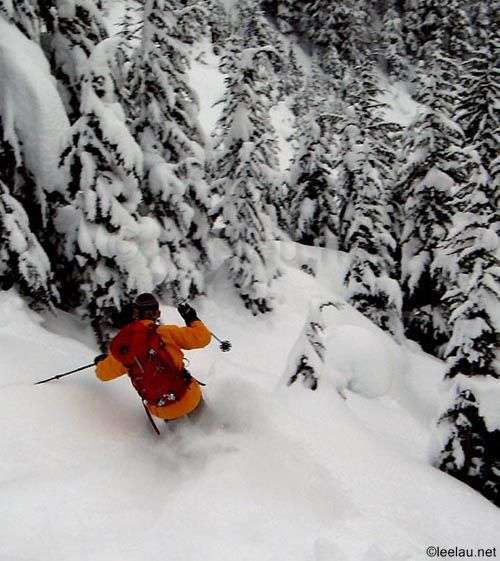 Here's a quick run-down of features I thought were useful for ski mountaineering:
Harness loops. I don't sling gear there often as I prefer to use a climbing harness but it was useful to secure a probe on a carabiner if I was probing for glaciers on an uptrack. Also useful to hang small things like gloves that you didn't want to drop in the snow.
I really liked the ice-axe loop (see the website for details). You can grab your axe without taking off your pack as you can release a catch and slide the axe off from the bottom of your pack. Nice in a dicey steep situation when encountering hard snow or ice.
I also really appreciated the ice-axe holster and the fabric feature which allows you to conceal the pick or adze of your axe. If you are skiing and tumble down a slope its nice to know that your axe won't skewer you if you do end up getting entangled in some bizarre fashion
Straps that are easy to operate with gloves are mandatory for winter-use packs. The Variant passed this test with flying colors.
The strap at the top of the spindrift collar of the main compartment was useful not only to cinch down the pack but also to attach stuff that you know you will use in short order and don't necessarily want to bury in a pack- eg skins, jacket, climbing rope.
I missed having a dedicated crampon patch but got over it when I realized that the Variant's outer fabric was tough enough that my favorite slam-dancing accessories didn't puncture the pack.
A-frame carry was very secure. The side carry straps don't slip. I did however, miss the ease of rigging a quick side-carry but that would involve extra straps and more gimmicks and probably more weight.
It's a nice touch to have a foam pad in the back of the pack. You can slide that out and sit on it or alternatively just sit on the pack itself.
Typical Pack Contents
I carry a bit less then most so the 28l pack contents were plenty for me. Even in the depths of (my admittedly mild) winter, I will carry:
1 liter Nalgene water bottle
Gore-tex shell
Skins
Hat
Goggles
Sunglasses (I'm an optimist)
Small spare gloves
Down jacket
First aid kit
Probe/Shovel/Snow Saw
Food
Small tool kit
For longer trips or if mountaineering gear is needed I might also carry:
Rope – 30m x 8mm
Light harness (Camp XLH "Acm G-string")
Small rack and some screws
Crampons
Axe or ice tools (the picket in this shot is for show – I rarely use it)
Siltarp
All of this fits quite nicely in the Variant. The only ungainly thing flapping around on the outside are my crampons, pictured here wrapped fetchingly in an old thick cotton garment. I had enough space to put the crampons under the top compartment but thought it would be nice to show how the Variant handled loads in such adept fashion.
The Good
Stunning good looks and dashing color
Light, light, light
I like top-loading black-holes and this is a prototypical version of that type of pack
Feels like falling into a down bed whenever you carry a load with this pack – it is that comfortable.
Loads are easy to secure
Can carry a lot of stuff given the relatively small size (see pack contents below)
Lots of climbing features that by happy accident, make the Variant ideal for skiing when equipped with sharp pointy objects
The Bad

Will not appeal to those who like futzing around with many compartments and gimmicky features
Dedicated crampon patch would be nice
Would be nice to have a diagonal carry for skis
The Bottom Line: Osprey Variant 28 Pack
When my wife first persuaded me to try this pack I complained. As with all things, I quickly found out that she was right and the Variant became my favorite pack. My concerns and suggestions for improvements are minor and frankly pedantic. I find it hard to conceive of how one could improve on the Variant 28. It is a pack for those who crave function, want fashion yet do not want the added weight that comes with fluff.
Buy Now: Find Osprey Ski Packs at REI