If the word 'baja' conjures images of beautiful days with laid-back friends, then I think you're thinking along the same lines of Outdoor Research with their new Baja Down Pullover. It's a piece that balances the fun and the functional, and it definitely will make your buddies jealous.
Outdoor Research Baja Down Pullover Features:
Water- and wind-resistant nylon face fabric, 10D face 20D liner
800-fill responsibly sourced goose down
Fleece-lined kangaroo pocket
Left-sided zip for easy on/off
Low-Pro binding elastic cuffs
Elastic drawcord hem
Average weight size L: 9.2oz.
MSRP: $249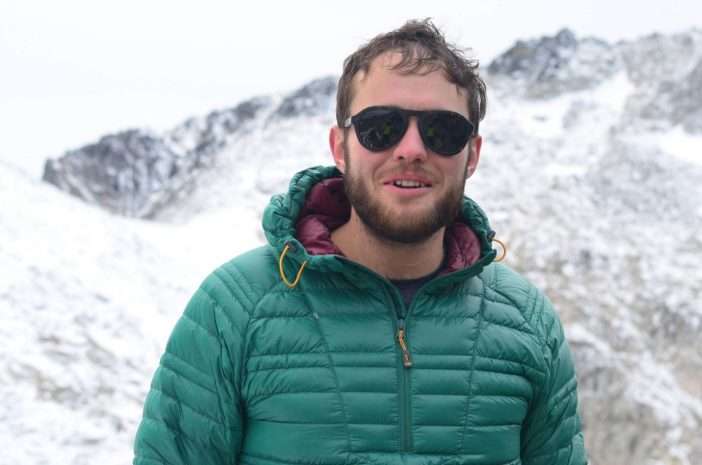 Half the zip, twice the fun
I should state, first, that I love pullovers. They always feel cozy to me, and I'm a fan of kangaroo pockets. I think I've reviewed 3-4 pullovers in the last few years, and I always get complements from my friends. This was also true with the Outdoor Research Baja Down Pullover, which won admirers for its fun retro color scheme and it's thoughtful design.
The idea behind a pullover is, from a technical perspective, to save weight. Zippers are a heavy part of modern outdoor gear, since it's one of the few parts that need to be made out of metal and plastic instead of lightweight nylon. If you can cut that zip in half, then that's a fairly significant weight savings. At the same time, pullovers are fun because they have big, generous kangaroo pockets which are undeniably more enjoyable to use than conventional hand pockets when it's cold.
I love the design of the Baja pullover because the kangaroo pocket is fleece lined, making it ideal for warming up cold hands. It's much easier to warm up your hands when they're in a pocket together, rather than being in stuffed into two different hand pockets or left in wet gloves. The kangaroo pocket snaps on each side to keep valuables in place.
I also find that OR's half-zip design works well. The main zipper has a draft tube and a zipper garage which enhance comfort and keep out the wind. The zipper pulls well and I had no issues with it snagging. There's also an 8″ side zipper on the right side of the jacket. The idea here is that you can open it up to make getting the pullover on or off easier. This works well, and it's an appreciated touch since the length of the pullover is really quite long. It goes all the way down over my butt, which is nice for the added protection/insulation but could make it hard to get the pullover on/off without unzipping the side zip first. Note, also, that this extra zip totally erases any weight lost through the main half-zip.
The design of the hood is good, but a bit simplistic. It can fit under a helmet but it's not really intended to be used with a helmet. There are only front hood adjustments, no rear one, so it's harder to get the hood to conform to your head as you look left to right. I'm not sure why you'd want to be climbing in this jacket in the first place – the nylon body has no inherent stretch. That said I do like quality of the materials and stitching in this piece. Nylon is more durable than polyester, and the wind- and water-resistant properties of this jacket are good. Wind resistance could be enhanced by a hung liner; this jacket's baffles are sewn-through and the wind cuts through it. However the 800-fill goose down is wonderfully light and fluffy.
I was not able to find specific information about the fill weight of this jacket – that is, how many ounces of insulation there are in it. So I can only make a qualitative judgment about how warm it is for its weight, and I would not say that this is a remarkably warm jacket for its weight. Definitely more of a shoulder season puffy than a winter item, although I think it would be great for resort skiing. I also find the fit to be quite moderate – I'm 5'11" 190 lbs and the Large fits me perfectly. The 10D/20D nylon combination will be moderately durable, but do not trust this fabric around catchy brush or abrasive rock.
Other thoughtful features round off the package nicely. I like the elasticized cuffs, which are minimalist and will slide easily under glove gauntlets this winter. I also like the drawcord hem, which helps keep the pullover in place when you're active. This is particularly nice on such a long garment, since it will happily sit beneath your butt all day. Finally, the jacket packs up very neatly into its main kangaroo pocket – making it a great adventure buddy to toss in your park or car, carabiner loop included.
The Good:
Great quality of construction, high quality nylon and 800-fill goose down
Thoughtful, minimalist design and feature set
Fleece lined kangaroo pocket will change your life
Main and side zippers pull smoothly
Extra length means extra protection
Hem and cuffs work well
The Bad:
Extra side zip negates the weight shaved off the main zip. Only a bad if you were looking for an ultralight piece.
Hood design would be improved with an extra rear adjustmentThe Bottom Line:
The Bottom Line: Outdoor Research Baja Down Pullover
Is this a technical piece? Is this a lifestyle piece? I'm not sure, it really is straddling the border between the two. In any case, it's 100% fun and that's an excellent quality in a piece of gear. I love the fleecy kangaroo pocket and the relaxed vibes of this pullover.
Buy Now: Available from Backcountry.com