The appearance and design of the Patagonia Ascentionist series of packs has morphed and undergone revisions over the years, but what hasn't changed is the respect that the pack commands among alpinists. It's just a simple, durable tool for carrying stuff up mountains or walls.
Patagonia Ascentionist 40L Features:
Lightweight, bomber, tear- and abrasion-resistant CORDURA® nylon/polyester ripstop
Asymmetrical spindrift collar opens wide for easy packing
Drawcord simultaneously cinches collar and closes lid for a secure seal
High-density, removable foam back panel
Padded hipbelt can be removed to create a simple webbing belt
Daisy chains on front provide lashing options
Compression straps on sides help manage different-sized loads
Zippered pocket on lid offers easy access to small items
Weight: 1lb 15oz
MSRP: $179
Versatility in backpack form
I've enjoyed the Ascentionist through a variety of different climbing disciplines. It's traveled glaciers with me as well as plenty of alpine trad, and soon this winter it'll be coming up ice routes. It's a versatile pack that is specifically designed to be adapted to a variety of situation and needs, but without adding on a bunch of features to accommodate different disciplines.
The Ascentionist has a very clean silhouette. The only external features are a small zippered pocket on the lid, ice axe attachment points and daisy chains. There are no water bottle pockets, no extra shock cord bits and no extra zippers or extra plastic clasps to break. Load compression is done by two compression straps on each side, which can also hold onto pickets just fine. Up top there's a single zippered pocket which can actually hold quite a bit, like bars, a SPOT, maybe a tiny first aid kit and other essentials that you want quick access to.
Suspension on the Ascentionist is taken care of by a very versatile system. The backbone is a high-density foam back panel that provides some structure to the pack. Mind you it's not like having a true frame sheet or metal rods giving the pack support, but it's much lighter and also removable. The suspension on the 40L differs slightly from the smaller version, since the hip belt comes with removable pads that have a gear loop on them. If you want to go lighter, just remove the pads and you have a simple webbing belt. The sternum strap is adjustable and gets the job done.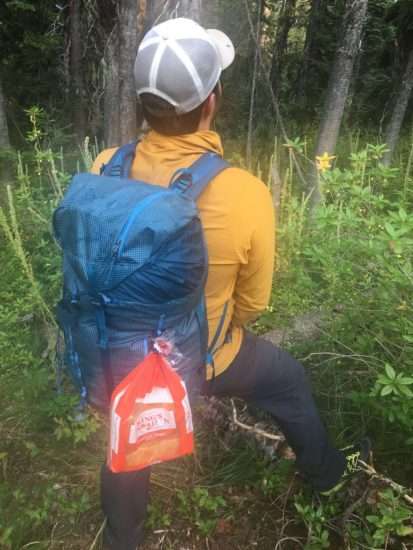 On the whole, the pack carries weight well. The suspension can't take a whole lot of weight, but the density of the foam on the shoulder straps is just right; too firm and it'll hurt, too soft and it'll pack down and cut in. Because the back panel has no actual rigid structure, thoughtlessly loading the pack can result in a curved or misshapen back panel that's uncomfortable to carry. A little care is needed. Otherwise, the hip belt and shoulder straps can comfortably carry loads in the 20's and (somewhat) uncomfortably carry loads in the 30's, while the compression straps hold things in place.
One of the Ascentionist's biggest selling points is its durability. I love how durable this backpack is. The shoulder straps are sewn down deep in the pack to become structural; the fabric is 5.5oz 210D Cordura, which is good stuff but is on the lighter end of what I'd like to see in terms of a climbing pack's fabric. That said I've taken it up a couple chimneys with my signature scraping style and don't have any punctures, so I'm satisfied (plus it's light).
The fabric also has a lot of natural water resistance, aided by a polyurethane coating. The fabric on the foam back panel is also particularly good at resisting abrasion; I intentionally thrashed it around on rock and brush and there's really nothing on it other than superficial marks. If you take care of it, it'll last. And, finally, at the very bottom of the pack is a foam insert which fends off punctures in the fabric and also helps the Ascentionist stand up straight on its own.
In use, the Ascentionist is one of the best packs I've taken out. I love the asymetrical spindrift collar, which is uncannily convenient in the mountains. It's nice to have the pack closed and sealed in a single pull of a cord, and that type of efficiency can translate into drier gear in wet weather. I don't love the webbing belt that rises from the bottom of the pack to cinch down the lid; it's already been well-reported that it can fall out, especially if it's not under much tension. I once left a belay only to look down and see the belt sitting on the ground.
The issue is basically that the small metal tab at the bottom of the belt isn't that much bigger than the tab that holds it in place; you could jerry-rig a solution here easily with a little stitching, but it's a place where Patagonia's dedication to versatility resulted in a bit of an ill-functioning part. The upside of this design, obviously, is that it's easy to pop the strap in and out or change its position on the pack.
While climbing, the pack almost disappears. A 40L pack is still fairly big, and it's meant for those trips that require extra gear or some overnight stuff. But for its size it climbs well and has quite a bit less junk on it to snag or tear than other packs. The removable hip belt pads are great on the approach and can be nice for, say, ice climbing (since they've got gear loops) but I'm glad I can take them off and just have a webbing belt on rock.
The other great thing about the Ascentionist is how adaptable it is; I love that there are multiple possible hook-in points for the strap that secures the lid, and it makes it easier to get a rope strapped under no matter how big the rest of the load is. The ice axe loops and tool toggles are excellent; you can accommodate any tool or axe, and do it easily. This is a sharp contrast to the last climbing pack I reviewed, the Gregory Baltoro, which bizarrely couldn't accommodate most Petzl ice tools.
I have two points of improvement that I would like to see. For one, the hip belt pad is a bear to get over the buckles, it's a super tight fit and some users have had to cut some webbing to make it over. Additionally, there's a small port for a hydration bladder hose, and it's waaaaay too tight for a hose nozzle to fit through. So, I stuck a knife through mine to create an X in the fabric at the port. I don't know if you've ever put a knife through a Patagonia product, but trust me. It's liberating.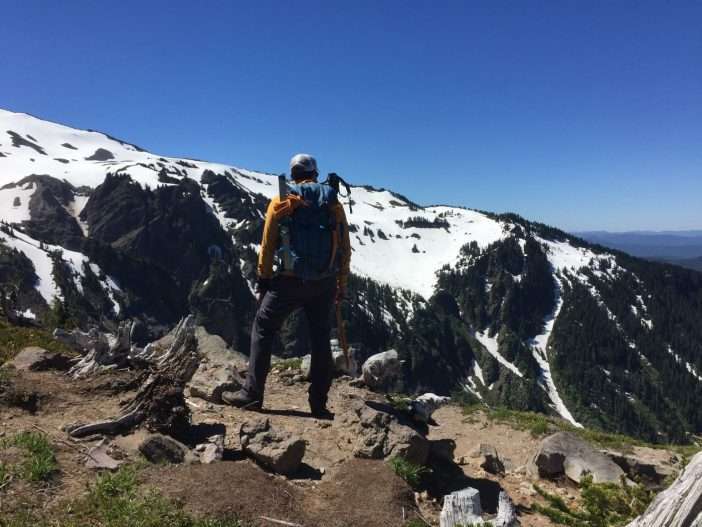 The Good
Carries well on the trail and on the climb
Fabric errs on the side of being lightweight, PU coating keeps water out
Fancy cinching main opening is really well-designed
Structural design stands upright for easy loading/unloading
Lots of versatility all thoughout the design
Ice axe/tool attachment points are versatile and strong
The Bad
Removable main strap is a little too removable; it can fall out at bad moments
Removable hip pads are great but may require cutting fabric to get off
Bladder hose port is oddly small
The Bottom Line: Patagonia Ascentionist 40L
The Ascentionist is sleek, sexy and well-designed. It's neither too heavy nor too light, and it's a good size for a wide variety of trips. The fancy opening is a major plus and all of the other features are dialed. Two of my three niggles seem substantial – nobody wants the main strap to fall off or cut fabric without good cause – but the overall package is a very strong alpine pack.
Buy Now: Available from Patagonia