Trail running in hot weather requires the right gear. Luckily, Patagonia knows this and has the ultralight and ultra-cool Capilene Cool Trail Shirt. It feels like air and breathes like a champ on even the hottest days.
Patagonia Capilene Cool Trail Shirt Features:
Capilene® Cool Lightweight fabric

Locker loop to hang dry
Tagless design
Built-in HeiQ® Fresh durable odor control
Set-in sleeve construction and underarm gussets
Regular fit
Weight: 70 grams (medium, actual)
MSRP: $39
Capilene Cool is Airy
Of course, that thick cotton shirt you have lying around isn't a great option for trail running, but just what is it that makes the Patagonia Capilene Cool Trail Shirt so awesome? For starters, it's ultralight and feels like air kissing your skin. Honestly, it shouldn't come as much of a surprise since it weighs a paltry 70 grams. In case you didn't know, that's really light.
In addition to the ultralight feel of the Capilene Cool Trail Shirt, it has excellent moisture wicking capabilities. And, it dries in a hurry. It doesn't take long here in Utah for the back panel of the shirt to dry after a long trail run. Once it does, the HeiQ Fresh odor control keeps things from getting stinky. I can comfortably wear this shirt 3-4 trail runs before it needs washing.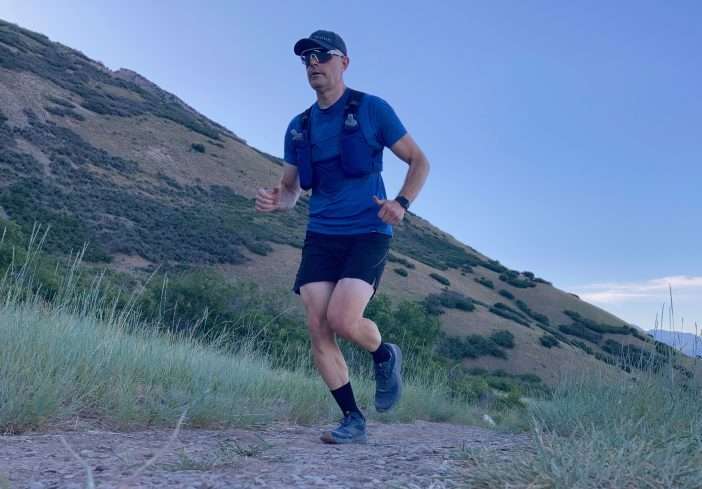 Onto the fit. I'm 5'11" and 170 lbs and the medium fits perfectly. It's a little more snug than the Arc'teryx Cormac Comp, for example. So, it may not be as comfortable of a shirt to just wear around casually. In addition, the hem length is sufficient for 90% of the time, but those occasional extended reach activities can expose a little more midriff than I'd like. I'm not calling it short, but it certainly could be an inch longer for added coverage.
At this price, it's uncommon to find a shirt with 100% flat stitching. With that, you can expect awesome comfort even when worn underneath a hydration pack. The flat seams go unnoticed and simply blend in with the fabric. The overall cut is nice for running and seems to flow with every body movement. The sleeves are close-fit, but not tight and have a good length to them.
The Good
Ultralight design
So smooth next-to-skin
Breathes super well
Dries in a jiffy
Cut perfectly for running
A great value
The Bad
Hem length could be a touch longer
The Bottom Line: Patagonia Capilene Cool Trail Shirt
If you're big on warm-weather trail running, the Patagonia Capilene Cool Trail Shirt is a great choice. It feels like a kiss of air next to your skin, breathes like a champ and dries in a jiffy. Oh, and don't let me forget… it's only $39.
Buy Now: Available from Patagonia.com