In my mind, when I think of Patagonia I think primarily of warm days fly fishing, or hot days on steep slabs, or backpacking. The touring season here in the PNW started slow but really ramped up through February, and the Patagonia Descensionist carried the load throughout a ton of fun.
Made with durable CORDURA® nylon for puncture and abrasion resistance
Asymmetrical spindrift collar opens wide for easy packing; drawcord simultaneously cinches collar and closes lid for a secure seal; side zipper for easy access to main compartment
High-density foam back panel gives pack structure and helps to support heavy loads, but can be removed for lightweight pursuits
Padded hip belt with stretch-woven stash pocket
Snowboard carry straps and diagonal ski carry loop included
Daisy chains on front provide lashing options; compression straps on sides help manage different-sized loads; zippered pocket on lid offers easy access to small items
Available in two sizes: S/M, L/XL
1046 g (2 lb 4.9 oz)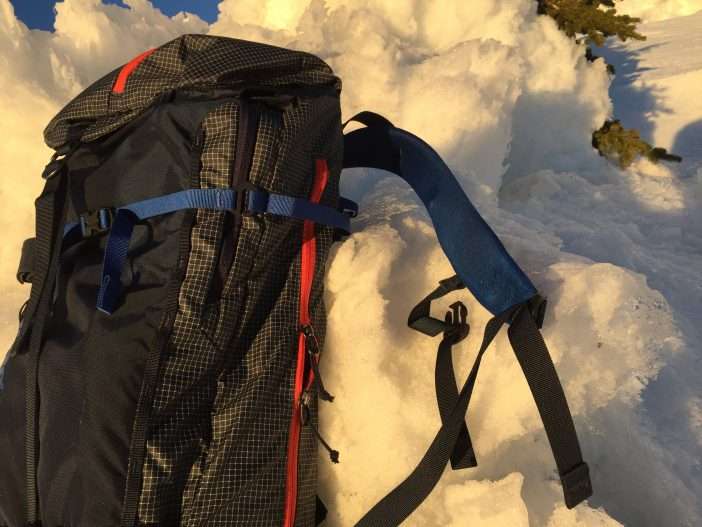 Go big by going light
So I should start off by saying that I reviewed the
Ascentionist
several years ago and still love using the pack. The Descensionist is a great take off the streamlined ethos of the summer climbing version, beefed up with what's needed to carry skis and organize rescue gear.
The foundation of the Descensionist is strong 210D Cordura ripstop. It's pretty hard to beat Cordura in terms of durability, so I'm happy to see this. The base is an even stronger 10oz 420D Cordura weave. This is not a pack that will have any trivial fabric failures. It's treated to be inherently waterproof with a polyurethane coating; this offers good waterproofing but is the type of thing that wears out over time.
The 32L pack that I tested is really quite generous for day trips. The pack is structured into two components which are separated by a sheet of fabric that doesn't really contribute structurally to the pack. The rescue compartment has elasticized loops to organize your shovel, saw and probe which is obviously a must. Overall I did like this design, it's fast to get into and the pocket is very spacious so you don't feel like you're jamming your rescue gear in there. I even fit a pair of crampons as well. Like many rescue gear pocket designs, it can be tough to return gear to the pocket if the pack is very full, but the Descensionist is better than the other pack I'm testing this winter (and will write about soon) in this regard.
The pack gives a couple of ski and board carry options. One key feature is an oversized reinforced loop which gives you a dedicated option for a diagonal ski carry. That's a great option for this pack, but there are also reinforced straps for a normal A-frame. These straps double as compression straps and, as is typical when carrying sharp-edged skis, you wonder how durable they are, but they certainly look beefed-up. Incidentally, there is an attachment point for one ice tool but no dedicated option for a second tool. The
Ascentionist
is a better dedicated option for a climbing pack.
Lastly, Patagonia also includes removable compression straps that can hook in to loops on the face of the pack, giving an option for snowboard carry. I did occasionally use this option to carry snowshoes, and I have a mild gripe with the design. Patagonia's metal hook/fabric loop design for these supplemental carry straps is versatile and lightweight. That's great. However, if you are not careful to buckle the straps back when you're done to return tension to the hooks that hold them in place, it is very easy for them to fall out of place and leave you lacking a strap.
The pack itself carries very similarly to the original Ascentionist. The backbone is a high-density foam back panel that provides some structure to the pack. Mind you it's not like having a true frame sheet or metal rods giving the pack support, but it's much lighter and also removable.
On the whole, the pack carries weight well. The suspension can't take a whole lot of weight, but the density of the foam on the shoulder straps is just right; too firm and it'll hurt, too soft and it'll pack down and cut in. Because the back panel has no actual rigid structure, thoughtlessly loading the pack can result in a curved or misshapen back panel that's uncomfortable to carry. A little care is needed. Otherwise, the hip belt and shoulder straps can comfortably carry loads in the 20's and (somewhat) uncomfortably carry loads in the 30's, while the compression straps hold things in place. The surface sheds snow well, which is key in a winter pack.
One major improvement in this iteration is that the main strap that secures the lid is sewn in rather than being removable, which is awesome because the one on my Ascentionist sometimes fell out on climbs. And the little features are working well, too: the hip belt pocket is good for snacks (although I struggled to squeeze my iPhone 6 in there), the pocket in the brain is adequate for quick-access essentials. A tiny internal zippered pocket gives you a place to keep that precious car keys. The main compartment has a side-zip giving you access to stuff at the bottom, although purists will wish it wasn't there. For those who are dedicated to using their hydration bladder, you will be sad to hear that the Descensionist does not include a sleeve. RIP the golden days of hydration bladders.
The Good
Strong, light, simple!
Excellent material choice and construction quality
Design of the avy gear pocket is spacious, hurray
Pack carries well but is not optimized for comfort per se
The Bad
I don't like the design of the front straps you can add. Too easy to lose.
Will the bottom compression straps live up to a lifetime of A-frame carry? Probably!
No hydration bladder sleeve
The Bottom Line: Patagonia Descensionist Pack
If you're thinking about the Descensionist, you can be reassured knowing that this is a particularly durable, minimalist backpack that has been carefully designed to excel in a lot of different situations. I have quibbles with the pack, but these come down largely to preference and I wholeheartedly recommend the pack for snow adventures when you're emphasizing a light pack. And, as always, you can feel good buying Patagonia knowing that your purchase is going towards a company working to keep the outdoors great.
Buy now: Available from Backcountry.com