I remember how thrilled I was a few years ago when I found out that Patagonia was going to bring back a mountain biking line. I love Patagonia's brand values, and they stand behind their products. Mountain biking is one of my main sports, and I tend to abuse gear on the bike. Enter the Patagonia Dirt Craft Bike Pants: full-coverage, well ventilated riding pants for the glory days of shoulder season.
Patagonia Dirt Craft Bike Pants Features:
Built from stretchy, breathable body fabric
Laser-perforated venting at the inner thighs and behind the knees
Low-profile, zippered fly and elastic waistband minimize interference with packs
Curved waistband follows the natural shape of the hips
Two zippered, envelope pockets on outer thighs
Pass-through access that pairs with thigh pockets on Patagonia liners
Fair Trade Certified™ sewn
Weight: 255 g (8.99 oz)
MSRP: $149
True versatility for Autumn laps and epics:
Traditionally I haven't really spent much time riding mountain bikes in pants. Pants have always seemed to constrictive to me. I think I'm a really dynamic rider, and I like to be all over the bike on both the descent and technical climbs. Pants have always seemed like a recipe for pinches, plumber's cracks and overheating on long climbs.
The Dirt Roamer pants have really changed that for me. Let's start with the fabric. Patagonia chose an 82%polyester base fabric woven with a four-way stretch blend. That polyester has a cool environmental story, as you'd expect from Patagonia: it's sourced from oceanside communities as reclaimed material to prevent ocean pollution.
The four way stretch is absolutely killer, with a true sense of freedom and ability to move around on the bike. I'm 5'11" and 200 lbs. and felt like the Large I'm testing fit well, and the fit is a good mix between being tigher/supportive in the thigh but loose (without being baggy) in the calf. The stretch fabric definitely 'warms up' throughout a ride and any tight spots tend to disappear until you wash and dry them again.
Another concern of mine is overheating. There's nothing like a long climb to make you run through your layering system, but a recent day of birthday laps outside Missoula had us nearing the 3000′ vert mark on a day that hit the low 70's in bright sunshine. The laser cut vents in the inner thigh and behind the knees really do a good job at letting air flow through, which I don't often feel about laser cut vents. To my surprise, I've stayed comfortable 90% of the rides in these pants. The inherently breathable body fabric helps this.
Patagonia built these to work with their Dirt Roamer Liner bibs and shorts, specifically with a pass-through pocket that lets you stash your phone or other valuables in the liner pocket, while accessing it through the pocket in the pants.
The fit has worked well for me overall. Mountain bikers come in all shapes and sizes, and I think the four-way stretch on these really help them accommodate all kinds of legs and waists. The waist secures with a simple closure, and the elastic is forgiving. I used this with an Osprey hydration pack and the interface was good: the pack didn't slide around on the pants and the waistband was comfortable beneath the compression of the pack.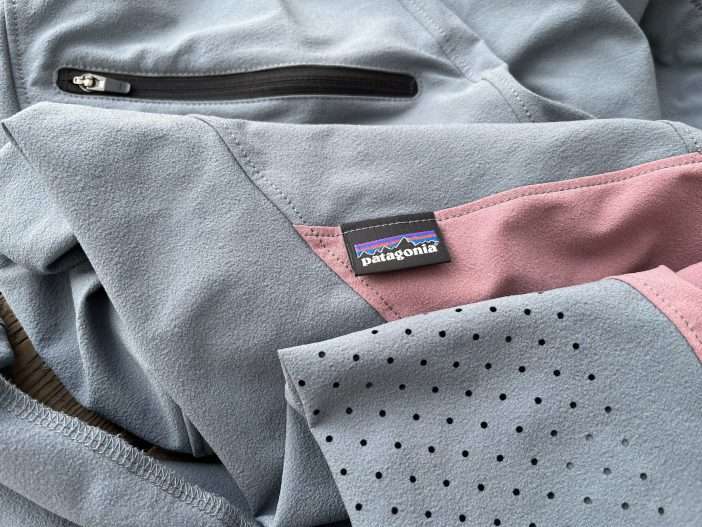 My pants have held up great over a spring, summer and now fall of riding. I liked them so much that I bought a pair for my partner Kelsey, and she has also loved them but has had some durability issues. On hers, she's already poked a hole and there's some failing stitching around the crotch. She's ridden them hard for a couple of months, but I'd call this premature aging and she'll likely pursue warranty or a repair. I do think Patagonia occasionally has quality control issues, and this may reflect that since mine have aged better.
Fit: I'm 5'11" and 200 lbs, wearing the size Large.
The Good:
Great added protection from rocks and weather, without holding you back
Laser cut vents have my seal of approval
Four-way stretch polyester is a genuinely great fabric that breathes and moves
Pass-through zippered pockets give plenty of security and don't interfere with pedaling
Fair-trade sewn means you can feel good about these pants
The Bad:
Some durability issues on Kelsey's pair
Some rides might find the thighs too tight
The Bottom Line: Patagonia Dirt Craft Bike Pants
These are the pants that convinced me to like riding in pants. They've been great for dozens of miles of trail and thousands of feet and climbs and descents. I haven't wrecked in mine yet, but when I do, I'll be stoked to have those extra layers between me and the Cascade granite. In the mean time, I'm stoked to have a comfortable layer to help me extend my season as the temperatures dive and the puddles reappear.
Buy now: Available from Patagonia.com