Growing up, I was in Boy Scouts and loved it. We would do merit badges on different bush skills, and I vividly remember sleeping the night underneath a shelter that I had cobbled together with some tarp and other things I had found. This was probably before I had done my Leave No Trace badge. Anyway, Patagonia is channeling some of that vibe with their Downdrift Jacket – making a great puffy of whatever they found lying around. The shell fabric is made out of a nylon fabric derived entirely from recycled fishing nets, and the 600-fill goose down is also recycled.
Patagonia Downdrift Parka Features:
Shell made of NetPlus 100% post consumer recycled nylon faille from recycled fishing nets
PFC-free DWR finish to shed light moisture
Insulated with 600-fill-power recycled duck and goose down (from other down products)
Full-length center-front zipper with placket
Removable, adjustable hood
Two double-entry hand pockets and zippered security pocket
Drawcord hem
Fair Trade Certified
MSRP: $299
Nothing fishy about this great parka
Like I said, the really cool thing about this parka is that its shell fabric comes from recycled fishing nets. Patagonia views this as a way of being creative about sourcing materials sustainably, and it's also a link to the ocean stewardship that's behind their roots as people who love to surf in California. The fabric, from my point of view, is indistinguishable from an all-new nylon fabric. It's tough, heavy and abrasion resistant. It's not especially soft to the touch, and I view this as a little more of a working jacket or a campfire-and-beer jacket than anything else.
The insulation, too, comes from a great source: old down products that have their insulation reclaimed and thoroughly cleaned before finding a new life in a Patagonia product. This is a win for geese, and for consumers. Patagonia rates this as a 600-fill goose/duck down mixture. 600 fill means that it's a bit coarser and heavier for its weight. For a non-performance jacket like this, that's just right. No need to worry about down poking through; the tough nylon shell is more than down proof.
The fit of the jacket is pretty generous. You could easily wear a sweater under this and not feel pinched. For reference, I'm 5'11" and about 200 lbs, and the Large that I wore felt generous if not a little baggy. That said, the sleeve length was just right.
The Downdrift is definitely comfortable to wear, and it feels really secure and bundled up when you're all zipped up with the hood on. I love the generous baffle that Patagonia sewed around the neck, which really helps create a seal against drafts. There are also snaps to secure the parka-style hood to the jacket body on gusty days.
The zipper and pockets both do what they're designed to. The zipper is a big, toothy two-way zipper that is very durable and should last for a good long time. Same story with the zipper that attaches the hood. The pocket design is interesting, basically a single pocket with two entrances divided with a thin nylon sheet. The angle is great, and it's easy to get your hands in there. A fleece lining would have added some comfort and warmth.
In practical use, the jacket did a great job at what it's designed to do: which, I think, is mostly just hang out with friends or do some work. The wind doesn't slice through it too badly thanks to the heavy fabric and a hung liner that covers the front baffles. On that back, though, the stitch-through baffles can let some wind pass through them.
The cuffs have a simple elastic design, which is so-so functionally. More sport-oriented jackets will have a small sleeve or other baffle here, but the Downdrift is a little more casual then that. So, lacking gloves with a gaiter, you can get some chilly wrists on very cold or windy days.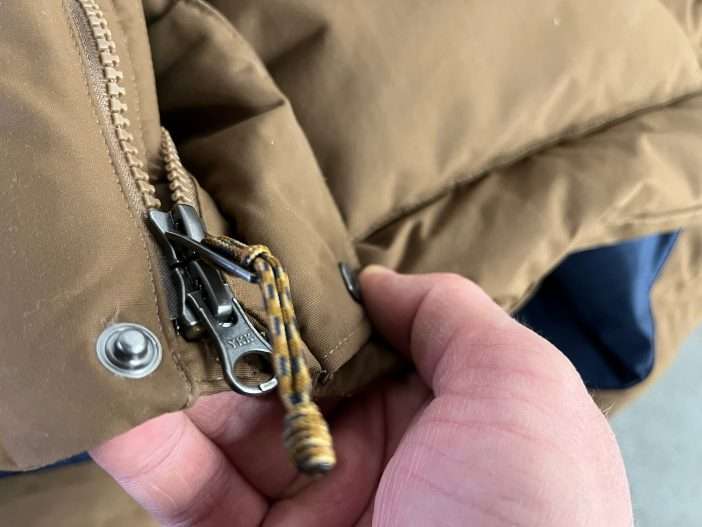 The Good
Incredible material sourcing and Fair Trade Certified manufacturing make this a winner
Tough, burly fabric and zippers mean this jacket will have a long lifespan
Detachable hood is a nice touch
Pocket design is functional and convenient
The Bad
Really windy days can pierce through the back baffle stitching
Fleece lining in the hand pockets would have gone a long way
The Bottom Line: Patagonia Downdrift Parka
If you read my reviews, you know I am a huge fan of companies making great products out of sustainable material. Patagonia has always been the biggest player in this, and products like the Downdrift showcase both ingenuity and commitment to sustainability. You can wear this in the winter, knowing that the oceans will be just a little cleaner if you surf in the summer. Beyond the materials, though, the key thing is that this is a great jacket for working outside or hanging out with friends: even if it does happen to come from recycled fishing nets and old down comforters.
Buy Now: Visit Patagonia.com