Patagonia's new High Alpine Kit is generating a ton of buzz and excitement. I don't normally buy into brand hype, but I'm genuinely excited by what this collection of gear has to offer. It's one of the first precisely curated product groups for alpinism. I say 'precisely curated' because there are plenty of other brands who offer a complete set of alpine kit, but what I like about the High Alpine Kit is that it takes the guesswork out of buying gear. Each piece is carefully designed to fulfill its function while working smoothly with each other piece. The result is a tightly knit experience for climbers and outdoorsy folks of all stripes.
Patagonia High Alpine Kit Features:
Light, yet durable 100% nylon ripstop shell and plain-weave liner offer generous mechanical stretch and exceptional breathability, with a DWR (durable water repellent) finish
Using a new 40-g weight, our revolutionary FullRange™ insulation warms and stretches; combined with the shell and liner, this creates a hoody and pants with excellent mechanical stretch and unprecedented air permeability (70CFM)
Engineered pattern eliminates all seaming across the shoulders and back, eliminating abrasion points and enhancing unprecedented stretch
Stretchy hood with binding easily pulls on or off, even when jacket is zipped
Pants feature elasticized waist for easy pull-on
Pullover silhouette has deep center-front zipper to allow for quick venting and easy on-off
Pants feature two-way head-to-head full-crotch zipper for quick pit stops
Exterior left-chest zippered pocket
Stretch-woven on cuffs is shaped, patterned and seamed to reduce bulk when layered and push up easily without constricting forearms
Shell: 1.6-oz 30-denier 100% nylon stretch ripstop. Lining: 2-oz 50-denier 100% nylon stretch plain weave. Cuff: 4.7-oz 88% polyester/12% spandex stretch-woven. All fabrics with a DWR (durable water repellent) finish. Insulation: 40-g FullRange™ 100% polyester stretch insulation
309 g (10.9 oz) top; 266 g (9.4 oz) bottom
MSRP: $249 (top); $149 (bottom)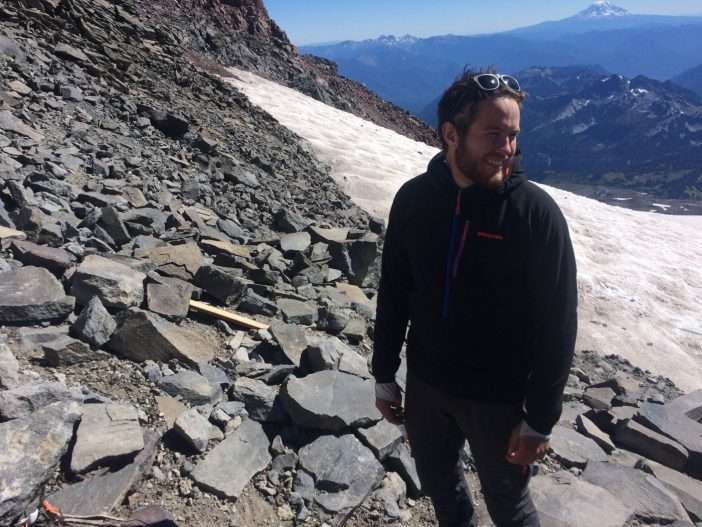 Nano-Air may be the best active insulator
The Patagonia Nano-Air Light Hoody and Pant are part of a genre of gear known as 'active insulators.' The idea here is that the insulation will be able to adapt to both high and low output moments within an activity. For example, you can climb while wearing the Nano-Air Light Hoody and then stop for a belay without having to alter your layering system to deal with sweat. They're meant to breathe extremely well without sacrificing static insulation. That dual ambition is the gold standard for active insulators.
I have had an absolute blast testing the Nano-Air Light Hoody and Pants. For one thing, I'm a naturally very warm person. I sweat easily and profusely and so I often wind up having to climb in layers that don't protect me well from the wind for the sake of avoiding extreme sweatiness. Take special note of the 'Light' appended to the Nano-Air label; these two products are both designed to be a trifle more svelte, with a lighter g/cubic meter insulation weight. It's roughly 1/3 lighter than the traditional Nano-Air, and it's noticeably more breathable. Patagonia's proprietary FullRange insulation truly feels like a cloud – it moves, breathes and stretches with you.
Like I said, I had a hoot testing these two products. They've been everywhere from the top of Rainier to rainy creeksides in the Enchantments. I can say unequivocally that these are the best 'active insulators' I've tested. One feature that is shared between both the Hoody and the Pants are the cuffs. These are carefully designed to slide easily underneath upper layers while still pushing up easily to vent heat. They're quite trim, mind you, and many mountaineers will likely find that their calves are too big for the cuffs to be comfortable. It's also probably true that each piece runs true to size for an alpine fit, or just slightly small overall. For reference, I'm 5'11", 180 lbs. with a 32″ waist and tested a Medium in both tops and bottoms.
The Hoody has several points to note. For one, the hood is very well designed and can go either over or under a helmet – unless it's a particularly bulky helmet. It's stretchy and slides off and on easily, even when the Hoody is fully zipped. It's a pullover, mind you, so it's not a full zipper. But it is an especially deep zipper, reaching way down on the ribcage, so that the jacket is easy to get on and off and lets you dump heat efficiently. There's also a pretty generous chest pocket. Plus, the black version has some epic retro color schemes, pairing orange, purple and blue.
The Pants have interesting features, too. Chief among them is the full zipper running from the front to the back of the crotch. The idea here is obviously to allow a full-service pit stop without removing the pants, should the need arise. This is facilitated by head-to-head two-way zippers that run smoothly along the narrow zipper track. There's also a draft tube along the whole zipper. I'll be honest, I expected the zipper to chafe like crazy if you were to hike an extended period in the pants. However, I hiked seven miles on a cold fall day and felt great. Who would have expected? Plus, I pushed the cuffs up and they stayed the whole time. I was very impressed.
The Good 
Excellent performance overall – breathes, moves and insulates well
All zippers slide smoothly and easily
Excellent cuff design and construction
Pullover's hood is adaptable and comes on and off easily
Fairly high-denier fabric is durable
The Bad
Cuffs on the pants are small and hard to get over your calf
The Bottom Line: Patagonia High Alpine Kit
These are two of the best products I've tested. They're both so simple and well designed that there's almost nothing to nit pick at, and the few things that I expected to be an issue didn't actually materialize. If you're looking for a very light active insulator, you can't get better than the Nano-Air Light products.
Buy Now: Nano-Air Hoody | Nano-Air Pants