It's time for a little thicker pair of gloves, but with that you don't want to just wear a pair of ski gloves. No, you want a pair of cycling gloves with the proper fit and feel for your ride. The new Pearl Izumi AmFIB Lite Gloves are made for moderately cold temperatures down to the mid-40's while still affording a high-quality cockpit connection.
Pearl Izumi AmFIB Lite Glove Features:
Features 60g Primaloft Gold insulation
Features Crosscore insulation technology with Aerogel particles
AmFIB softshell back of hand for weather protection
Touchscreen compatible index finger and thumb
Ax Suede Laredo synthetic leather palm
MSRP: $55
Great for cold, but not too cold rides
Years ago, I experienced frostnip in the tips of my fingers. As a result, they tend to get cold pretty quickly. Because of that, I tend to grab full-finger gloves a little more often in cold weather than other riders. And, I'm reluctant to ride at road speeds when it drops below 40-degrees. With that, the AmFIB Lite gloves appeared to be just the perfect pair of gloves for my riding tastes, so extensive testing was easy to achieve.
As temperatures have dropped here in Utah, the Pearl Izumi AmFIB Lite Gloves have been at home on road, gravel and mountain bike rides. For pure road riding, I'd put the low temperature threshold at about 45-degrees, but for gravel and MTB, they can remain functional into the upper 30's. It all just depends on how long your descents are and if the sun is shining or not. In general, the mid-to-upper 40's are the sweet spot for the AmFIB Lite Gloves.
With a thin layer of Primaloft insulation, mated to a wind-resistant softshell, comfort is superb as the gloves stretch naturally with every hand movement. The synthetic leather palms also provide excellent tactility with bars, shifters and braking. All riding movements feel natural and the cut of the gloves allow for precise braking and shifting at all times. Not once have the gloves gotten in the way of normal riding movements. The palms lack any gel inserts for additional comfort, but I never experienced hand fatigue on longer rides.
Pearl Izumi outfitted these gloves with a mini gauntlet cuff that's suitable for placing on top of a long-sleeve jersey (like the Bontrager Velocis Thermal) or underneath most jacket cuffs (like the Pearl Izumi Elevate Insulated AmFIB). With a velcro closure, the cuffs keep the gloves in place and maintain a cozy feel.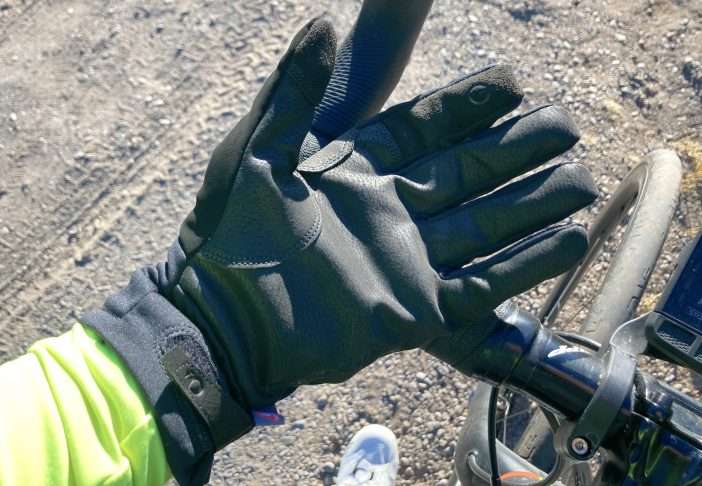 It's great that the thumb and forefinger feature touchscreen-friendly material, but those digits do get cold easier at speed. Also, the thumb has been unreliable for me with my iPhone. I would prefer a wraparound thumb, like the forefinger and would guess that might improve thumb responsiveness.
I do appreciate the breathability of the AmFIB Lite Gloves and haven't ever felt soggy after long rides. To further test their utility, I've also donned these gloves for trail running and still, they have breathed well.
I'd like to see a little bit of DWR to resist moisture and therefore can only recommend these for cold, dry rides. Extended rain will soak through the material, so keep that in mind.
The Good
Natural cockpit feel (bars, brakes and shifters)
Great for road, gravel or MTB
Cozy for intended temperatures
Softshell material stretches with every move
Good cuff works well either over or under layers
The Bad
No DWR for water protection
Touchscreen sensitivity is decent, but the thumbs are problematic (and those fingers get chilly)
The Bottom Line: Pearl Izumi AmFIB Lite Gloves
The Pearl Izumi AmFIB Lite Gloves allow for easy cockpit movements and never get in the way of normal riding maneuvers. Braking is reliable and natural-feeling. With the softshell material, these gloves move well and fit like… a… glove. With seemingly endless sunny and 45-degree days right now, these will continue to get plenty of use.
Buy Now: Available from Amazon