Building saddles for the human backside is a tricky undertaking to say the least. Everybody's sit bones are different and while similarities exist, human anatomy is just plain varied. That said, there are a few key ingredients that make for great saddles for most people and the new Shimano PRO Stealth saddle employs much of them to a high level of success.
Shimano Pro Stealth Stainless Saddle Features
Standard stainless steel rails
Carbon-reinforced shell with relief channel
Durable PU cover
EVA foam padding
Built-in mounts for cameras, bags or fenders
Weight: 205 grams (142)
Length: 255mm
Widths: 142 (tested) and 152mm
MSRP: $179
Don't call me stubby.
Short, stubby saddles were once relegated to time trail use only, but in recent years, we've seen them on all-rounder bikes. The Specialized Power Expert was one of the first (I tried it and loved it), but the PRO Stealth is more than a copy of those designs as it does things slightly different and does them well.
The tested model featured stainless rails. I appreciate standard rails because they fit on the majority of seatposts on the market without adapters. The Stealth saddle is also available in 7×9 carbon rails to further drop weight and empty your wallet (at a measly 205 grams for the stainless one, you don't really need the carbon version).
Short saddles like the Stealth do require slight changes in setup. For me, I was able to get it dialed on a spare FSA K-Force seatpost that made for easy setback configuration compared to the stock Black Inc. seatpost and Fiz'ik Arione saddle that comes with the Factor O2 Disc. Like all saddles, I set the Stealth up just about a half-degree nose-down by hugging the bubble on my level just on the upward line of center.
Your setup will vary, but start with a level saddle and drop the nose just slightly if you feel the need. The best place to go for fit knowledge is your local bike fitter (I use Precision Bike Fit here in Salt Lake City).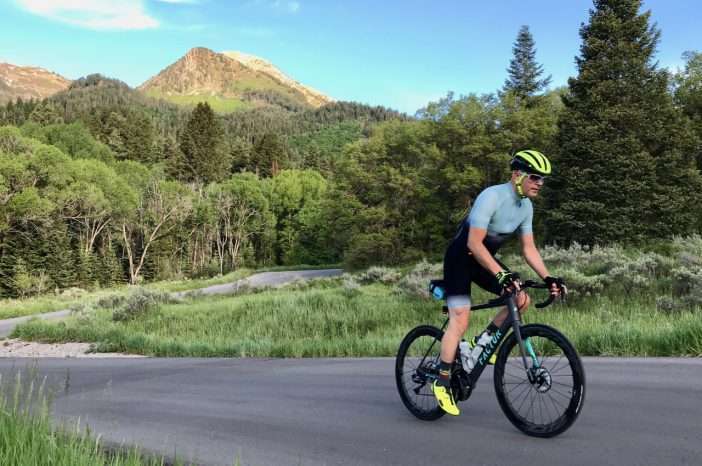 Racy platform, but good comfort
What I've noticed with these stubby saddles is that they ride a little firmer. I believe this is due to the shorter spring they offer. With something like the Fabric Scoop Shallow, you get a standard shape and length for excellent natural suspension under load. By shortening it about an inch, that spring is shorter and tighter. That said, it's not harsh when seated dead-center, but definitely firm.
While I do love traditional-saddle shapes, I can't deny the importance of cutouts. The Stealth features sizable cutouts for pressure relief that's immediately felt on the bike. My junk feels comfortable and well-cradled without any numbness. With a wide nose, I can also sit further forward than you'd think with such a short saddle. In fact, on long climbs, I can comfortably sit on the nose of the saddle over long distances. One caveat is if you hit a square-edged bump while on the nose of the saddle — yeah, that hurts.
Like any saddle, you should stand every so often to sprint or just to increase blood flow. Wit the Stealth, I stood because I wanted to, not because the saddle forced me to.
That said, finding the sweet spot is a breeze and the Stealth saddle really is great for those who want an efficient and responsive ride. I've been testing the 142mm width, but really should be on the 152mm width based on my backside.
Riders who maintain an aggressive position will be rewarded on the Stealth. That's not to say that less-aggressive riders will not, but the deeper you get into your drops, the more support this saddle provides.
The Good
Cutout provides excellent pressure relief
Standard rails fit all regular seatposts
Long-distance comfort
Clean design
Efficient power transfer in the saddle
Mount cameras, etc. with ease
The Bad
Some might find it initially harsh
Watch out for square-edge bumps when riding the nose
The Bottom Line: Shimano PRO Stealth Stainless Saddle
It may come as a surprise to people that stubby saddles like the Shimano PRO Stealth are becoming so popular. I'm not surprised and have been very pleased with the feel and performance of the Stealth. It may seem initially harsh, but give it 5 miles and you'll be just fine. With a sizable cutout, pressure relief is built-in and it's one of the lightest saddles in this price range available.
Buy Now: Available at CompetitiveCyclist.com