My favorite ride lately has been the Raleigh RXM cyclocross bike. It's a fun, vintage-inspired steel bike that has the chops to be ridden hard on gravel or the course. It's an ideal adventure bike, peddling durability for a lifetime of pedaling. Here's our take on a really fun bike.
Raleigh RXM Features:
A versatile bike for cyclocross, gravel and more
Steel gives a ride that's durable yet responsive
Carbon fiber fork to dampen the trail
Double chainring provides a wide range of gearing
Shimano 105 gruppo with TRP Spyre mechanical disc brakes
Front and rear thru-axles increase stiffness and provide perfect rotor alignment
Includes rack and fender mounts
MSRP: $1999, now on sale for $1400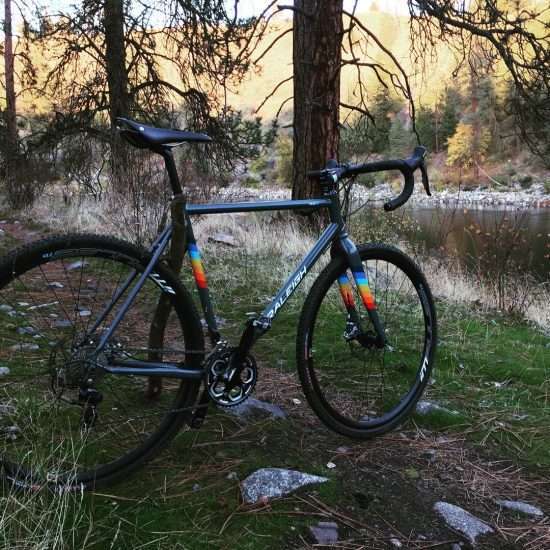 Retro steel vibes for the win:
One of the perks fo ordering from Raleigh is that their bikes come mostly assembled. This means that you can be riding the bike within 30 minutes of having it delivered. All that needs to be done is tacking on the cockpit components, your own pedals and adding some air pressure. It's remarkably easy. A light tuneup may also be necessary on the drivetrain as things shift during transport.
The bike is a fun fusion of classic and modern. Its foundation is Reynolds 631 butted chromoly. If you haven't ridden a steel bike for awhile, it's good to remember why they're still so well loved. No, it's not especially light, but it is so fun to ride. The steel feels stiff in the right ways when you're working hard, but incredibly supple as you pick through the vagaries of the course or single track. The frame accommodates standard thru axles (142x12mm rear, 15mm front).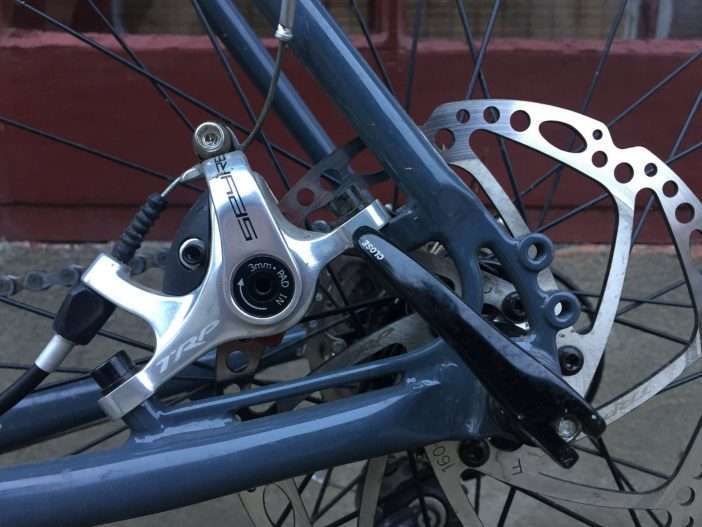 That steel frame is shaped into a fairly intermediate geometry. It's not pure race, but neither is it relaxed. For my 56cm frame, the 72 degree head angle, 73 degree seat angle and 65mm bottom bracket will feel at home on the racecourse without making you feel like you're going to going to get tossed off the bike or lose your kidneys from being pummeled by your thighs. The steering isn't twitchy; it's actually very predictable while staying nimble enough for quick decisions. I enjoyed taking it around the local cx course just as much as I enjoyed gravel grinding. One of the realities of steel, though, is that it's hard to shape – riders used to custom-molded shoulder slots on the top tube for carrying the bike will get a rough surprise as the RXM's steel tube bites into their shoulder.
The RXM is equipped with an 11-speed Shimano drivetrain. The 11-28 cassette is standard and may feel a bit strained on particularly steep climbs, but the double chainring grants an enormous selection of gearing to smooth out those hills. Shimano's 105 groupset is my personal favorite of common cyclocross gruppos; it's reliable and durable, and doesn't ask for much maintenance. Shifting is reliable and accurate, though obviously it doesn't have quite the precision of the higher end groups. For local racing, though, I never wanted anything more.
Stopping is handled by the TRP Spyre mechanical disc brakes squeezing 160mm rotors. The Shimano 105 levers feel huge and like they provide plenty of leverage from a variety of hand positions. The brakes have a heat sink to dispel extra heat, and that can be great for coming down long mountain descents. I was struck by how much pull these required to generate stopping power compared to my old bike's hydraulic disc brakes, but after I adjusted to the change I had no issues stopping.
I was impressed with the quality of the stock wheels. The Weinmann Impulse 28mm hoops felt stiff and predictable. What I particularly appreciated was how easy it was to convert them over to tubeless. I didn't need any extra taping to get a great seal between the wheels and the Clement 700×33 tires. I was really impressed with how well the Clements worked. They're very stick and soft, so they worked fairly well across a variety of conditions. Wet days didn't faze them, thanks in part to the very open tread design.
Incidentally, if you're wanting to run bigger tires, Raleigh states that the frame can only accommodate up to 35's. However, I've read online that some users have been able to squeeze in 38's. I think that's possible, but at that point I wonder if over time the tire wearing against the seat stays could start to compromise the steel. Realistically, probably not – this is steel, not aluminum. Though I did break an aluminum Gary Fisher Hifi's rear triangle that way once. Good times.
Rounding out the bike's handling, a Raleigh carbon fiber CX fork keeps the front under control. It's a great fork – stiff for accurate steering, and plush enough to dampen out the worst of the chaos coming through the bars during hard stops or over rough surfaces. The fork features partial internal routing to keep things clean. The fork does *not* feature any attachment points for racks, and some users will miss that. You'll have to make do with rear racks and panniers.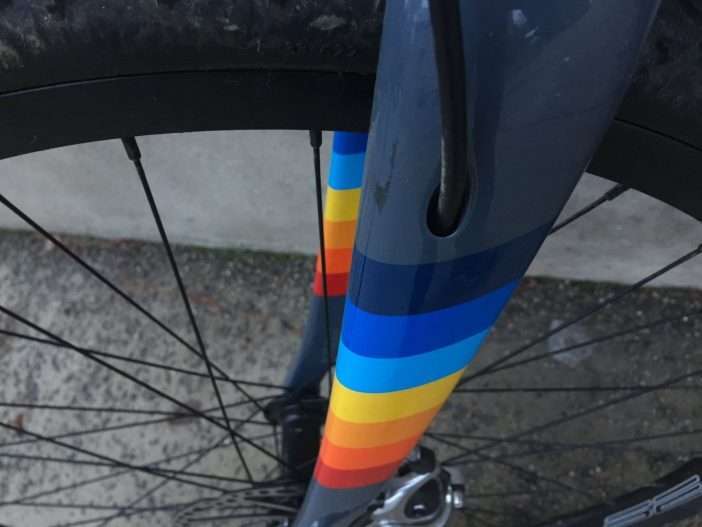 One of the undeniably cool aspects of the Raleigh RXM is the carefully curated vintage look. For one thing, the bike is steel, which is still the single coolest bicycle material available. Plastic bike riders just don't get it. So that's the big thing. The other important aspects are both asthetic and functional. First off, Raleigh topped off the bike with a Brooks Cambium seat. If you're like me, you never expected to ride a Brooks seat. Well, with a Raleigh RXM, you can. The Cambium, in truth, is a bit of a mixed bag. It's great for CX riding in that it cleans up easily and has a good deal of inherent flex. For long days or sustained road/gravel grinding, however, you're going to miss the lack of padding in the Cambium. It just doesn't quite have the support for long days in the saddle.
The other cool thing is the fabric bar tape. The look is undeniably cool, although I wouldn't necessarily say the padding is up to par with other synthetic or cork options. I guess going vintage comes with a price! Lastly, Raleigh chose a super cool head badge that harkens back to the days when bicycle makers gave a crap about beauty. The Raleigh headbage is big and elegant, and it looks perfectly at home at the front of the RXM. Rounding things out is a rainbow stripe color scheme laid over a subtle blue grey. It's a bike that looks just as good dirty as it does clean.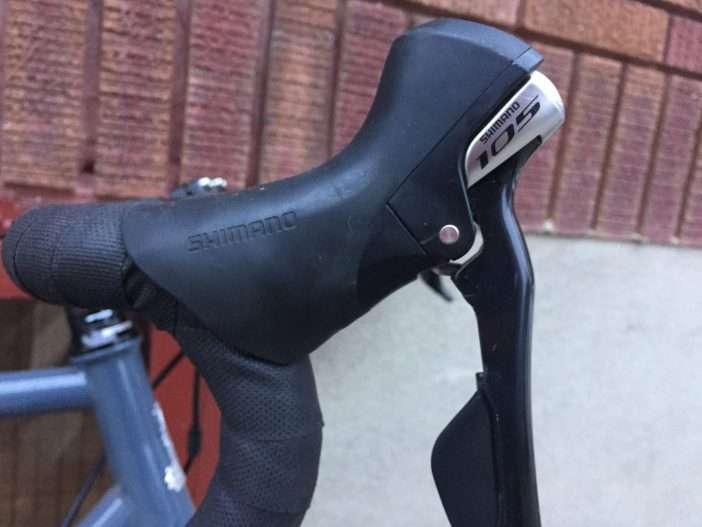 I'll close with a few comments on the overall ride. The Reynolds steel really does shine on this bike: it's incredible how much inherent dampening the material has. Coupled with the carbon fork, the ride is plush. The stable geometry helps the bike track well through corners and the somewhat heftier overall package helps prevent the bike from being easily knocked off course by rocks and roots. The overall weight of my bike with sealant is just under 24 pounds, which is respectable without being sprightly. The bike can feel a little ponderous climbing up steep 'cross course hills and I noticed that fore/aft balance on my part was particularly critical for this bike. If I were going to make one upgrade, it would be (predictably) a lighter wheel set to improve acceleration. But, as it comes from Raleigh, the RXM is both capable and fun.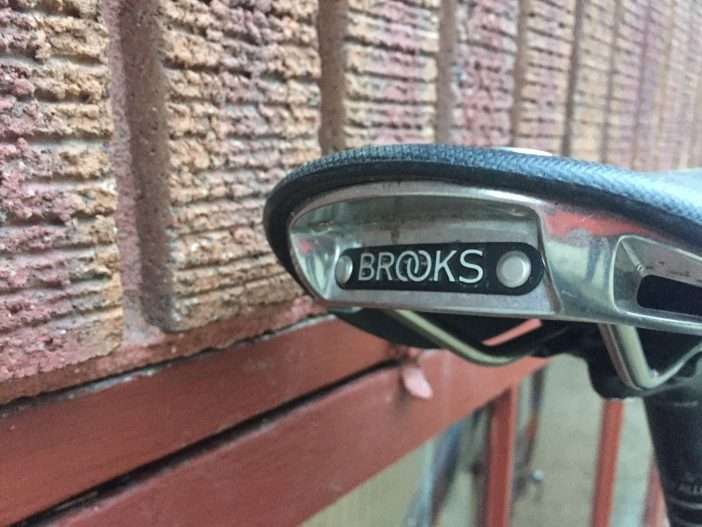 The Good:
Really fun selection of vintage accents
Excellent components overall – Raleigh value coming through
Shimano 105 shines as particularly reliable
Wheels and tires converted effortlessly to tubeless
Ride quality is supple without sacrificing precision or nimbleness
The Bad:
Brooks Cambium is not ideal for long grinding rides
Small, round top tube is fairly uncomfortable to shoulder
No front rack compatibility is a bummer
Many riders would prefer to run wider tires than Raleigh recommends
The Bottom Line: Raleigh RXM
I have thoroughly enjoyed my time with the RXM. It's neither dedicated racer nor pedestrian cruiser, but instead is a fun, predictable bike that's perfect for exploration. For me, the sense of exploring rural Nevada was one of the primary reasons I got into cycling. That sense of exploration is alive and well on the Raleigh RXM, and the feeling that maybe you're somehow connected to an earlier era of cycling (thanks to the great retro components) heightens the effect.
Buy Now: Available at Backcountry.com