If you're like me, your biggest gripe about riding gravel, rough roads, or anything on a skinny tire bike is all of the bumps! There have been a number of different suspension seatposts over the years. And, none of them compare to the Redshift Sports ShockStop Suspension Seatpost.
Redshift Sports ShockStop Suspension Seatpost Features:
Travel: 35mm of active suspension
Adjustability: Infinitely adjustable preload stiffness adjustment
Swappable springs included for different rider weights
Optimized linkage geometry provides ultra-responsive suspension
Diameter: 27.2mm x 350mm length (shims available to fit larger seat tube sizes)
Material: 6061 T6 aluminum
Offset: [rearward] 7mm, [rearward at 25% travel] 12mm
Claimed Weight: 497g
Price: $230
How does it ride?
The biggest question I had heading into testing the Redshift Sports Shockstop Suspension Seatpost was "how does it ride?" I had a healthy amount of skepticism while I was installing it. Once I hit the rode it definitely seemed to smooth out the ride, but I couldn't really tell how much until I ran an accidental test. As I mounted up our trail-a-bike so my four-year-old and I could ride, things weren't going so well. The ShockStop seatpost seemed like it wasn't doing much at all. The ride was incredibly rough and I was left scratching my head.  After further inspection, I had attached the mount to the post so it blocked the ShockStop from moving. Doh! Lesson learned.
The Shockstop Suspension Seatpost absorbs the small bumps just enough to smooth out your ride whether on pavement or gravel. In the end, you will get almost 1.5″ of travel. You still have to be careful in how you ride. It'll absorb small cracks, bumps, gravel, etc., but those big potholes will still ruin your day — especially when you're riding out of the saddle. In the saddle though, the ride is sublime.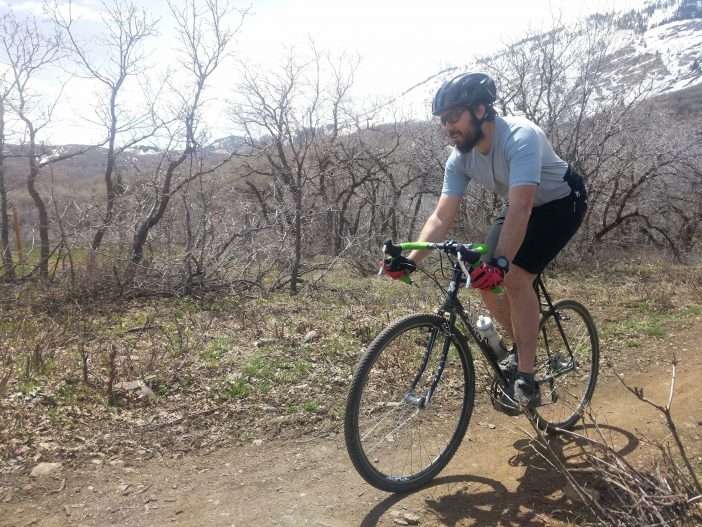 So, how does it work?
The Shockstop Suspension Seatpost is built with tunable springs, set inside the seatpost. A dual pivot linkage system engages the springs while you are riding to smooth out your ride. Obviously, you must be seated for it to be effective while riding.
After my incident with the trail-a-bike, I didn't know if my saddle bag would interfere with the travel. after some testing, I'm happy to report it works great with a saddle bag and doesn't interfere with the ride.
You might ask yourself (as I did) "am I losing performance while cranking?" I think to some extent, yes, you will lose some power, but it's minimal. I don't ride with a power meter so I don't really know for sure. But, what I do know, is that I went on some of my usual rides and didn't notice any degradation in how I felt, performance-wise, or in overall ride time. For me, I'll take some additional comfort, even it comes at the price of a little efficiency! I also found my rides to be more enjoyable with the suspension seatpost, and isn't that what's most important?
What about installation?
In total, I think install took me about 15 minutes to install the ShockStop Suspension Seatpost. The instructions provided by Redshift easy to follow and understand. The product itself is well built and easy to set up. Included, you'll find a breakdown of the parts and charts to find the appropriate settings for your weight. Once set, you are ready to ride.
I did find the saddle attachment bolts a little cumbersome to set and adjust, due to the suspension mechanism (and, honestly, most seatpost bolts are a hassle). I think this is a small annoyance that's worth the benefit. Once they are set, it's not something you'll think about again. One other thing to note, if you want to make any adjustments to preload, stiffness, or sag, you will have to fully remove the seatpost to do this. If you do tinker with the settings, grab some masking tape to mark your saddle height to make it easier on re-install.
And, if you want to further soften your ride, then checkout the Redshift Sports ShockStop Stem. I was able to also test this aboard my rig and was just as stoked as Jason was.
The Good
Highly effective at absorbing small bumps
Adjustable to your weight and riding style
Quick and easy setup
Dramatically transformed my old rig
Reduced fatigue
The Bad
You may lose some power due to light flexing while pedaling
Adjustments will require you to remove your seatpost
Saddle bolts are a little finicky to get set
The Bottom Line: Redshift ShockStop Seatpost
If you want to smooth our your road and gravel rides, pick up the Redshift Sports Shockstop Seatpost. It's been a game changer for me and added comfort in spades to my ride.
Buy Now: Available at Backcountry.com