Snow has finally begun falling here in the Inland Northwest, and the flakes are a welcome reprieve to a warm, dry winter. While my favorite conditions to run in are generally cool, overcast, with a pleasant gentle breeze (is it really too much to ask?), most days those aren't the conditions I get. But the big, wet flakes of the PNW don't put a cramp in my running regimen thanks to the Arc'teryx Norvan SL Insulated Hoody. This technical piece is tailored toward pursuing those high-output adventures in the most inclement of weather.
Arc'teryx Norvan SL Insulated Hoody Features:
Waterproof and breathable, with Gore-tex SHAKEDRY™ technology
Ultralight and highly compact
Body mapped insulation (Coreloft™ Compact 40)
Breathable liner (Dope Permeair™ 20)
Fitted hood with a pull-cord adjustment
WaterTight™ front zipper
Inside zippered chest pocket
Elasticized cuff and hem
Available for men and women
MSRP: $399.00
Upping the ante with SHAKEDRY
This jacket is designed to be light, compact, and perfect for the less-than-ideal weather (think low temps and moisture). Let's start from the outside: Gore-Tex SHAKEDRY™ technology. Basically, waterproof Gore-Tex textiles are made by layering multiple types of fabric on top of one another. For example, many waterproof jackets jackets have an outer face fabric, inner waterproof membrane, and a breathable liner material. These three layers work together to create a fabric that is highly waterproof and durable. Any branches or rock brushes against the face fabric, and the burliest water repellency is right between the two layers. Seems flawless, right?
Not quite. Gore-Tex SHAKEDRY™ is essentially the product of leaving behind the problems associated with the durable face-fabric layer. When subjected to long term precipitation, the face fabric will eventually "wet out," retaining the water that once rolled off and becoming heavier and colder in the process. So instead of adding a face fabric, the SHAKEDRY™ approach is to strip the material down to it's most essential layers: waterproofing and breathability. Or, in more precise terms: a repellent membrane and breathable liner.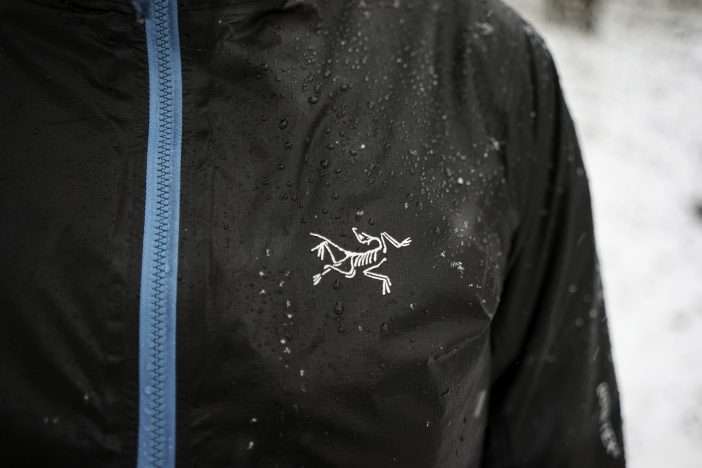 The result is a fabric that is both ultralight and highly waterproof. Moisture beads and rolls off the outside with ease, never wetting through a face fabric. A quick shake and there's practically no water left on the jacket (hence the clever name, SHAKEDRY™). I took the Arc'teryx Insulated Norvan Hoodie on some very wet and snowy runs, and am pleased to report that the waterproofness is indeed all it's cracked up to be. Pacific Northwest snow is heavy and laden with moisture. In October a random snowfall plopped heavy snow on the leafy autumn branches of my town, and the result was massive amounts of branches broken under the weight of the snow. So, I reiterate: wet and heavy. But these conditions are primo for the Norvan SL Insulated Hoody, especially if temps are hovering around freezing or less.
Insulation performance is a mixed bag
What sets the Norvan SL Insulated Hoody aside from its sister product, the Norvan SL, is–you guessed it— insulation. The Norvan SL Insulated Hoody is intended to provide warmth alongside its breathability and hydrophobic qualities. Arc'teryx used specific body mapping, which allowed them to navigate the balance of breathability and warmth. The underarms, bottom of the arms, and lower back are uninsulated, enabling the piece to be lighter and more breathable. The hood, shoulders, and upper arms are all stuffed with Coreloft™ Compact 40 insulation, which is super crimped and comprised of multiple deniers for maximum efficiency in warmth.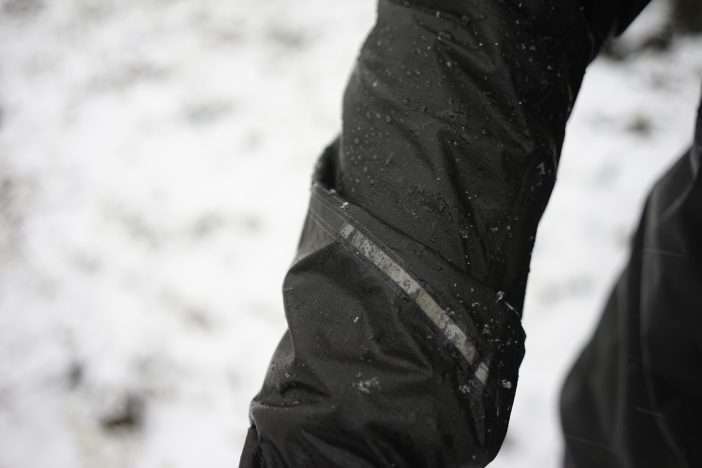 The Norvan SL Insulated Hoody was just too cold to wear around town or in low-output activity. The lack of insulation on the lower back left my core chilled, and it only took a couple attempts to wear it in an everyday sense to decide that it just wasn't going to be my daily driver. That being said, the mapped insulation around the core was absolutely perfect for aerobic efforts. The absence of any insulating materials around my lower back allowed a significant amount of heat to disperse, regulating my core temperature for continued comfort while running. For its intended purpose, it works like a charm.
I consider "invisibility" to be the best sign of a good piece of gear. If a piece allows me to perform, uninhibited, then it's doing something very well. The precipitation didn't bother me while I wore the Norvan SL Insulated Hoody because it all rolled right off. My core temp didn't bother me because the insulated/breathability of the body was perfectly balanced. The skies were dumping snow and the temps were hanging around 34 degrees. However, when I started running and threw on the hood, I immediately wished I weren't wearing it. The insulated hood was just too much warmth for me.
Now, I have long, thick hair. Perhaps this contributed to the fact that it felt like I was wearing too many hats. Nevertheless, I really wished that the hood was uninsulated so that I could dump the heat I was generating without getting wet. If the weather was just cold, no problem — I could have stashed the hood in it's nifty snap closure. However, since it was wet and cold, I couldn't seem to regulate my temperature with the hood without sacrificing dryness. The uninsulated hood of my Arc'teryx Proton FL sounded especially appealing in that moment. If it had been several degrees colder, perhaps it would have been a perfect amount of insulation. But even in fairly cold temperatures I found it too warm on my head.
The hood posed additional issues for me in construction. The laminated bill: good! The limited adjustment to seal out drafts: less good. Especially right by the face, where I felt that snow and cold easily slipped in. The single hood adjustment was only on the back of the head, which left me with the option of either exposing my forehead to the wet and snow or with a hood that felt too baggy. Neither were great options, and the option of a cinch on either side of the face would have fixed this issue.
The Good
Astonishing breathability and waterproof qualities!
Balance of insulation for the body of the jacket was just right
Waterproof, breathable and wicked-light
Great for high-output activities
The Bad
The hood lacked the adjustments to seal out elements and run comfortably
Hood insulation became too much for me
No pockets, other than a single inside chest pocket
The Bottom Line: Norvan SL Insulated Hoody
This jacket is highly technical and emphasizes the minimalist, functional details. Every aspect is oriented toward being lightweight and ideal for fast and light running or cycling in really poor conditions. With any minimalist piece of gear, there will be ways that it isn't ideal for everything. The Norvan SL Insulated Hoody was incredibly light (only 8.3 oz!) and warm but came at the expense of other luxuries… like pockets. There's none of them, which often was a low-key irritation.
Again, this is not a day-to-day jacket. It's a specialized piece of equipment, tailored to perform well in running and cycling. You can't ask an item to perform outside of its intended parameters and do well. However, within the prescribed uses, the Norvan SL does great. The breathability was pretty amazing for a waterproof and insulating layer. It's crazy light. It has a nifty 3m reflective running tape on the sleeve. The hood can be stowed away when not needed. The Norvan SL Insulated Hoody isn't perfect, but it's well worth the investment if you find yourself running or cycling in terrible weather fairly often and wanting a specialized jacket for those specific needs.
Buy Now: Available at REI