As much as Arc'teryx is known for their cutting-edge alpine equipment, they're getting more and more notice for their lifestyle pieces. Their 24 collection blurs the line between performance and style, offering pieces that put form first and complement design with performance technologies where appropriate. The Proxy Jacket is, in some ways, emblematic of the collection in this regard – it features a classic cotton face fabric that houses high-tech, midweight Coreloft active insulation. The result is a jacket that looks good and happens to house one of the industry's most advanced fabrics.
Arc'teryx Proxy Jacket Features:
Durable and breathable moisture-resistant outer face fabric
Smooth inner face-fabric allows for easy layering
Articulated elbows
Gusseted underarms
Short polo neck collar
Full front zip with chin guard and wind flap
Metal zipper pull on main zip
Inner security pocket hidden inside the hand pocket
Internal chest pocket with zip
Two hand pockets
Coreloft™ 40 (40 g/m²) insulation
MSRP: $249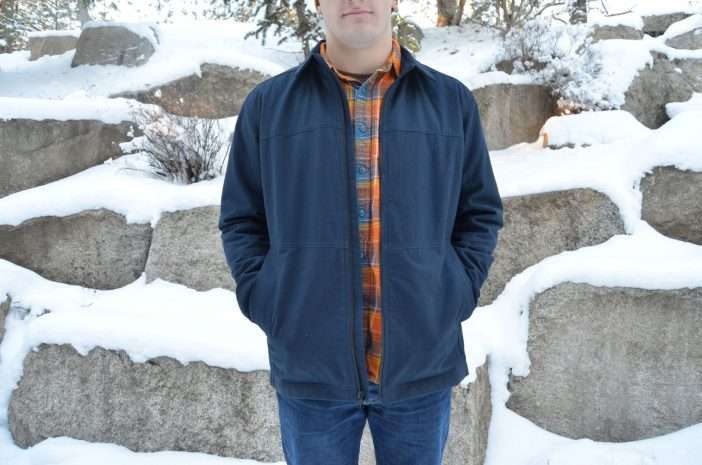 Looking good.
The Proxy jacket is a fusion of new and old. On the one hand is a rugged cotton exterior, which offers the classic soft handle of cotton and the long-term shape retention that's often lacking with synthetics. On the other, the cotton has a midweight Coreloft lining bound to it. I had to laugh when I received the jacket because the appearance of the Coreloft, fabric color and all, is identical to the Atom SL I tested earlier this year. That juxtaposition serves a good point, though. You'd think the Coreloft would seem out of place with a classic cotton face, but the two fabrics are oddly complementary. The result for the Proxy is a tightly integrated, attractive urban piece.
In keeping with Arc'teryx's aesthetic, the Proxy has a sleek, minimalist profile. The front of the jacket is broken only by the front zipper track and two low-profile hand pockets. It has a modest length, but overall the fit runs large. I'm 5'11", 185lb and usually wear a medium or large. This one is a large and it's much to big on me. The sleeves in particular are very long. I recommend sizing down. That said, the jacket's fit is sleek and moderate without any odd pinches or billows. A few touches, like gusseted underarms and articulated elbows improve the fit without impacting the Proxy's look. The zipper track, which features a classy full metal zipper pull, culminates in a sleek and sturdy polo-style collar.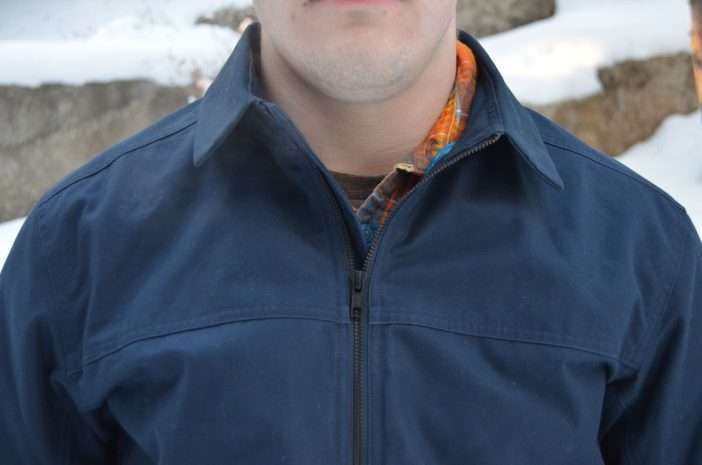 The cotton face fabric has basically no inherent stretch, so don't expect this jacket to move with you especially well. That said, it's not as confining as other cotton jackets I've had, thanks in part to the gusseting and articulated elbows that I mentioned earlier. It performs better in wet weather than other cotton jackets, too. This is largely thanks to Arc'teryx's DWR treatment which is really quite stout compared with what comes stock from other manufacturers. That said, like anything else, you'll eventually need to re-treat the Proxy's DWR. Just get the face fabric damp, spray with an outdoor-specific DWR and then toss it in the drier on low (or medium for a short period of time).
If you're out in a rain storm, it's only a matter of time before the DWR gets overwhelmed and the cotton face fabric starts to soak up water. Once this happens, you still have a last line of defense in the Coreloft fabric. Although Coreloft's compressivity and light weight are fairly useless on a jacket like this, its one remaining value is its ability to retain warmth when wet. Even when the cotton shell is soaked, that synthetic insulation is going to keep you at least somewhat warm. By the way, this jacket is good down to the 50's by itself and then after that you'll want to add sweaters and fleeces. That's the one benefit of it running large – I've been able to wear it well into the winter because it can accommodate puffier jackets beneath it.
I'll end with a quick note about the jacket's features. The zipper is a stylish design and it slides very easily, with the smooth, toothy feel of older non-technical zippers. The collar is trendy, but I wish it sat a little higher on the jacket and was a touch less loose around the neck once zipped up. As it is it doesn't offer much protection from cold PNW gusts. Both hand pockets are zippered, which is a nice touch for a little security. Kudos to Arc'teryx for including a small internal zippered pocket which is a great spot for valuables.
The Good
Stylish, refreshingly simple take on a classic design
Thoughtful use of classic and contemporary fabrics
Pockets lie flat and don't clutter the profile
Zipper slides very easily
Gusseting and articulation gives the traditionally confining cotton fit a little more life
DWR + Coreloft is a little wet weather insurance
The Bad
Runs quite large, especially in the sleeves
I wish the collar was a bit tighter and higher to provide more protection from the wind
The Bottom Line: Arc'teryx Proxy Jacket
The Proxy looks good. I suppose that's really all you have to say about it, but since it's Arc'teryx's 24 collection we can also confidently say that it's backed up with a very high level of design expertise that pays dividends when you pull the jacket on. In a time when many stylish jackets can be found at very affordable prices, Arc'teryx pieces still cost a pretty penny. What the extra coin buys you, though, is the peace of mind that comes with knowing that the coat you're wearing wasn't produced in a sweat shop or with child labor. Arc'teryx is a leader in the industry in terms of holding its overseas manufacturing partners to high standards. So the jacket looks good and, in more than one way, it feels good.
Buy now: Available from Moosejaw.com