Castelli has long been one of the premier kit makers in the world. That iconic red scorpion is adored by fans and imitated by competitors. While Castelli remains a premium brand with the latest, cutting-edge fabrics and materials, they do have more affordable kits in their line with the Entrata Jersey and Velocissimo Bibs being one of them.
Castelli Entrata 3 Jersey and Velocissimo IV Bib Shorts Features:
Entrata 3 features: Prosecco GT fabric, raw cut arm openings, Air Mesh mesh side panels, full YKK Vislon zipper
Velocissimo IV features: Pro Dry Soft fabric with Doppio waistband, KISS Air chamois, laser-cut cuffs with vertical grippers and flat-lock stitching
MSRP: $79.95 (jersey) and $129.95 (bibs)
Euro-fit, good performance
When considering a new kit, it's best to start with the chamois. My backside has used a wide variety of them and the Castelli KISS Air chamois is competitive but not industry-leading. I don't think that's unexpected at this price point, but it does honestly leave something to be desired — particularly under the constant rumble of gravel roads in the Midwest.
I did finish up my review of the Entrata 3 and Velocissimo IV kit riding in the rolling farmlands in and around Pipestone, MN with a hefty dose of gravel aboard the Cannondale Synapse eTap. Overall saddle comfort was OK, but I did begin to get a little uncomfortable after about 10 miles in the gravel.
The Velocissimo bib shorts are notably euro-cut and are the most snug size large I've ever tested from Castelli. The Entrata 3 jersey is race cut for sure with a "just right" fit with the size large top for me (5'11" and 170 lbs).
Both bib short and jersey feature laser-cut cuffs for a simple look and seamless finish. The leg cuffs feature a wide, zigzag silicone pattern that keeps the legs in place quite well. Overall compression is good with solid muscle support throughout my testing miles.
I will add that the bib straps are a touch narrow and tight, without much stretch to them. They don't dig into my shoulders, but aren't the most comfortable overall. Roadside relief can be challenging, but it's not any worse than most bib shorts.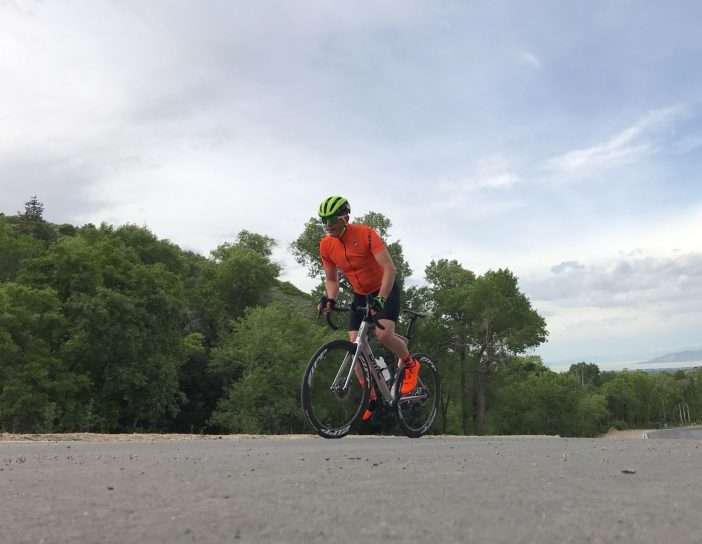 With a snug overall fit, the entire kit feels spectacular and doesn't flutter at all at speed. The mesh inserts in the jersey do their job to encourage moisture transfer for comfort on warm rides in either humid or dry conditions.
The jersey pockets are ample-sized to stash all necessary items. I was able to stash the Gore Bike Wear Gore-Tex Shakedry and a large MTB-style mini pump in the middle picket with equal amounts of gear on either side pockets. Everything carries well and stays put. Separate phone sleeves are nice to have, but really unnecessary as my iPhone 7 stayed put just fine in the right-rear pocket (my preferred placement).
There are a few small reflective treatments on the kit, but the biggest feature is the traffic-cone orange color I tested. Anything you can do to stand out in my book and this color does just that. Other high-vis colors are available.
I did find it interesting that the zipper is such a large-toothed design. I've never seen this type of zipper on a jersey before, but it does zip up/down with ease and the zipper pull is easily-grabbed in the saddle.
The Good
Classic styling with nice high-vis orange color
Good-sized pockets to haul a ride's worth of gear
Breathes well
Laser cut cuffs are clean and tidy
Slim cut rides without flutter at speed
The Bad
KISS Air chamois isn't the cushiest for gravel or long days in the saddle
Straps could be stretchier and wider
The Bottom Line: Castelli Entrata 3 & Velocissimo IV
No good kit is cheap, but for a little north of $200, you can get a full Castelli kit that looks great and performs well. Admittedly, the chamois does leave a little to be desired, but if you prefer a less-cushy pad, don't hesitate on the fantastic Entrata 3 jersey and Velocissimo IV bibshorts.
Buy Now: Entrata 3 or Velocissimo IV