Carbon road bars are nary a necessity in my book. With one exception (Zipp SL-70 Ergo), every pair of alloy bars I've used has been overly stiff and rough on the body. The Easton EC70 SL bars are sensibly-priced and deliver a stiff and chatter-free ride.
Easton EC70 SL Bars Features:
EC70 carbon layup
Standard 31.8mm clamp diameter
Widths: 40, 42 (tested), 44 and 46cm (c-c)
Short 80mm reach
Shallow 125mm drop
Cable routing recesses
Round tops
Weight: 220g (42cm, stated)
MSRP: $214.99
Stiff, comfortable and fuss-free bars
I can't recommend a good set of carbon bars enough. I've got my favorites, but there are a wide variety of options out there for cockpits of every budget and fit. Heck, there are aero bars, short reach bars, shallow drop bars, ergo tops and more. With the EC70 SL drop bar, you get a no-nonsense short-and-shallow bar that's bound to work well on most every bike.
First off, get yourself a proper fitting so you get the right width. For me, 44cm bars are the ticket — it gives me a little more steering leverage and opens up my chest just a tad. Unfortunately, most bikes come with 42cm bars standard. So, if you're like me, you may have to buy a new set with that new bike you just bought.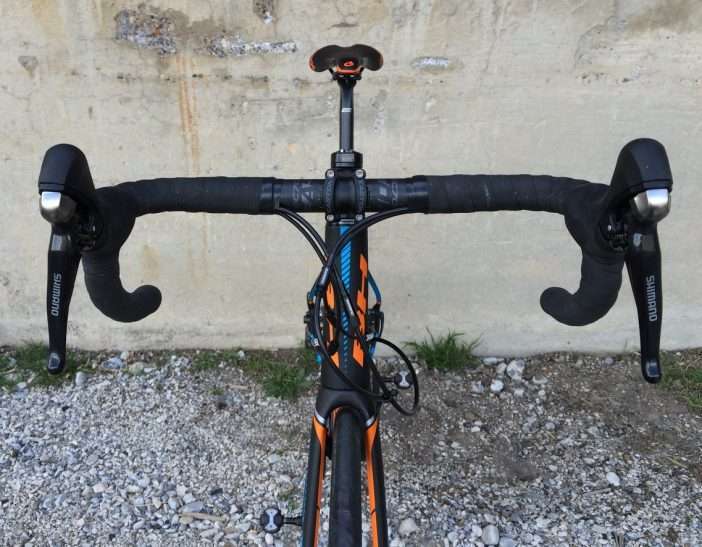 The test rig for these bars has been the BH Quartz Disc Ultegra, which is  the most comfortable bike I've ridden in recent memory. Without question, the EC70 SL's are contributing to that ride quality to some extent. But, unlike Easton carbon bars I've tested previously, the EC70's are stiff and responsive on top of their chatter-reducing properties.
For me, I need a short/shallow bend to get the right cockpit fit and these have a short 80mm reach with a 125mm drop. This enables me to run a 110mm stem for proper body position and handling. As far as curve goes, these are pretty straight-forward with little frills. There are no flat tops here or ergo bend in the drops — just round tops and consistently-curved drops.
Marks allow for proper shifter placement with a smooth transition to the tops and generous cable grooves allow even hydraulic brake lines to disappear under bar tape. I do wish for flat tops for a little more comfort, but as far as round bars go, these are excellent.
Standing and sprinting revealed no noticeable flex, so I expect these to respond well for even the strongest of riders. But, while they don't flex under pressure, they still take the edge off road chatter — ahh, that magic material.
The Good
Stiff and responsive
Takes edge off road chatter
Deep cable guides make cables disappear
Short/shallow profile makes bike fitting easy
Clamping area holds secure
The Bad
A bit heavy for weight weenies
I always love flat tops
The Bottom Line: Easton EC70 SL
Get a set of carbon bars already and when you do, make sure they are the proper width and bend for a proper fit. While you're doing that, you'll want to have a good look at Easton's EC70 SL drop bars. They offer an excellent, all-around shape with good stiffness and chatter reduction.
Buy Now: Available at JensonUSA.com
In Summary
If you're on the search for a new set of bars, the Easton EC70 SL offers a no-frills design that's easy-on-the-eyes and functional. The short/shallow bend makes fit a breeze and the bars remain stiff under load while cutting down the chatter.