Style and function don't always play nicely together, or at least it takes a solid design team to mesh them well. The Stacker sunglass, from California-based company Electric, are built in Italy and are a perfect example of a happy marriage between style and function. I've been putting them through their paces on everything from ice routes to resort days.
Electric Stacker Sunglasses Features:
FRAME: 6 base mold injected Grilamid frame in feather weight construction with performance grip nose bridge and temple tips. Innovative double action hinge system.
OHM Polycarbonate lenses. 100% UV protection. Up to 98% Blue Light protection
Anti-reflection, hydrophobic and oleophobic performance lens coatings.
ORANGE TINT: VLT 37%. Best suited for darker days, foggy/cloudy days or even indoor activities and target practice. Low light, contrast and focus enhancing tint.
MEASUREMENT: 55h – 143w – 160l
WEIGHT: 33grams
California Design. Hand Crafted In Italy
MSRP: $180
Stack the odds in your favor
As I said, the Stackers are made in Italy and that comes with a pretty hefty heritage of good quality. The Stackers feel like a premium sunglass; the frame is a very lightweight, strong Grilamid, which means that it can bend without breaking and will hardly ever be affected by temperature. There are also some nice touches, like the anti-slip patches on both the ear grips and the bridge of the nose.
If you're a mountain biker or an athlete in another high-energy sport, you'll appreciate the Stacker's ability to stay on your face. It's especially nice since many glasses as large as these tend to be front-heavy and prone to falling off. It's also interesting to note that Electric designed an all-plastic hinge for the Stacker; it's not as smooth as a metal one, but reportedly it's twice as durable and it's certainly a lot lighter.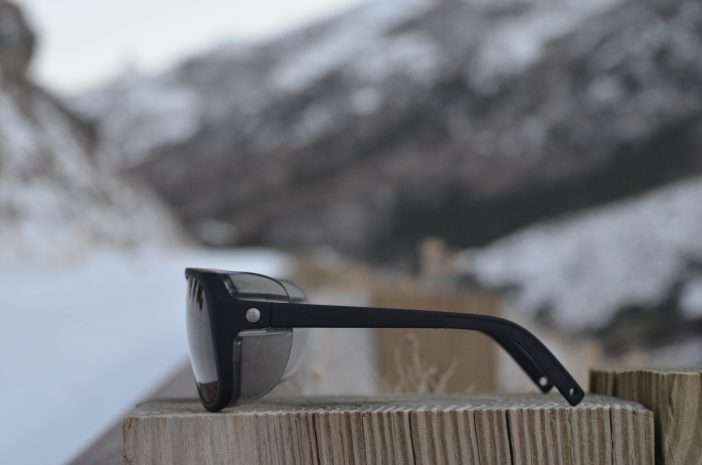 The Ohm lens is an interesting centerpiece for the Stacker. Tinted with melanin, in many regards it's the perfect Pacific Northwest lens; it's suited for days with a touch of cloud cover or time spent down in the forest where there isn't as much sunlight getting through. It's really not a very dark lens overall, largely because Electric intended it to be used for athletes who need to have protection and great visuals. That said, it has all the necessary chops and then some: it features true color perception, 100% UV protection and an excellent polarized treatment that doesn't interfere greatly with screens.
I also appreciated the practicality of the lens' coatings. The Ohm has oleophobic and hydrophobic (oil and water repelling) treatments, so neither the oil from your body nor the water from the environment will stick on the lens as well. The primary virtue with these treatments, though, is really just that they become easier to clean. The Stacker's antifog capabilities could use a little work though. Although the frame incorporates low-profile physical ventilation, I often had problems with lens fogging during activity. This was definitely compounded by the removable face mask; if you take it off, the lenses handle fog considerably better. I use a product called Cat Crap to supplement lenses that fog often, so overall this didn't become an issue for me.
That face mask is an interesting addition. It reminded me of the side shields that you find on glacier glasses, and that's what interested me in the Stacker originally. Electric intended it to block out wind, dust and spray from entering through the sides. I have to say, it works well and it's comfortable. Overall, I wouldn't use these as a glacier sunglass because of the relatively low tint although theoretically the 100% UV-proof Ohm lenses, coupled with the added protection of the face mask, should allow the Stackers to be used on glaciers. I just think it would be uncomfortably bright.
All in all though, the Stackers are great performers. That's why people love them so much. I've sent several ice pitches in mind and that's where I really value the extra protection of the large lenses and the removable mask. The grips on the nose and ears work well and I've never had a problem with the glasses shifting on my face.
The Good:
Great style and performance overall
Ohm lenses are clear and don't distort colors
Removable face mask is a valuable feature
Lightweight frame and grips keep the sunglasses in place
Polarized treatment is especially good and doesn't interfere with my iPhone's screen
The Bad:
Some will wish for darker tints
Fogging with the face mask on can be a problem
The Bottom Line: Electric Stacker Sunglasses
The Electric Stacker are the perfect adventure sunglasses. They're light, versatile and exceptionally durable. I'm looking forward to many years of adventure with these sunglasses.
Buy Now: Available from Electric California