Kuat is a tried and tested name when it comes to bike racks. They've launched their foray into kayak racks with the Kuat Class 2 Kayak Rack and Kuat Class 4 rooftop kayak racks. Let me tell you, the quality and craftsmanship you've come to expect and rely on for your bike racks can be found in their kayak racks.
Kuat Class 4 Kayak Rack Features:
Kayak carrier holds up to 80 lb. boats (check your roof rack specs to be sure)
End pull-lever release provides easy-access folding
Magnetic store position
Co-molded rubber offers protection for your boat
Locking Flip™ mounts make install and removal quick and easy
Adjustable tilt accounts for non-level roof bars
Includes T-channel flush mount kit, rubber-protected cam buckles and bow and stern lines
Kuat offers a No Worries warranty
Dimensions: 23 x 9 x 7 inches
Weight: 13 pounds
Price: $229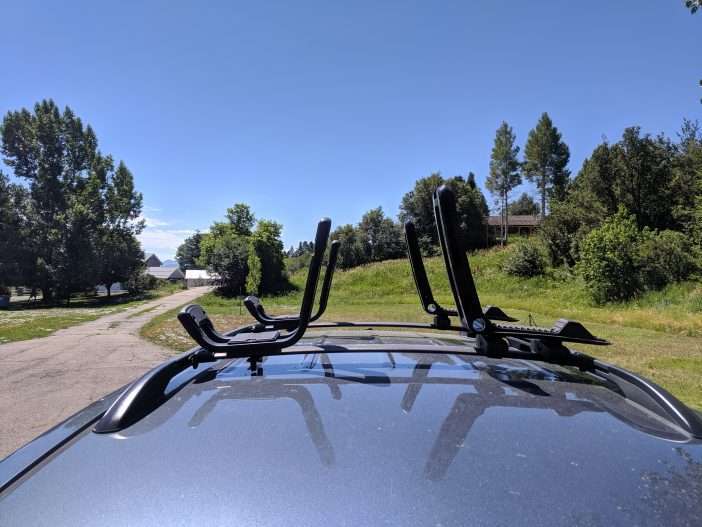 Kick up your rack game with the Class 4
First up, let's take a look at the crown jewel of the kayak line, the Kuat Class 4 Kayak Rack. Kuat successfully combined form and function with the Class 4. The most notable feature of the Class 4 is it's fold-able design. Most J-style kayak racks are large and look like mini sail masts on top of your car. When closed the Class 4 is unobtrusive and definitely does not look like a kayak rack. This is a sleek, slim package that really looks great on your rack!
Kuat equally matches their design with function. You can easily open the rack one-handed. When open, the rack locks into the open position. An easy lever squeeze releases the lock and the rack folds down smoothly, it will require two hands though to close. When closed, magnets help keep the rack closed and prevent opening while driving around.
Loading your boat is practically the same as with any J-style rack. Pick the boat up and set it in the cradles! There are two design concessions that became apparent when loading. Both are a result of the folding design. First, the small end of the cradle that keeps your boat from slipping out is much smaller than the typical J-style cradle. If you aren't careful it would be easy to bounce your boat out of it. Kuat did coat the cradle in rubber to increase friction to prevent this. I didn't experience any issues with this but could see how it could happen if you're careless or if your boat slips while loading.
The second thing I noticed is the cradle is more "L" shaped as compared to other j-style racks. The result is your boat sits more vertical. My sit-on top kayak is fairly wide and extends quite a bit above the top of the cradle. I thought I might experience the boat tipping or not sitting as securely, but again, I didn't experience any issues. The other disadvantage of the boat sitting more vertical is when strapping. It's a long reach over the top to grab the straps or to make sure they aren't twisted and into position.
Speaking of strapping your boat down: Kuat included dedicated strap slots in the upper and lower cradle arms to help keep your straps organized and in place. The straps slide easily through the slots as you adjust to tighten things down.
My favorite tiny feature comes on the straps. Most all tie-straps always have loose ends that you have to endless knot or risk them flapping in the wind as you cruise down the road. Kuat included a small hook-and-loop mini-strap to organize the loose end and keep it from flapping around. Ingenious! The straps and buckles themselves are burly and the buckles are coated to help with grip and ease of handling.
Pro-tip: On my first ride with our kayak loaded the straps strummed like an out of tune cello. I used the small hook-and-loop strap to pull both straps together, all but eliminating the noise!
The included bow and stern straps help further secure your boat. They feature the same small straps to keep the excess in check as well as a sleeve to help protect your ride's paint job. The straps to attach to your car must be girth-hitched. I would have appreciated a hook instead as one of our vehicles doesn't have a good place to loop the strap on the front.
One of the other best features of the Class 4 is the Locking Flip™ mounts. This is hands-down one of the best Kuat features. It allows you to quickly and easily install, remove, or swap mounts. The are easily adjustable and quick to install. Once installed you can quickly swap out other Locking Flip™ mounts without the headache of reattaching to the bars. You check out Jason's experience here. One big item to note, the Locking Flip™ mounts lock to your crossbars, however, the Class 4 does not lock to the mount.
One great feature of the Locking Flip™ mounts is they provide a small amount of tilt so you can adjust the mount to stay level if your crossbars aren't level. Simply loosen a bolt and you have a little of bit of play both forwards and back at your disposal. It's a small feature but extremely useful.
The Good
Sleek, foldable design
Locking Flip™ mounts are fast and easy to install – plus they integrate with other Kuat roof racks
Best kayak straps I've ever used
The Bad
Rack itself doesn't lock to the mounts
Stern straps only loop, a hook isn't included
The Bottom Line: Kuat Class 4 Kayak Rack
The Kuat Class 4 Kayak rack is unlike any other kayak rack on the market. It's foldable design looks great when folded and carries well when opened. Take your rack game up a level and pick one up.
Buy Now: Available at REI