Well, it's been a hot summer here in Spokane with many weeks of near-100 degree weather in a row. I would be sick and tired of it, if it weren't for some great gear that's helping to keep me cool. Enter the Louis Garneau Connector cycling shorts, a breezy and stretchy pair of shorts for singletrack slayers.
Louis Garneau Connector Shorts Features:
Detachable Drytex® 2002 innershorts with chamois and Powerband
Snap loop system: Compatible with LG innershorts and inner bib
Zip fly with snap and hook-and-eye closure
Adjustable waist with velcros
2 front and 2 rear zippered pockets
Seamless inner leg to reduce saddle bunching
MSRP: $99
Get connected
I've mostly used the shorts while testing the 150-mm travel Fezzari Timp Peak 2.0. My stomping ground for that bike is the technical, sometimes airy trails of Beacon Hill Bike Park in Spokane. The park features a wide variety of trails, from swoopy pumping runs to technical wood and rock features. It was a great fit for the 150mm bike, but it was also an ideal proving ground for the Connector shorts.
The Connector shorts are built for this sort of technical terrain. At the foundation of the shorts is a four-way stretch fabric that's intended to give you freedom of motion all around the saddle during tricky stuff. There's also no seam on the inner legs, which help prevent the fabric from bunching up and getting in the way. Topping it off, there's a DWR to fend off rain and muck. I was really pleased with how the fabric performed. It's very lightweight and breathable, making it perfect for these hot summer days. The DWR is a nice touch, but nothing's going to prevent bright yellow shorts from picking up crud as summer goes on and you roll through mud.
I was really impressed with the quality of construction on these shorts, too. MTB shorts can often be infested with loose threads and sloppy stitching, but these shorts feel more in-line with the high-quality technical mountaineering gear that I test, in terms of quality. (Ha, disregard the loose thread on the left rear pocket… not sure how that one happened, and right in the main photo no less.) All of the features are very nicely executed, too. For example there are two zippered rear pockets with locking zipper heads and the tracks are covered by piping. The hand pockets are cut so that contents don't interfere with pedaling, and they're mesh lined for speedy drainage and perhaps a touch of ventilation.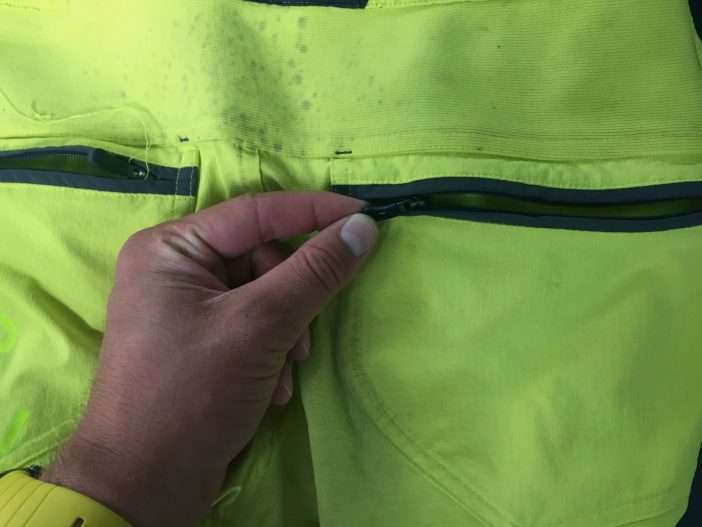 Garneau also included an adjustable elasticized waistband. The adjustments attach in the back and wrap around to attach with velcro in the front. This is a fairly common design, and Garneau's works well enough. My only complaint is that the elastic is quite loose, making it fairly tough to actually tighten the waistband much. My waist fluctuates quite a bit during the summer season, so at this point they're a bit chronically loose on me. That said, you never have to worry about the fly popping open – there's a zipper, a button and a clasp all working together to keep things in place.
The final piece to talk about is Garneau's Drytex 2002 liner. Its main features are multi-density foam for support and cushion, and beveled edges to eliminate hotspots. Different chamois pads do better with different rear ends, but I can't say that I loved this particular one. I got quite a bit of irritation from the edges of the chamois, despite the promise of the beveled edges. But in truth, I blame half of this on the particular saddle I was using, too. I think it was just a bad combination. In any case, the multi-density foam certainly was supportive and my ischiums left every ride unscathed.
The Good
Excellent fit and performance from the 4-way stretch fabric
DWR keeps the mud and grime at bay a touch longer
Thoughtful pocket design; locking rear zippers are a great touch
Included Drytex 2002 chamois performs well enough, and it's removable!
Great construction quality overall
The Bad
I personally found the edges of the chamois irritating
Loosely elasticized waistband doesn't actually offer much functional adjustment
The Bottom Line: Garneau Connector Shorts
Louis Garneau has done a good thing with the Connector shorts. They're great for cross country or gravel thanks to their streamlined fit and the excellent, uninhibiting performance of the 4-way stretch fabric. They've become my go-to for these hot Spokane days.
Buy Now: Available from Backcountry.com