When Louis Garneau introduced the Course Air Lite's, I was certainly impressed. Those bright red kicks were something special. Fast-forward a few years later and the all-new Course Air Lite II's are on the prowl and they feature the award-winning X-Comfort Zone for extra wiggle room in an otherwise race-fit shoe.
Louis Garneau Course Air Lite II Features:
Race fit for the lowest stack height available
Garneau's stiffest carbon outsole for optimal power transfer
BOA IP1-S with TX underlace system
X-Comfort Zone at the "sixth toe"
Includes winter and summer-weight insoles and arch supports
Titanium cleat inserts
MSRP: $369.99
Very impressive, Louis
The original Course Air Lite shoes were impressive. That sexy Ferrari red color was the bomb and the dual BOA IP1 closures made for a snug fit. Improving on that design required some out of the box thinking and the all-new Louis Garneau Course Air Lite II's are the result.
Since these are the highest-level race shoes that Garneau makes, they pulled out all the stops. If you look at the specs, we're talking the latest BOA IP1-S laces, low stack height, Garneau's stiffest carbon soles, titanium cleat inserts and the star of the show is the new X-Comfort Zone.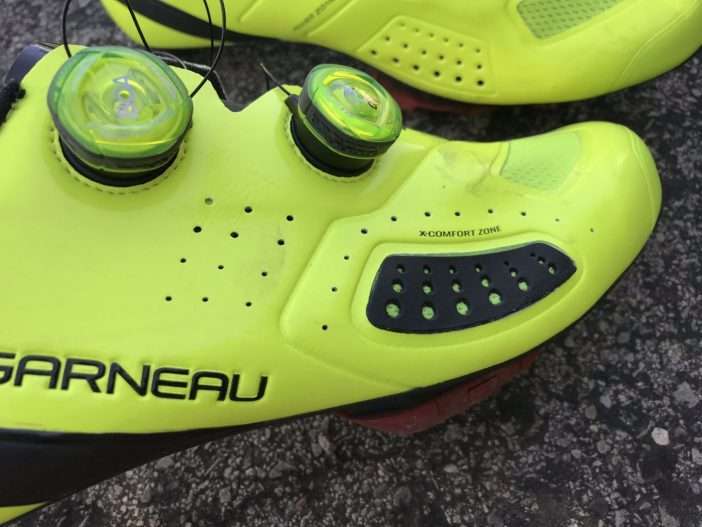 With top-shelf race shoes, you typically get a race-fit, which translates into "narrow and tight." WorldTour racers are able to squeeze themselves into the tightest-fitting shoes if it means more watts and better power transfer, but the rest of us demand comfort as well.
To achieve that, the new Course Air Lite II's feature the X-Comfort Zone in the "sixth toe" area to accommodate wider feet and provide added room for thicker socks during winter months. This design actually won a Eurobike 2017 award for innovation and has been well-received by riders.
While I don't have wide feet, the X-Comfort Zone has delivered a much more comfortable toe box and also allowed me to wear them with thick socks, like the Seal Skinz Super Thin Pro Hydrostop, when weather dictated. And, with the BOA IP1-S dials, it's a cinch to make in-the-saddle adjustments.
Over the years, I've found that I simply can't do without BOA laces in my cycling shoes. Dual dials are awesome — allowing customized fit on-the-fly as your feet swell during rides. The updated IP1-S dials are even easier to rotate.
As far as sizing goes, I should have gone with the 44.5 instead of 45, but that extra room came in quite handy as I settled into a pair of midweight Wigwam Beacon Heights socks that look pretty awesome with these shoes. Regardless, I was still able to utilize and now vouch for the extra wiggle room the X-Comfort Zone. Additionally, the heel cup features one-way fabric that works like charm as my heel always stayed locked and ready at all times.
Something that I miss is a metatarsal button on the insole to spread out my toes and aid in blood flow. I didn't have numbness, but that little button is something I really like with shoes from Bontrager and Specialized.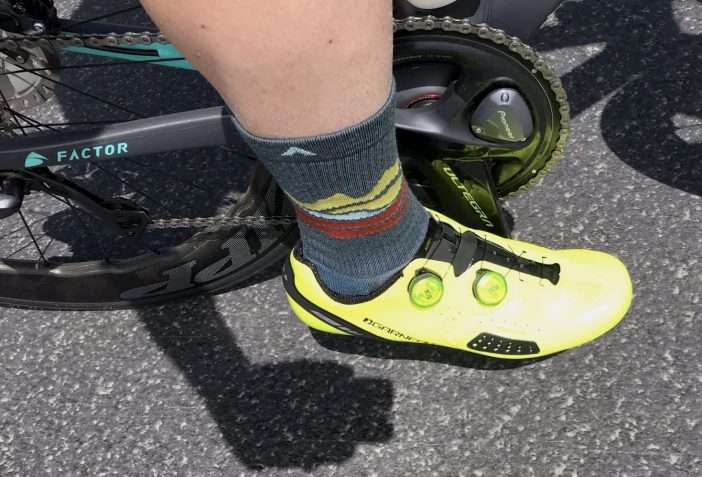 I have also really appreciated the added toe protection against scuffing. With significant toe overlap on the Factor O2 Disc, my right toe took the most of it and any scuffs are barely noticeable. We are all vain after all and scuffs on our precious kicks are like fingernails on the chalkboard. The toe protection is keeping those scuffs at bay so far.
The Good
BOA IP1-S lacing system is a breeze
X-Comfort Zone gives key wiggle room
Includes winter and summer-weight insoles
One-way fabric in the heel cup keeps your heel in place
Excellent power transfer
Love the bright yellow color
The Bad
No metatarsal button on the insole
The Bottom Line: Garneau Course Air Lite II
Improving on the original required a fine-toothed comb and some smart designers. The Course Air Lite II's are not cheap, but you'll be hard-pressed to find a better race-worthy shoe that's also comfortable for daily use. I'm also digging that there are two high-vis color options — black or white shoes are boring.
Buy Now: Visit Amazon.com
In Summary
Garneau's Course Air Lite II is a significant update to their already-awesome top-shelf shoes. The X-Comfort Zone works wonders for the 6th toe area and the soles are wicked-stiff for the ultimate in power transfer. Oh yeah, and dual Boa IP1's to round things out? Done deal.