I think one of the biggest challenges to a good ski day is staying warm on the lift. I learned this season with the Obermeyer Perseus Insulated Bibs that lift rides don't have to be spent huddled, trying to stay warm.
Obermeyer Perseus Insulated Bib Pants Features:
HydroBlock Sport 100% Polyester Ripstop Weave
40gm insulation in body and legs
Full-Motion articulated knees
Critical seams sealed
CZV – Control Zone Ventilation with mesh gussets
YKK zippers
Side zipper with snap closure
Suspenders – adjustable
Double layer, reinforced knees and seat
Abrasion resistant scuffguards and reinforced pant hems
Reinforced inseams & belt loops
Price: $279
Warm and feature-packed bibs
The Obermeyer Perseus Insulated Bibs crushed expectations on keeping me warm this winter. Tech specs say "40gm of insulation", translation: enough insulation to keep you warm without being overly bulky or impeding your movement. Better translation: reliably warm and good for skiing. An added bonus is Obermeyer included insulation up into the chest and back, giving you a little extra warmth for your core.
Cloudy days and teenage temps didn't stand a chance against the Perseus Bibs. Frosty chairs and 40 mph winds didn't shake them either. There wasn't a single instance where I was cold when wearing the Perseus Insulated Bibs.
That warm insulation is wrapped top-to-bottom in Obermeyer's HyrdroBlock Sport Polyester Ripstop Weave fabric. With the HydroBlock fabric you get wind, water, and snow shedding protection that allows the insulation to do it's full-time job. Ripstop adds a layer of durability to deflect ski edges, trees, and rocks from tearing a hole in your bibs.
Skiing is hard work. Add in all that insulation to trap your body heat and you will be prone to start to overheat. The Perseus Bibs come with full-length inner thigh vents to let in a cool breeze. Mesh paneling keeps most snow out without restricting air flow. I skied entire days with the vents open and my baselayer didn't accumulate any melted snow.
One feature that the Perseus has that other bibs I've used haven't had is a big chest pocket. This became my favorite feature of the bib. It's stowed beneath a velcro flap and zipper. It was big enough to keep my plus-sized phone and wallet with some room to spare. What was great about the chest location is the items were available to quickly grab and my core warmth kept the phone warm, thus prolonging battery life.
Speaking of pockets, the Perseus does sport two zippered thigh pockets. These I found less user friendly. They were big enough for phone or wallet, however, I found them to be restrictive with anything in them. I didn't use them much. You'll also find one rear pocket as well. I never used it as it's only secured with velcro and I didn't trust that my wallet would stay put. Upgrading this to a zipper would be useful.
Like all good ski pants the Perseus bibs sport a solid set of gaiters to keep the snow out. What I like about these ones is they are extra stretchy and easy to get over all of your buckles. There are zippers at the bottom of each leg to give additional access to the gaiters, however, the leg openings are big enough to pull the leg up without needing to unzip. I did notice that the zippers did work themselves undone throughout a day of skiing. The button at the bottom kept the pants from flapping open.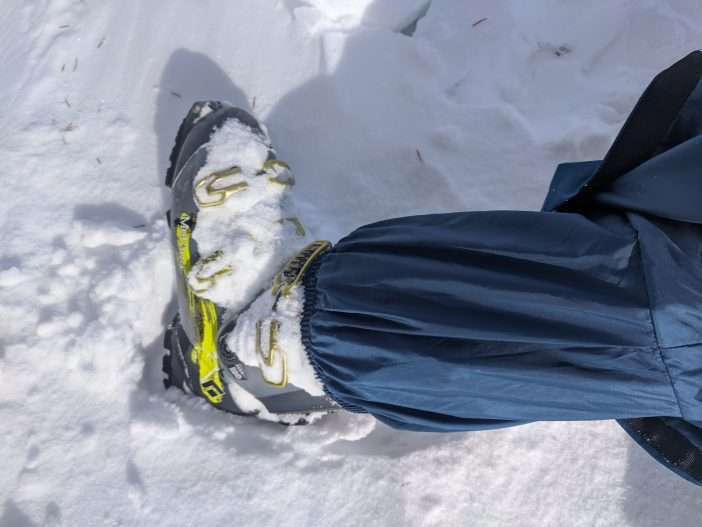 Wide, elastic shoulder straps are easy on your shoulders and bring all-day comfort when the snow is too good to go home, even when only wearing a baselayer. They are long and have a lot of adjustability. It might just be my pair, the left shoulder strap would self loosen. At the start of the day I'd adjust the straps to where I wanted them and as the day went on I noticed that the strap was working itself loose. I would adjust the straps to the same position and a few runs later the left one would be loose again. I don't have a clue how or why. It was only the left, not the right.
One note on sizing: I'm 6 feet and about 195 pounds and I wore the size large. It fit well except for the length, which was really close. I found that I had to wear the shoulder straps a little looser than I would have liked to keep the bottom of the pants down around my boots and not pull up above the gaiters.
The Good
Insulation keeps you toasty, especially on lift rides
Chest pocket is extremely useful for keeping items insulated and handy
Durability seems high
The Bad
Shoulder straps loosened on their own
Length was short for a large
Zippered pockets were constrictive if used
Bottom Line: Obermeyer Perseus Insulated Bibs
Save yourself from frosty chair rides. The Obermeyer Perseus Insulated Bibs will keep your warmer on those frigid days while keeping pace, no matter how your ski. With lots of pockets and features, these are great frontside bibs.
Buy now: Available at Amazon.com