In a world of quadruple-digit ski jackets, Orsden is coming in at a much more affordable price point with much of the same quality and overall feel. It's been a joy mixing it up with the founders of Orsden and testing their Slope jacket this winter.
Orsden Slope Ski Jacket Features:
Shell features DWR finish, stretch micro twill weave (89% Nylon, 11% Spandex)
Lining features DWR finish (88% Polyester, 12% Spandex)
100% Polyester insulation (120g in body; 40g in sleeves and hood)
Fully-sealed seams
Proper alpine, just-right fit
Hood is adjustable, detachable, insulated, and helmet-compatible
2 hand, 1 sleeve, 1 chest (w/goggle wipe) and 1 internal zippered pockets
Underarm zips for ventilation
Detachable, snap-close powder skirt
Adjustable drawcord hem
Weight: 39.5 oz (men's large, actual)
MSRP: $330
All the frills at a fraction of the price
The high-end ski jacket market has a handful of players that deliver a luxury feel on the slopes, but for a hefty price. Orsden is aiming to reduce that sticker shock by offering a jacket that feels amazing, but costs a fraction of what you'll find from other high-end manufacturers like Kjus, Descente or Bogner. In a direct-to-consumer world, Orsden's founders (Sara and Steve Segal) might just be onto something.
After the jacket arrived, I hopped on a call with Sara Segall and was able to get to know her background and passions as well as more information on why Orsden and where she sees the brand going from here. They started with the Slope Jacket for men and women and are now branching out with a new pants line coming for 2017/2018. Traction thus far has met or exceeded expectations and they are excited to take the brand to where they know it can become.
The features of the Slope Jacket are certainly on par with the competition with a 20k/20k waterproof and breathable membrane that's backed on a 4-way stretch outer shell. The whole jacket is very quiet when moving and delivers a very high-end feel with all the bells-and-whistles consumers expect from a Deer Valley-style cocoon.
As with some of the other brands mentioned above, the money moment is when you put it on. I've tried on $1000+ Kjus jackets and let me tell you, they just feel awesome. Crazy expensive, but you just feel cradled and comfortable. With that experience in my mind, I slipped into the Slope Jacket and well, it felt no less spectacular and comfortable. No question, all the iterations have paid off because this V1 jacket is quite impressive.
The Alta test
My home hill is Alta and it's a great place to test jackets. Temperatures can vary wildly and the snowfall is as dependable as a Swiss timepiece. Throughout my testing, I wore a variety of base and mid layers based on the weather. Those layers have consisted of the following variations:
Just the Jottnar Uller Yak Wool base layer
Just the Columbia Extreme Fleece base layer
The Columbia Extreme Fleece and the Rab Microlight Down Vest
These variations were worn based on conditions with the coldest day (13-degrees) being with option #3.
Something that I really like about the Slope Jacket is the soft lining. It takes up any air gaps between your body and the jacket and ensures the insulation is doing its job. I found the mixture of insulation (120g body and 40g sleeves) to be excellent on all but the coldest of days where my arms got a little cold. Wind and weather protection has otherwise been excellent with this thing laughing at Mother Nature's worst.
Another nice feature is the buttery-soft sleeve cuffs. These fleece sleeves are attached just in front of the elbows and provide added protection against glove/jacket gaps as well as providing additional warmth. They feature thumb holes that were nice in theory, but didn't work so well in practice. The problem is the fleece sleeves weren't long enough and, with a full inch of material in front of the holes, they became cumbersome to tuck inside my DaKine Kodiak Gloves. Other, more gauntlet-style gloves were a little better, but I still found the thumb holes unusable. Additionally, the deep attachment of these fleece cuffs results in an "inside-out" sleeve every time you pull your hands out of the jacket.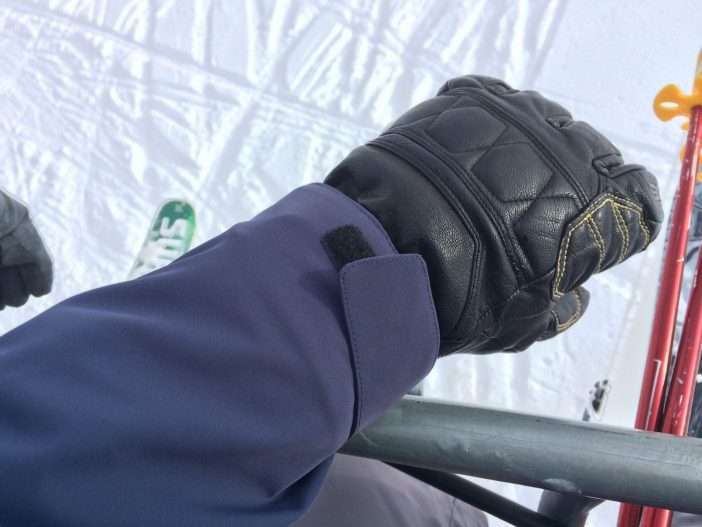 The glove/jacket interface is key and I did find good luck with the DaKine Kodiak's as I would tuck the cuff inside the glove, then slide the outer cuff on top and cinch it down. That kept the elements at bay quite well, but just a little extra length would have made it even better. Gauntlet-style gloves were a little cumbersome due to the bulk of all the materials in the cuff area.
While the jacket does feature pit zips, I didn't encounter conditions where they were required. Honestly, should I be doing any hiking or spring skiing, I would not choose this jacket, so I'm not sold on having the added weight and bulk of mesh-backed pit zips.
When conditions got really cold and snowy, I wore a heavyweight base layer combined with a down vest and lightweight neck gaiter. That combination made for a tight squeeze in the collar with little room to tuck my chin inside the jacket for relief from the cold. Without a down vest, things are much more roomy with the ability to hunker down and enjoy the fleece-lined chin. I'll have to continue fiddling with the proper base and mid-layer collar combinations to ensure I can tuck my chin inside when needed.
What I do appreciate is a good zipper and zipper pull and the waterproof zippers and corresponding pulls are easily-grabbed and easily-zipped (just the way I like it). I will add that the front zipper is UK-style for some reason with the zipper remaining on the left side.
All the usual trappings included with this jacket just add to the value. Things like a detachable powder skirt, detachable and helmet-ready hood (that actually works), built-in goggle chamois as well as a pass pocket all help the Slope Jacket compete head-on with the big guns.
For reference, I'm 5'11" and 170 lbs and the size large offered the perfect fit with good length at the hem and width at the shoulders/chest. The sleeves were OK, but could have been a little longer for added coverage.
The Good
4-way stretch material moves with you
High-quality feel of jackets that cost twice as much
Great "just right" fit
360-degree fleece-lined collar is super comfy
Great zipper pulls that are easily-used with gloves
Classic, timeless colors
Helmet-compatible hood that actually works
The Bad
All those features make for a heavy jacket
Sleeve cuffs could be improved (thumb ports, shallower attachment)
Sleeve length could be a tad longer
The Bottom Line: Orsden Slope Jacket
Luxury ski jackets aren't for everyone, but Orsden is trying to change that by offering all the typical features found in $1000 jackets at a reasonable price point. My experience with the Orsden Slope Jacket has been fantastic with only minor issues to quibble about. This jacket is wicked-comfortable for frontside adventures.
Buy Now: Visit Orsden.com