A great pair of running shorts needs to become invisible. Not really "invisible" because that would be awkward, but they need to become unnoticed and simply part of you. The Patagonia Strider Pro's are available in both 5 and 7-inch lengths to suit your tastes. I've been running in the 5″ version almost exclusively so far this year and we're getting along just fine.
Patagonia Strider Pro 5″ Running Shorts Features:
100% recycled polyester stretch ripstop
Light DWR treatment for added weather resistance
Four envelope pockets and rear zip pocket
Included brief liner with HeiQ® Pure odor control
Light, minimalistic elastic waistband with draw tie
MSRP: $69
Hitting your stride(r)
Trail running shorts need more range-of-motion and I always look for carrying options for gels and a phone. The combination of hip and lumbar pockets are the trusted standard for proper carrying over rough terrain. With those must-have's, the Patagonia Strider Pro 5″ fits that bill perfectly. Thanks to years of experience and feedback from pro athletes, Patagonia knows a thing or two about making a great pair of trail running shorts.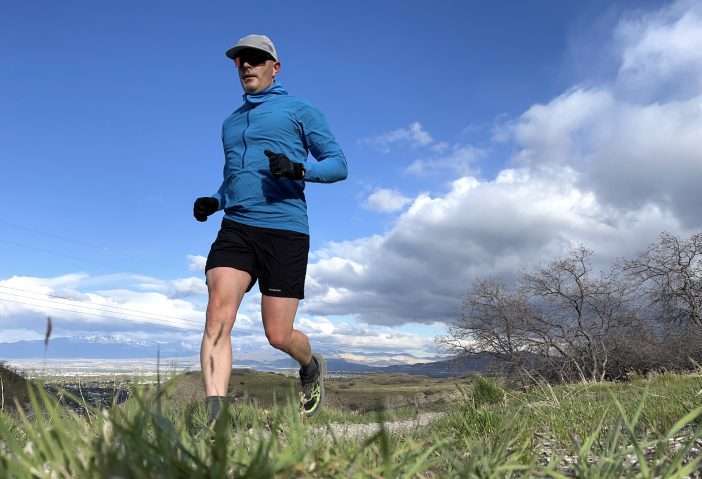 Offered in two lengths, the 5″ is great for efficiency and performance, but they aren't so short to be awkward lounging after a run. Kids will let you know if they have passed that thigh line and I've had no snide remarks from any of the four teenagers in our house about showing too much thigh.
Now back to more important matters. I'm consistently a size medium in Patagonia shorts and pants, but these are right on the upper edge of that size range. With a 33″ waist and a cyclist's backside, the size medium fits juuuuust right, but don't have too much width to spare.
Instead of compression-style liners, the Strider Pro features a standard brief. At first, I thought I wouldn't appreciate them, because I prefer compression-style liners. As it turns out, the briefs offer excellent support and are the ultimate in chafe-free performance. They are a little snug on my backside, but keep all my important bits properly in place. Sometimes, compression short liners just aren't tight enough and chafing still happens. I'm happy to report that these soft, cozy briefs breathe well and I've never had one bit of chafing after hundreds of miles of use.
As an added bonus, the waistband is lined with soft material that feels as comfortable as the liner. Wrapping things up, the drawstring is there to ensure things stay in place, but could use a couple of extra inches to make tying them easier. With four envelope pockets, you can carry gels or your phone with ease. My iPhone 13 Mini fits in either the lumbar or side pockets and carries well while running or walking the dog.
Ahead of a Caribbean cruise in April, I wanted to bring a pair of shorts to use at the gym on the ship. These were an easy choice because they take up almost no space, dry quickly and have a supportive liner. If you need a pair of minimalist, yet functional shorts, these are a great option.
With slit sides, the Strider Pro's flow with your movements and never get in the way. On steep climbs, the shorts move with me and disappear on all other terrain. Overall breathability is excellent and they dry out in a hurry.
The Good
Soft waistband
Myriad of pockets to carry whatever you need
Good length for efficient running
Breathe well and dry out in a jiffy
Chafe-free liner
The Bad
Drawstring could be longer
The Bottom Line: Patagonia Strider Pro 5″ Running Shorts
These lightweight trail running shorts feature excellent carrying capability with a comfortable, fast-drying brief liner. At 5″ length, they are short enough for fast-paced, efficient running, but not too short for awkward post-run activities.
Buy Now: Visit Patagonia.com