That superhero feeling you sometimes get when putting on a cycling kit is something we all aim for. Not all kits have that impression, but the POC Essential Road Light Jersey and VPDs Bib Shorts does a good job of duplicating that "man in tights" feeling right out of the box.
POC Essential Road Light Jersey and Essential Bib Shorts Features:
Breathable and high-wicking light structured polyester jersey
Mesh underarm and on the side panel for ventilation and comfort
Full-length YKK zipper for optimal ventilation and flexibility
Elastic on bottom hem to ensure a precise fit
Sleeve gripper for precise fit
Three rear cargo pockets to carry all bike needs
Additional cell phone zip pocket for extra security
Bibs constructed with a stretch and compression fabric for an optimal fit and function
Features POC's advanced and innovative silicon VPDs Multi D chamois
4.5cm elastic ending on the legs for comfort and to secure in place
Fully flatlock seams for next to skin comfort
Highly breathable mesh upper
Elasticated suspenders for precise ride fit and comfort
Pocket in the rear mesh to carry small items
Reflective patches at the rear to enhance ride visibility
Inseam: 24cm (Size Medium)
MSRP: $100 (jersey) // $150 (bib shorts)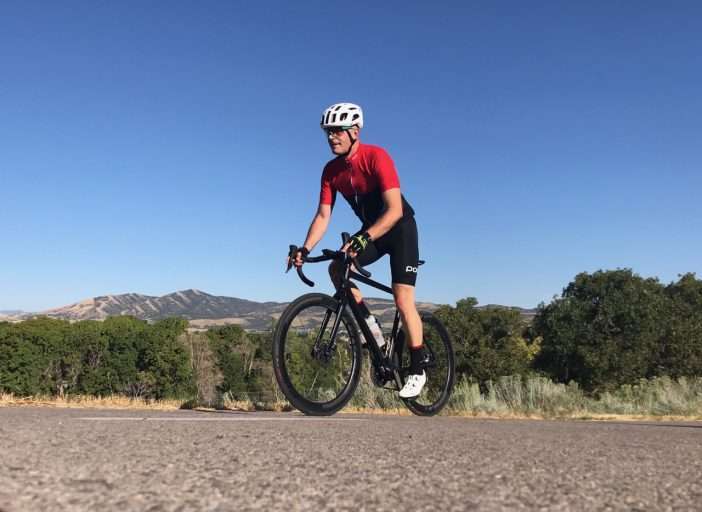 POC's super-summer kit
POC, purveyors of safety, comfort and performance for all cyclists, knows how to make protective gear. And, cycling kits are happily a part of their repertoire. For warm weather riding, breathable mesh tops are always in style, so the POC Essential Road Light Jersey and VPDs Bib Shorts has been put to good use this summer.
With a tri-color block-pattern design, the Essential Road Light Jersey looks sharp and classy with a pattern that will remain in style for its usable life. Black bib shorts are always the best choice and the red/blue/black color of the jersey allows black bib shorts to deliver an "integrated" look. I love it when jerseys have black on the lower section so they blend seamlessly into the bibs — nicely-done on this color, POC.
As far as the fit goes, I'll call it US-cut. I've been wearing the medium jersey and bibs and they fit my 5'11", 170 lb. body well. But, I think I could even go down to a small for a tight, race-oriented fit. As it is, the overall vibe is "snug but not too snug" and doesn't have anything to flap in the wind on fast descents. With the mesh panels, there is a ton of 4-way stretch to contour to your body and everything moves comfortably both on and off the bike.
Side and underarm panels are softer material and are built to expedite moisture transfer. In a like manner, the soft, traditional-rise collar is really cozy on my neck. It's a nice, comfortable collar.
The seams of the jersey are standard-style, but didn't cause any undue chafing. However, the Essential Bib Shorts feature flatlock seams throughout the bib body for added comfort. Nobody likes stiff seams pressing into their skin, so POC has done well here. The bibs immediately feel great next-to-skin and remain so even the longest rides.  Pulling this kit on just feels snappy and is well-designed from a fit perspective. It just feels natural.
Out back, the three pockets are a touch narrow and items in them tend to bounce around. Part of that is due to the thin elastic hem that doesn't feature any silicone to keep it in place. I found that I could easily stash my iPhone 7 into the zippered pocket for added security and reaching back there mid-ride was easy.
On long, hot rides, the mesh fabric was a Godsend. It breathes really well and allows perspiration to dissipate in a jiffy — keeping you cool. The bib straps are soft and comfortable next-to-skin and I never had any issues with chaffing. The fronts stretch just enough to allow for easy nature breaks as well. There are two sleeves in the bib shorts upper for a radio, phone or gels, but I'm not quite flexible enough to reach them. You may need a friend to place or retrieve items from those pockets.
The Good
Immediately comfortable
Classic colors and design
Chamois is comfortable (but not best-in-class)
Good overall cut and fit
Zipper works well up/down with one hand
Zippered rear pocket for phone or other items
Killer breathability
The Bad
Items tend to bounce around in the pockets
Hem could use some silicone gripper
Would like a little more leg compression
The Bottom Line: Essential Road Light Jersey/Bibs
With a classic design and thoughtful construction, the POC Essential Road Light Jersey and Bib Shorts is easy to enjoy. The chamois is good enough for long rides, but not class-leading. That said, the overall package is solid and available at a reasonable cost.
Buy Now: Essential Road Light Jersey | Essential Bib Shorts at CompetitiveCyclist.com