Paddleboarding is a great way to get quiet exercise on the water. There's something about paddling across mirror-calm lakes that just speaks to the soul and there's no better way to do it than aboard a SUP. After some time with the Red Paddleboard 10'8″ Ride MSL, I've loved its versatility, paddling quality and portability.
Red Paddleboard Co 10'8″ Ride MSL Features:
Durable, inflatable design for portability
MSL fusion composite hull
Includes Titan Pump for easy inflation
Wheeled carry bag with shoulder straps
10'8″ length and 32″ width
Up to 220 lb. capacity
Carrying handle in center and tail
Bungee carry system with RAM Mounts for 2017 (not on test model)
Tested using Carbon Nylon paddle ($229 extra)
Board weight: 23 lbs.
MSRP: $1379
Pack it up and paddle away
Paddleboarding has gained more and more momentum over the years and with good reason. It's a great way to get onto the water and into quiet coves on your local lake. In the past, most paddle boards were big and bulky boats that were difficult to transport. Luckily, inflatable designs have caught on, thus making both short and long-distance traveling with an SUP more reasonable.
Upon arrival, I was impressed with the entire package. The wheeled travel bag is sturdy and capable of being pulled around with ease on pavement, dirt and sand. When things get rough, deploying the shoulder straps can transform the case into a backpack.
Inflation duties are handled by he capable Titan dual-chamber pump. This one is quite special with the ability to quickly inflate from flat using both chambers, then finish off the remaining 5 psi. using just the single cylinder. The inflation port is quite intuitive with a small thumb valve that allows inflation without losing air or, when done, expelling all the air in a jiffy. The hose locks into place for easy inflation and the Titan also includes a variety of nozzles to inflate other items, thus further expanding its versatility.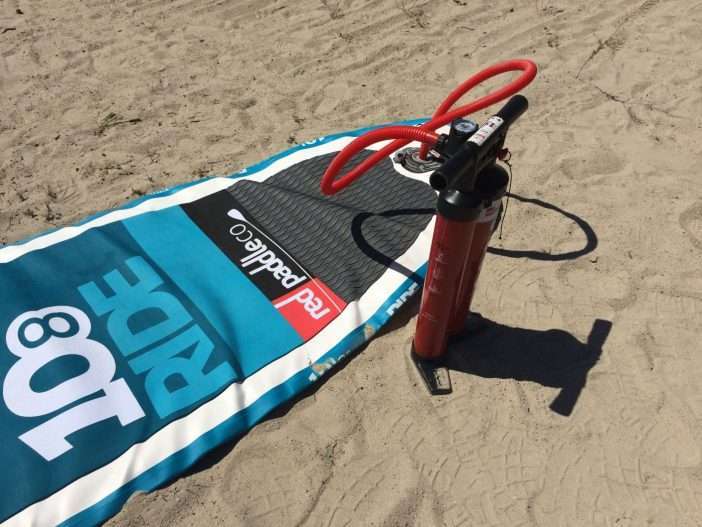 Both the travel bag and pump make a huge difference in the portability and ease-of-use of this board. As good as the board itself is, the whole package makes the 10'8″ Ride an absolute delight.
Included with the test kit was the Red Paddle Co Nylon Carbon 3-piece paddle. This one is easily-assembled and adjusted with the LeverLock which allows length adjustments for various riders. The angled paddle blade is fantastic for both normal paddling and when a bit of extra balance is needed. With excellent stiffness, the Nylon Carbon paddle is easy to love.
Inflating it up and getting onto the water
A backyard inflation test got me comfortable with how it all works, but the first test would be on Utah Lake for a Memorial Day adventure. Staying in the relative calm of the harbor, I was quickly able to get my bearings straight and comfortable on the 10'8″ MSL Ride.
With a smooth bottom and three attached fins, the 10'8″ Ride makes quick work of open water. Stability is excellent without ever feeling like a barge. Open water and choppy conditions did warrant some kneeling down, so don't expect barge-like stability. I'd say it's spot-on for all levels of riders and everyone from never-SUP'd to seasoned paddlers were able to enjoy this board.
Moreover, my kids have absolutely loved this board to paddle around and didn't take long to get the hang of things. Also, hauling an extra kiddo on the front of the board is quite easy. I took many young kids for rides around the lake so everyone could enjoy the freedom of paddleboarding.
When paddling, I've been able to leverage my extensive canoeing experience to develop a slight J-stroke. This allowed me to paddle on one side of the board for longer — something that makes things more enjoyable during longer stints.
Moving around the board does take some balance, but it's easy to adjust your feet for more stability or paddling power. A slightly-offset stance will yield a bit more stability for rough water while squared-up stance allows for consistent body position for both left or right-side paddling. You'll want to play with your stance and position based on the water conditions and your skill level.
As the water gets choppier, you will notice the hull talking to you just a bit and it does flex just slightly. However, none of that is anything really negative as the board is always quite stiff and holds its air for days.
The three fixed fins are flexible and do get a little bent in transit. For the most part, they stiffen up and straighten once inflated for a few hours, but they aren't as straight as removable fins. I'll take them all day over removable fins that frequently break and never noticed any adverse affects from them developing a slight curve to them.
Maneuverability is good on the 10'8″ Ride, but you will find yourself back-paddling to make sudden turns. Even extreme outward paddling on either side results in slow, wide turns. Ruddering is also an option, but pack-paddling is something you'll need to do when extreme turns are in order.
The bungee carry system is great for hauling a dry bag or other goods for your day on the lake. And, the center carrying handle makes for easy transport to/from the water. A second stern handle allows two people to haul it when needed. Though at only 23 lbs, any adult will be able to carry it under arm by themselves.
Durability appears to be tops with this one as well. The MSL fusion design adds stiffness, reduces weight and makes for a highly-durable inflatable board. The demo unit hasn't been treated with kid gloves and rock scrapes do little to affect the hull of this board.
The Good
Just the right balance of stability and speed
Once inflated, it keeps air indefinitely
Super-durable design — scuffs and scratches don't faze it
Deep digs are rewarded with ample speed
Inflatable design for ultimate portability for travel or hike-to locations
Titan pump and carry bag are best-in-class
The Bad
Fixed, flexible fins do get a little tweaked in storage
The Bottom Line: Red Paddle Co 10'8″ Ride MSL
There are few things more peaceful than getting up in the morning for a paddle around the lake. The 10'8″ MSL is such a fun SUP to have around for the whole family to enjoy. It delivers excellent stability and responsiveness that will make riders of all levels happy. I can confirm all the marketing on this one that it truly is an outstanding all-rounder if you're looking for a single board for all conditions and skill levels.
Buy Now: Available at Amazon