Chafing is one of the ugliest words any guy wants to hear. Whether is's cycling or running, sometimes chaffing happens. It's unpredictable because your favorite shorts will be fine one day and then give you hellfire and damnation the next. Runderwear was founded to combat chafing in a big way and their 5″ Boxer Briefs have been absolutely fantastic leading up to and running in the 2019 Cirque Series at Alta, UT.
Runderwear 5″ Boxer Brief Features:
360-degree seamless design
Moisture-wicking with perforations to aid breathability
Ergonomically engineered to fit
Chafe-free design
Flatlock fine stitching
92% Polyamide / 8% Elastane
MSRP: $28
The Chafing Eliminator (for me)
It's painful when skin rubs against skin for several hours. There are a myriad of ointments and lubricants that aim to prevent it, but sometimes it's best to go to the source — your liner or briefs. There are three types of liners in today's running shorts: none, traditional (banana hammock) or compression boxer. My favorite shorts of late have been those from The North Face and Sugoi which feature a built-in compression boxer. But, not all shorts have that feature (and they don't work perfectly), so I was glad to give the Runderwear 5″ Boxer Brief a try.
Runderwear makes both brief and boxer-style running underwear. I'm much more of a boxer guy and the 5″ is the perfect length to fit nicely underneath most of my running shorts. There are no seams and the fit is nice and supportive with a light silicon gripper on the leg openings to help keep things in place. There are no tags or seams anywhere — thank goodness.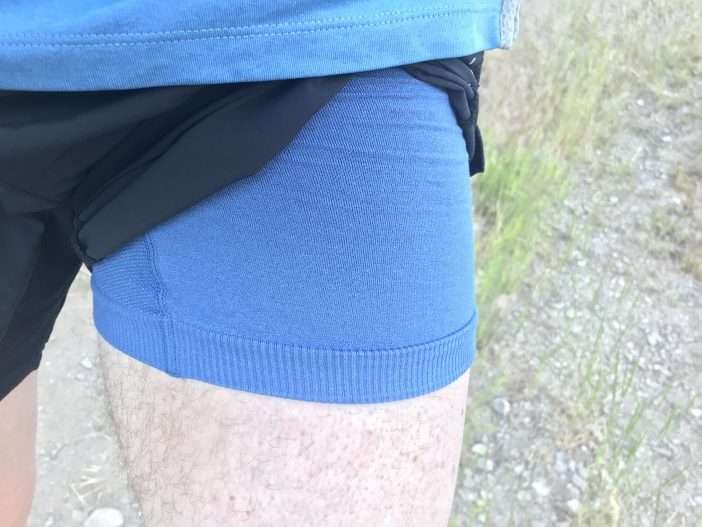 Pulling them on is easy and the comfort-level is fantastic. I feel instantly supported and comfortable with both unlined and traditionally-lined running shorts. In fact, the Craft Essential 5″ Shorts have been my preference with the Runderwear boxers. The included liner lacks compression and wearing them together is actually quite comfortable. While they call these seam-free, there are obviously seams, but they are perfectly-placed, flatlock seams and go completely unnoticed. Others have mentioned that the front seam is noticeable (right where you don't want it to), but I didn't feel it one bit.
In my lead-up to the 2019 Cirque Series race at Alta, I put in some miles and vert. Two of my longest days were 8.5 miles and 9.2 miles with 2000+ ft. of vert. On one run, I wore The North Face Better Than Naked Shorts (without Runderwear) and another run, I rocked the Craft Essential 5″ with Runderwear boxers. At that distance, with all that climbing, my leg movements caused significant chafing while wearing The North Face shorts. I had none of that while wearing Runderwear.
The obvious choice was to wear the Runderwear boxers for the 7.1 mile, 2500 vert Cirque Series race. It ended up being a great choice as I didn't experience even a remote amount of chafing and the short/boxer combo proved to be supremely-comfortable.
As I've used them, the only niggle I'll throw out is they do get just a tad warmer than other liners or underwear I've tried. It's not enough to be a concern, but while they do breathe well, do expect a little more warmth on toasty days.
Note: I'm 5'11" and 170 lbs with a 33″ waist and I wore the size medium.
The Good
Chafe-free performance
Nice compression
Super-comfy next-to-skin
Silicon grippers keep everything in place
Works well under traditional running short liners
The Bad
A little warm on long, hot days
Not supposed to tumble dry them (good luck making that happen in my household of 6)
The Bottom Line: Runderwear 5″ Boxer Briefs
If you're in search of the ultimate pair of running underwear, the Runderwear 5″ Boxers are a mighty fine choice. I've appreciated chafe-free trail running on both short and moderate distances (1-2 hours) and these are my go-to option when I'm heading out on the trails.
Buy Now: Available from Runderwear.com