Saucony's running shoe pedigree is deep. Long-established as one of the premier road running shoe makers on the market, they are no slouches when it comes to trail running. Their latest Switchback ISO trail runners are built with Boa Fit System and feature a low, 4mm drop for a more natural stride. The Switchback's have a ton going for them and have been a blast on the trails so far.
Saucony Switchback ISO Features:
Soft, woven uppers
Boa® Fit System
Formfit uses 3 contoured layers of foam
Everun midsole for added cushioning and durability
PwrTrac tacky rubber outsole
Weight: 10 oz. (each, size 11.5)
MSRP: $140
Switchback ISO's deliver a quality ride
I started testing the Switchback ISO's just after the Salomon SpeedCross 5's and I can't think of a more stark contrast in styles. The SpeedCross is burly and built for aggressive adventures while the Switchback ISO's are made for going light-and-fast with the twist of adding the Boa Fit System system into the mix.
The Switchback ISO is a brand new shoe in the line and was built specifically around BOA's ratcheting lace technology. I've worn and loved a ton of cycling shoes with Boa IP1's, but this is the first pair of trail runners I've worn featuring their magic dials. I've got to admit that I was absolutely enamored by the BOA Fit System — so much that I secretly hoped to never have to tie another pair of laces again. After many dirty miles of use, that love remains, but it's not without a few hiccups.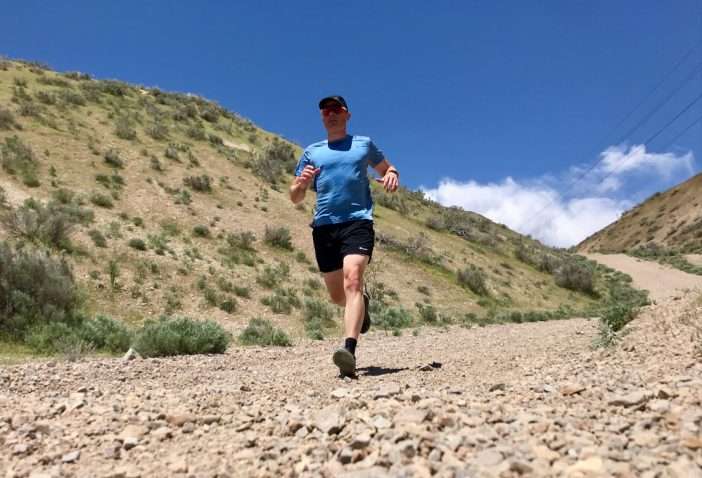 The first thing you'll notice about the Switchback ISO is the Everun midsole. While it's not an ultra-cushioned shoe, you'd be hard-pressed to find something more comfortable. That cloud-like cushion doesn't detract from the trail feel, which is good and bad. Good because these offer excellent trail feel, but bad because you'll feel almost every rock on the trail (especially those sharp, pointy ones).
With such a low-profile outsole, you'd think these sacrifice on traction, but not so fast. The PwrTrac delivers excellent traction on all terrain. Even when caked in mud, the tread gaps don't allow enough mud to make them feel heavy at all. And, that mud is expelled in a jiffy.
I love how wide the toebox is as well. While it's not quite on the order of Altra or Topo, it's close. I can wiggle my toes and push off with all five of them with every stride. Speaking of stride, these simply roll from step-to-step in one, smooth motion.
The soft, woven uppers breathe very well, but also absorb water. Luckily, they dry out fast too, so any water doesn't linger too long. More on the uppers — the tongue doesn't feature full gussets, so trail debris does tend to enter into the shoe. Thankfully, BOA makes removal a breeze.
More on Boa. The initial experience was superb. Pop, twist and go. That's about all I had to do. In time, as the laces have gotten grimy and dirty, they don't slide through the shoe like they did when they were clean and new. This only becomes an issue on removal as the laces don't release without a little bit of finagling.
That said, I love the fluid fit that Boa affords. There are never any pinch-points because the laces flex with the motion of the foot. This holds true for low arches (like mine) and higher arches (like my wife's). It's also easy to tighten the fit at any time. Just a quick twist and everything is golden. Loosening them on-the-fly is a little more difficult since you have to pop the dial, then re-snug (but its way easier than laces).
The outsoles have worn very well so far — even with a few road-only outings. Speaking of that, the Switchback ISO's are a great option for road approaches to the trailhead. They run very smoothly on pavement.
Sizing Note: Sizing is always tricky to nail. Most often, I wear size 11 running shoes to give me extra wiggle room. With some companies (Salomon, The North Face), I have to upsize to 11.5. Not knowing how these would fit, I opted to go for 11.5 and they may be a touch too big. I'd say sizing up a half size should be good for most people. 
The Good:
BOA makes quick work of fit
Smooth stride
Low-profile treads rock the trails
Trail feel is superb
Breathability galore
Excellent cushioning
4mm drop is just right
Roomy toebox
The Bad: 
BOA has become more difficult to release with use
No rock plate means you'll feel every rock
Tongue allows trail scree inside
The Bottom Line: Saucony Switchback ISO
The Switchback ISO is a great trail runner. It's light, responsive, comfortable and offers excellent traction on all terrain. And, with the Boa Fit System, dialing in the fit is a breeze.
Buy Now: Available at REI
In summary
With Saucony, you know you're going to get an excellent pair of runners. Adding Boa to the mix is just icing on the cake. The Switchback ISO's are a lightweight, comfortable trail runner with great trail feel (watch out for sharp rocks though). Even with low-profile treads, traction is solid.