The latest Shimano Dura-Ace Di2 R9200 group was launched August 2021 in the middle of the pandemic. We collectively ogled over the new semi-wireless design and overall improvements, but supply chain issues did limit its availability for a time. Now, with both OEM and aftermarket availability in a better spot, I've been able to ride the new Dura-Ace groupset on two different bikes and it's time to share some thoughts on this pinnacle road groupset.
Shimano Dura-Ace Di2 R9200 Groupset Features:
New semi-wireless design (wireless hoods, wired derailleurs)
12-speed design with race-optimized gearing
Updated aesthetics and tweaked ergonomics
Slightly-larger and optimized shift buttons
Wider pad clearance for rub-free performance
Hollowtech II crankset design with 24mm diameter steel spindle
Chainring options: 50×34 (tested), 52×36 or 54×40
Cassette options: 11-30 and 11-34 (tested)
Each shifter uses a CR1632 battery
Smaller form-factor front derailleur
Synchro Shift, Semi-Synchro Shift and Manual shifting options
New wide-range rear derailleur with integrated charging port
Battery is housed in seatpost or downtube (depending on frame)
Connects to most bike computers via Bluetooth
Weight: 2506 grams (stated)
MSRP: ~$4300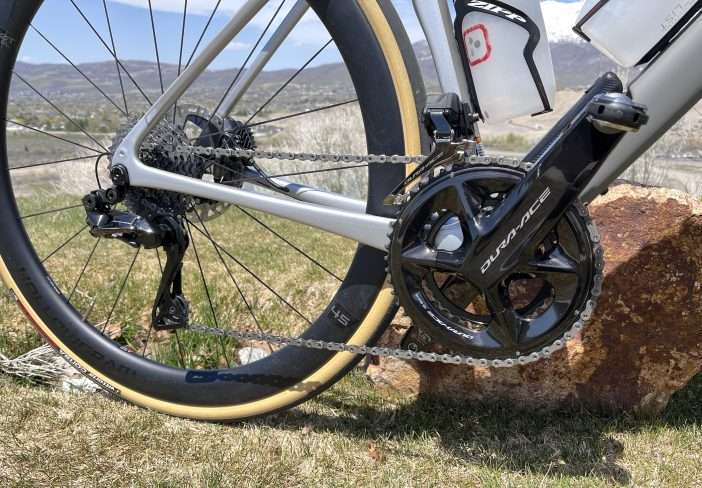 Top-shelf kit for your top-shelf bike
Supply chain woes have delayed everything in our lives. And, for me I finally got a full Shimano Dura-Ace R9200 groupset to test this year aboard the Cannondale Synapse Carbon 1 RLE. I also tested an incomplete groupset aboard the Trek Domane+ SLR 9. Both flavors have been fantastic overall, but I did have a couple of hiccups that can sometimes come with media test bikes. Everything was sorted out quickly with Shimano and Cannondale to get things rolling.
The latest Shimano Di2 groupsets are semi-wireless to work better with today's integrated cockpits. Wireless hoods are mated to a wired battery (usually secured inside the seatpost) and derailleurs to deliver the best of both wired and wireless worlds. With the wired rear-end, Shimano believes their drivetrain is the most responsive on the market (58% faster than R9100, they say) and their battery lasts the longest between charging.
If your bike came equipped with Dura-Ace, you may encounter some wiring challenges should you need to service the battery, troubleshoot the system or change seatposts. The Cannondale Synapse came with a woefully short Di2 cable to the rear derailleur, which required disconnecting it and re-fishing it through the frame several times. You will be at the mercy of the factory in these instances, but if you are building it yourself, be sure to buy longer cables so you can fully remove the seatpost without having to disconnect it from the battery or rear derailleur. Luckily, Cannondale has made routing a breeze with internal housing from the bottom bracket to the rear dropout.
The updated R9200 front derailleur is smaller than previous designs and has a nifty angled cable guide to direct the wire into the seat tube. However, this still exposes the wire to wider tires if you're running it on a road bike with wide tire clearance (something that's pretty common these days with bikes like the Trek Domane SLR, ENVE Melee, Ritte Esprit or Argon 18 Krypton). Just be sure to tuck that wire as close to the seat tube as possible.
You'll want to download the Shimano E-Tube mobile app to configure and update your drivetrain. Firmware updates are delivered there and configuration is straightforward. Thank goodness the iOS app works better than the last time I used it (back in 2018). Now, it functions perfectly and the Bluetooth connectivity is built into the brains of the rear derailleur (which serves as the master control unit and charging port) instead of needing a separate unit. Even the nifty bar end junction box is unnecessary (as nice as that was, it's great to move on from that).
Rightly-so, Shimano stays with their Hollowtech II crank arms instead of carbon with their latest groupsets. To my knowledge, Shimano has never made carbon fiber cranks and their stiffness-to-weight ratio is outstanding. And, unlike SRAM Red, you can change the chainrings without losing the power meter. Shimano does offer their R9200 crankset with a dual-sided power meter, but I didn't test it here. Looking at the specs, I do love that it's rechargeable (as opposed to the Quarq DZero, Rival AXS or Stages units, which require coin or AAA batteries). All power output during testing was measured using the Wahoo POWRLINK Zero pedals.
A cold start with a warm ending
As luck would have it, my initial miles were aboard the Trek Domane+ SLR heading into the early part of winter and now the Cannondale Synapse through the bulk of winter and into the spring. This gave me a great opportunity to test Shimano's updated hood and shift buttons for winter riding. I'm pleased to say that the larger, stepped shift buttons are notably better with thick gloves than the previous-generation design, but they don't quite match easy winter shifting available with SRAM Red AXS.
The feel of the updated hoods is fantastic. Braking leverage is outstanding and shifting is intuitive and responsive (I'll cover both in more detail below). Once configured, I haven't had to mess around with any further indexing since the start and shifting has remained crisp and smooth. Brake lever reach is adjustable and these stoppers use non-toxic mineral oil, which is easier to work with when it comes time to bleed them.
Speaking of shifting, both the front and rear derailleur shift with the exactness I've come to expect from modern electronic drivetrains. Both Shimano Dura-Ace and SRAM Red AXS shift fast and reliably. Riding each system back-to-back showcases just how amazing these systems are. Does one shift faster than the other? My brain can't clearly say that. Both are fast under load and smooth-shifting under all gear combinations. I will give the Dura-Ace R9200 front derailleur the nod due to its auto-trim feature. This allows the cage to maintain tight tolerances throughout all gear ratios. A few seconds of chain rub is all you'll experience because it zips a few millimeters in/out to alleviate that rubbing.
While SRAM Red features their Orbit Damper which keeps chain slap at bay — especially on rough terrain — the Dura-Ace R9200 rear derailleur doesn't have any damping, so there can be a little chain slap on the roughest terrain. Alas, Dura-Ace isn't intended for gravel, so these features aren't expected, but would be nice to see since the GRX drivetrain remains 11-speed.
Shifting is predictable under load and meets the demands of the most powerful riders. Switching gears while sprinting is quick and reliable. My power numbers are minimal compared to the top racers and I'm impressed with how smoothly everything shifts during my hardest efforts. Reaching the levers and buttons is intuitive and comfortable from both the hoods and drops. I also appreciate how the hoods feel in my hands. The throat is narrow and easy to wrap your hands around for confident sprinting and handling.
Riders can select from a few shifting modes, if they so choose. Full Synchro mode will automatically shift the front derailleur based on the rear derailleur. Semi Synchro mode will auto-shift the rear derailleur a gear or two when a front shift is made, to better maintain cadence. Manual mode is rider-driven and where I kept things. The only change I made was to enable continuous shifting as the buttons are depressed.
No matter how meticulously you align your calipers and rotors, minor brake rub has become something we just live with. On a good day, you won't have any rubbing. But all too often, it turns into a constant ting-ting or something worse. Pad retraction is the key and Shimano has updated the R9200 brake calipers to allow 10% wider pad clearance and it pays off in spades. Not only is the braking arguably the most consistent among major drivetrains, it's also very powerful and has great modulation. Beyond that, it is quiet and, yes, rub-free. Even after long, brake-heavy descents, I haven't felt any rotor rub, which is amazing. Those longer levers and revised pivot point also add to the overall performance. I can comfortably brake from the hoods or drops with a single finger.
The entire Dura-Ace R9200 road groupset is unflappable and just plain works. Whether you build a custom bike or get one from the factory, you won't be disappointed.
The Good
Smooth and fast shifting
Updated levers deliver even better feel from the hoods or drops
Quiet, consistent braking
E-Tube app allows for quick updates
Rear derailleur has integrated connectivity and charging
Long-lasting battery
Modern updates combined with the great stuff Di2 is known for
The Bad
Still harder to shift with winter gloves than SRAM (but better than previous-gen Di2)
No clutch or damper on rear derailleur can allow chain slap on rough roads
Premium price tag over equally-serviceable Ultegra Di2
An 11-36T cassette would be superb
The Bottom Line: Shimano Dura-Ace Di2 R9200 Groupset
Shimano took their top-shelf kit to the next level by going semi-wireless and adding a few niceties to solidify its place on the podium. With a long-lasting battery and smooth, reliable shifting Dura-Ace Di2 remains the benchmark for road racing. And, most of all, I love the added pad clearance and improved braking performance. The gold standard of drivetrains remains neck-and-neck with SRAM Red and is still the top choice for Shimano purists and racers alike.
Buy Now: Visit CompetitiveCyclist.com
In Summary
Shimano remains the top dog among professional racing, and demanding enthusiasts alike. The latest Dura-Ace R9200 goes 12-speed and semi-wireless -- with significant changes to charging, connectivity and form-factor. Those changes all bring Di2 to a new level while maintaining the many great things it has been known for.