Specialized has long been a top player in both mountain and road shoes. Their Body Geometry designs have led the industry in proper fit and body alignment for a more enjoyable time on two wheels. With Body Geometry infused throughout the line, it's great knowing that you can reap the benefits without getting a pro-level shoe. I'd daresay that the Specialized Expert XC MTB shoes are the sweet spot on the price/performance spectrum.
Specialized Expert XC MTB Shoes Features:
Body Geometry construction optimizes hip, knee and foot alignment
Carbon outsole with slight toe flex for walkability yet stiff for pedaling
Boa® IP1 lacing system
Thermobonded upper for improved fit
SlipNot™ rubber outsole with removable lugs
Standard fit for all-day comfort
Two-bolt cleat pattern is compatible with all mountain pedals
Weight: 385 grams (actual half pair, 44.5)
MSRP: $200
Red shoes make you ride faster — guaranteed
When going with shoes, I'm all about loud colors. This is particularly true on the road where brightly-colored kicks aid visibility. On the trail, loud colors don't necessarily aid in visibility, but they do make a statement. Going with the red Expert XC's, I was shooting to make a statement and I'm going to say that statement is well-delivered.
Top-end road or mountain bike shoes can cost a fortune. I've had plenty of $400+ shoes over the years and, while they are fast, responsive and light, I typically gravitate to upper mid-range shoes in the $200-$250 price point. Not only are they more affordable, but they typically pack nearly all the features of the pro-level shoes — at least the ones that I care about.
Specialized has long been partnering with Boa on their lacing systems. Boa closures are the industry standard and the IP1 dial is the best available with fine-tuning capabilities on-the-fly and easy opening for entry or exit. A single twist of the dial yields a snug, performance fit with the lower Velcro strap keeping the forefoot in place. The Expert XC's are said to have a regular fit and I quite like that. I've got enough wiggle room to use these shoes comfortably with winter-weight socks, but they aren't so roomy that I can't get a secure fit with lightweight summer socks.
Ventilation is excellent for warm days and still protective enough for cold rides in the 30's without shoe covers. I've really been impressed with the spectrum of comfort I can achieve with these shoes.
With the growth of gravel riding and continued interest in cyclocross, these shoes have plenty of crossover potential. I'll say that the snug fit of the uppers really puts my whole body into a great position for aggressive riding and endless climbing. Speaking of climbing and sprinting, the carbon soles deliver excellent power transfer. Again, friends don't let friends ride anything other than carbon-soled shoes and these are hard to beat.
One of the great features of Body Geometry insoles is the metatarsal button that spreads the forefoot out and aids in blood flow. Most good cycling shoes feature this bump, but it's nothing new to Specialized and is an important part of the comfort of these shoes.
The Boa IP1 lacing system allows for micro-adjustments tighter or looser while in the saddle. And, they pop upwards to gain entry. I will say that over the course of my testing, the dial has become more and more difficult to pop open. It now takes a bit of force to open and get my feet out. Getting feet inside does require doing a little bit of battle with the tongue as it slides over and typically disconnects from the Boa lace.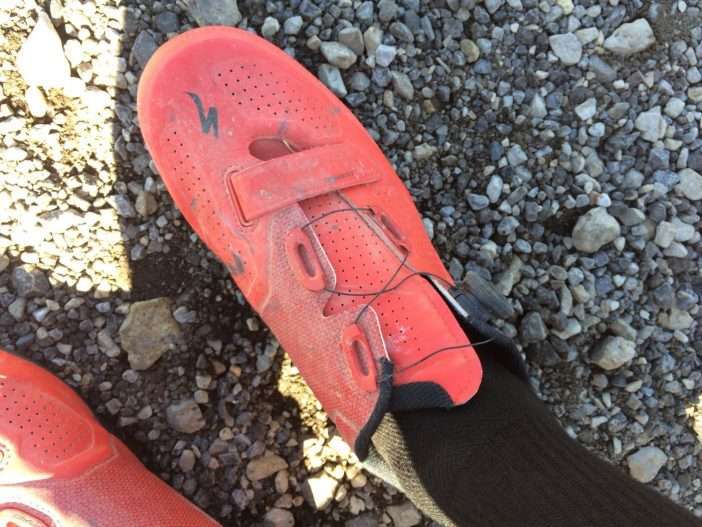 I've been riding with both Crank Brothers Candy and TIME ATAC Carbon pedals and both offer a secure fit and no interference.
The outsoles are mostly SlipNot rubber with only a few windows into the carbon plate below. The rubber lugs are grippy and comfortable when walking around and during hike-a-bike sections. All that coverage also protects the carbon from undue damage.
The Good
Durable uppers can take abuse
Good, all-day fit for comfort
Body Geometry features are noticeable
Excellent walking traction
The Bad
Boa dial is difficult to release (They'd replace it at any time)
Tongue gets sideways on entry
The Bottom Line: Specialized Expert XC
At $200, the Specialized Expert XC's are a great bang-for-the-buck. You still get the best pro-level features without the pro-level price. I love how stiff these are and the killer fit of the uppers. Add on top of that the walkability and blam-o, these are good.
Buy Now: Visit Specialized.com