Ditching your front derailleur is a widely-accepted move for mountain and gravel bikes. And, it has become common for triathlon and time trials. That being said, 1x for pure road riding remains clearly in the "we don't talk about Bruno" territory. If you want to really find out who your friends are, just tell them you've made the plunge and outfitted your road bike with SRAM Force XPLR eTap AXS… and you like it.
SRAM Force XPLR eTap AXS Features – Road Setup:
Fully-wireless shifting
Compatible with the full AXS ecosystem
Carbon-bladed brake levers and
Rear derailleur features Orbit hydraulic clutch
Quarq DZero power meter available (not tested)
XG-1271 XPLR cassette with PinDome construction and alloy 44T
Compatible with Flattop chains only
Cassette gearing: 10, 11, 13, 15, 17, 19, 21, 24, 28, 32, 38, and 44T sprockets
MSRP: ~$1500 (depending on availability)
1x for some, but maybe not for all
Road bike gearing these days comes in a wide variety of options. Just 5 years ago, you really only had standard and compact 2x gearing — that was it. Now, not only are there a wide variety of 2x options, there are also 1x gravel setups that can serve as capable road bike drivetrains. I'm not talking about the failed 1x 3T Strada experiment of the UCI Pro Continental team, Aqua Blue Sport, but viable drivetrains with wide-range gearing and smaller gaps between cogs that's suitable for everyday athletes who value simplicity.
Yes, SRAM XPLR drivetrains are aimed at gravel riding, but with the right chainring size, pavement is fair game. Recently, I reviewed the Rival XPLR kit aboard the Open WI.DE. and it's definitely a great kit for gravel and road, but with only a 40T chainring, it tops out around 31 mph, so descents are decidedly a coasting affair.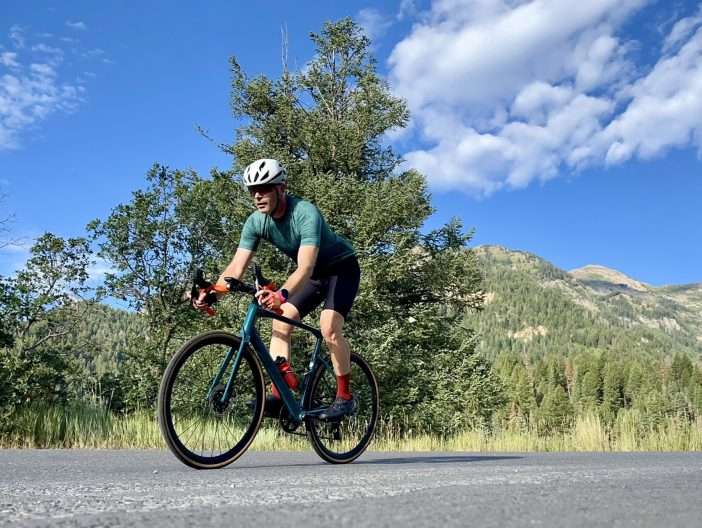 For a road-oriented setup, the BMC Roadmachine X ONE, comes with the full SRAM Force XPLR 1x groupset, but with a 44T chainring. With that setup, you still get the beloved 1:1, but have higher gears for faster-paced riding up to about 39 mph. Still, how would the 1X setup perform as a real-world road bike? I put the groupset through a summer gamut of testing along my normal routes as well as a trip to the Washington coast for some soggy, rolling roads along the Pacific Ocean.
To be clear, I ride solo 99% of the time. With that, I don't have to adjust my pace to someone else or keep the group's speed. Those situations can quickly expose the missing gears in a 1x setup. But, I'm no slouch, so my solo pace is typically hard and fast. Pushing myself, I merely measure my performance based on Strava segments and power output as measured here by the Wahoo POWRLINK Zero pedals. With that in mind, I had no problem settling into proper gearing for just about every type of ride. Flats, rolling hills, short climbs and moderate climbs were all comfortable and 100% within the capabilities of the Force XPLR road setup. I could up the pace or lower it to match the terrain. Shifting was always precise and smooth over the 400 mile test period.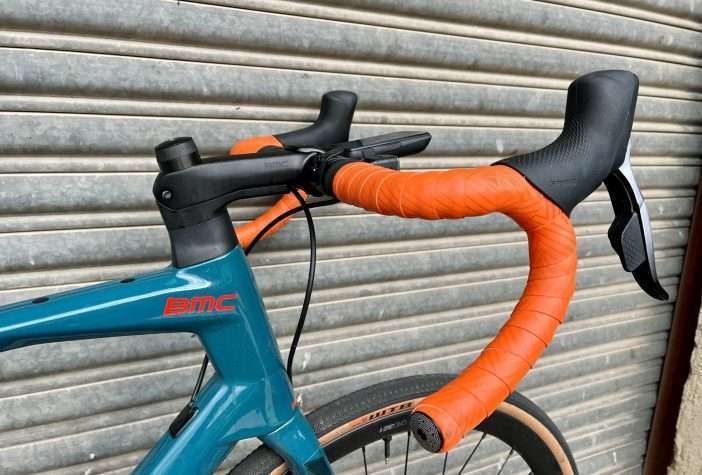 The simplicity of SRAM eTap can't be overstated. Riding other shifting systems quickly exposes their flaws in regards to intuitive, easy-to-use shifting. Is it as fast or precise as Shimano's latest-generation Di2 systems? I can't yet answer that question because I haven't ridden the latest Dura-Ace or Ultegra (2023 should remedy that), but I have no complaints on the speed and precision of SRAM's Force XPLR groupset. With large paddles, it's easy to shift up/down the cogs and the feel of the hoods is great in-hand. Carbon-bladed brake levers feel ergonomic and are unaffected by cold temperatures. Speaking of cold temperatures, eTap paddle shifters are the bomb with winter gloves on.
Rolling around the Washington coast, I was met with punchy ups and downs at every turn. The need to shift quickly was always something I could count on as I maneuvered through the roads in and around Cape Disappointment State Park and the surrounding areas. Rolling, coastal terrain… check.
I have a particular Strava segment that I use to test my fitness and bikes. It's almost 2 miles at a 10% average gradient with pitches over 13%. It's a butt-kicker for about 10 minutes and I could sit and power through it in that 44/44 gear, but I alternated between the 44/38 and 44/32 while standing to mix things up. Short, punchy climbs… check.
Going 1x with SRAM AXS means you don't have a "spare" battery available on the front derailleur. That's definitely a con when ditching the front mech, so if your frame has onboard storage, simply keep a charged battery there at all times — just in case. If not, stay on top of charging and check the battery level before every ride. It's as easy as tapping the AXS button to see the status, then double-tapping to return the cage to the prior position. I charged the derailleur once or twice over the 3 month test.
Honestly, the only time I really missed having 2x was on the 3000 ft. climb up American Fork Canyon. When climbing an hour and ten minutes, I found myself feeling between gear ratios on a number of occasions. Sometimes it was to spin the legs out a little and others it was just to find that proper cadence as I became fatigued and the pitch increased. Most of the ascent is just fine, but there are just those handful of instances where the ratios were just not there. In the end, I'm not paid to race, so I just settled into a higher or lower gear and dealt with it. Long, hors catégorie (HC) climbs do expose the lack of fine-tuned gearing… uncheck.
Of course, the full SRAM AXS ecosystem is in display here with a full wireless system that's easy to install and maintain without routing wires all over the place. Ergonomics are great and cold-weather performance remains the best in the industry since those paddles are easy-to-use even with the thickest riding gloves.
Braking and ergonomics remain on par with what I've come to expect from eTap AXS. It's not the most powerful, but it does provide consistent stopping with a great degree of modulation. The hood and lever feel is natural to me as well. I don't find them to be overly-large either. You can add wired Blips if you want to better shift from the tops. Chain retention is awesome. No slapping and no drops — even on the roughest roads and light gravel.
The Good
Simplicity of a 1x system
Ample gearing with smaller gearing jumps
Chain retention is awesome
Simple clutch keeps things quiet
Intuitive shifting with industry-best shifting with full-finger gloves
Just one battery to worry about
The Bad
Long climbs or group rides may expose some gearing deficiencies
May need to bring an extra battery for long rides or races, just in case
The Bottom Line: SRAM Force XPLR eTap AXS for Road
For gravel riding, 1x may be the most prevalent setup, but on the road it still receives mixed reactions. The simplicity of the SRAM Force XPLR groupset for road speaks for itself as I had no issues enjoying it on all my typical terrain. I settled into the right gearing and rode my bike with a smile on my face. Yes, you will miss some gear ratios, but if you're looking to simplify your road setup or are looking at a new 1x road bike, there's no need to brush it off, just keep an open mind instead. You may still be an odd duck when lining up for that group ride, but you can have me as your shoulder angel, confirming your groupset choices.
Buy Now: Visit CompetitiveCyclist.com