While SRAM's Red eTap HRD is the current hotness, SRAM also updated the look of their Red HRD for 2016 to be more inline with the more muted styling launched with Red eTap. That alone didn't change the function of the kit, but it did certainly modernize it. Out on the road, SRAM's highest-caliber mechanical disc kit has lived up to my expectations.
SRAM Red eTap HRD Groupset Features:
HRD levers with DoubleTap shifting and ReachAdjust
Accessible bleed port in the hoods
Connectamajig™ allows multiple disconnects before re-bleeding
Lightweight carbon levers with titanium hardware throughout
Available in flat mount (tested) and post mount options
XG-1190 cassette (11-28t tested)
Carbon crankset with X-GlideR chainrings (compact 50/34 tested)
Paired with Centerline X Rotors (Centerlock tested)
MSRP: $2150 (approx. including rotors)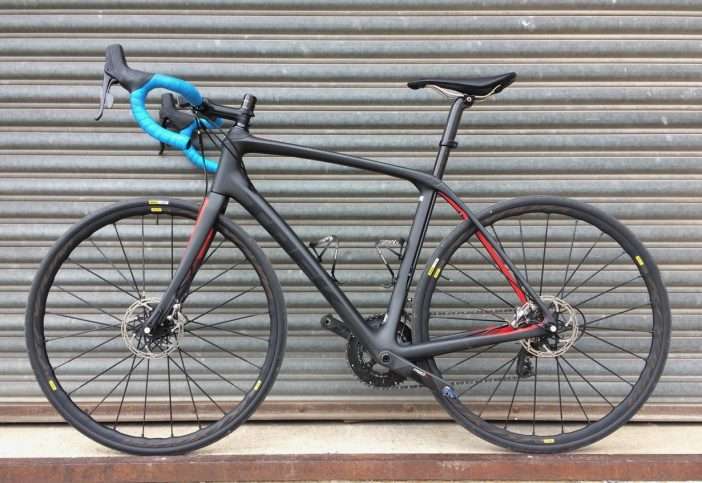 Carbon + titanium = Red
SRAM goes about things a little differently than the other guys. In fact, you'd think SRAM's philosophy to make Rival, Force and Red functionally-identical might put the panache of their top-end group in question. For SRAM, this simplifies both manufacturing and assembly and allows them to focus primarily on weight savings and incremental performance improvements as you progress up the stack.
Over the past several seasons, I've spent the bulk of my miles aboard SRAM Rival, Force 22, Force 1, Force HRD, Red eTap and now Red HRD. To be quite honest, I'd be lying if I told you I could notice any differences in shifting performance and crispness. The classic SRAM shifting characteristics are present throughout all their mechanical groupsets. And, carbon levers and shift paddles aside, I couldn't differentiate between them if blindfolded.
But, where I can tell the difference is on the scale as each groupset drops chunks of weight due to the transition from alloy to carbon for Force and then carbon and titanium bits with Red. Where it also matters is the feel of the brake lever and the inherent vibration dampening that comes with that.  On long descents, those carbon blades really do help with hand fatigue — more on rim brakes than discs, but I do prefer the feel of carbon blades to aluminum.
SRAM's HRD levers are significantly taller than the rim-brake flavors. That extra height may seem excessive to some, but the reservoir and master cylinder assembly is housed in there for easy access and serviceability. I do agree that they are tall, but the extra height quickly disappears with the only drawback being the inability to comfortably rest your palms atop the hoods on occasion.
Single-purpose levers
As a matter of personal preference, I do appreciate the feel of SRAM's brake levers and their "brake-only" function. But, admittedly, DoubleTap does take some getting used to. Shimano does certainly have the bulk of the  market, but DoubleTap has a few advantages — primarily, cold-weather shifting with winter-weight gloves on. And, when you add on top of that lightning-fast, crisp shifts and the battle gets more even.
Reach adjustments are simple and both the lever and shift paddle are adjusted independently. Kudos to SRAM for that. Small hands will rejoice that a 2.5mm allen key will do the job.
Throughout the course of my testing, Red HRD maintained quick shifts. And, after a few hundred miles, a couple twists of the barrel adjustment was all the rear derailleur needed. I used the WiFli medium-cage rear derailleur, which can fit up to a 11-32t rear cassette and handled my 11-28t just fine.
Speaking of the cassette, the SRAM XG-1190 Red cassette is milled from a single block of hardened steel with an aluminum large cog. This process yields significant weight reduction at over 100g lighter than the XG-1170 cassette — it is a work of art and functions superbly.
I will mention that not every shop nor every DIY'er can consistently dial in SRAM's Yaw front derailleurs. In fact, the local Trek dealer couldn't get it figured out so I had to make a quick trip to my trusted local shop and they finished the job. Nothing beats having a great local bike shop, but if you need some help setting yours up, have a look at this video from Art's Cyclery. Once dialed in, the front derailleur delivered rasp-free shifting on all 22 gears.
Smooth, consistent braking
On the braking side, discs offer consistent all-weather braking. With the suggested 160mm rotors aboard the Trek Domane SLR Disc, stopping was great in both wet and dry conditions. Compared to Shimano's offerings I feel like SRAM's HRD brakes are a touch less powerful but deliver quite a bit of modulation with a light, but consistent, lever feel.
NOTE: Talking with SRAM representatives, they mentioned that having slightly less power was surprising and that proper bedding should ensure the best performing brakes. I missed that step on these and by following that procedure, I may have been able to improve performance. For reference, see Step 6 of SRAM's HydroR Tips and Tricks.
Try as I may, locking up the brakes just doesn't happen. And, I've honestly locked up more rim brakes in my day than disc brakes (which goes against what some naysayers spew about discs). Again, modulation is the key and these brakes have plenty of that.
The rotors have remained rub-free throughout the duration of my test, which is something of a challenge with some flat mount systems. Break-in was minimal as these brakes became consistent fairly quickly.
The Good
Crisp shifting — SRAM's trademark
DoubleTap allows consistent shifting with winter-weight gloves on
Love the brake lever feel since it is "brake only duty"
Sufficient braking power with phenomenal modulation
Updated aesthetics are simple
Rasp-free in all 22 gears
The Bad
Yaw front derailleur can be tricky to set up
Sometimes I wished for just a touch more braking power — but I never once locked them up
Disc brake weight penalty (same with all road disc kits though)
The Bottom Line: SRAM Red HRD
SRAM's best mechanical hydraulic groupset has performed just as expected with crisp shifting and smooth braking. And, the new low-key styling will complement just about any bike.
Buy Now: Visit CompetitiveCyclist.com