Outdoor gear companies have found a unique corner in contemporary street style. More and more outfitters are taking the stylistic attributes of technical gear and applying it to clothing and bags intended for in-town use. The result is sleek items, often with smart integration of useful technical features. This is embodied in many of The North Face's items, including their Commuter Roll Top Backpack. The Commuter Roll Top Backpack is an attractive daily backpack, made to withstand longtime use and looking good in the process.
The North Face Commuter Roll Top Backpack Features:
Roll top closure with a big drop-in design
Interior laptop sleeve for laptops up to 15″
Expandable exterior water bottle pocket (with a snap for tucking away)
Compression straps and webbing to hold bike u-lock
Reflective details for added visibility
Internal mesh dividers for organization and an exterior zippered pocket to hold additional essentials
Top grab handle for easy lifting
Padded back panel and shoulder straps for added comfort
23 liter capacity
Classy design is both professional and functional
I recently went back to school for a professional degree, where it is important for me to present myself with poise – both in behavior and in style. I've never been much of a briefcase gal, and I needed something that would be easy to carry while on my bike commute. Unlike the frumpy canvas backpack I hauled around throughout undergrad, The North Face's Commuter Roll Top Backpack is put together and ready for both the classroom and important meetings. The exterior is a sturdy 300D (recycled!) polyester with a TPU laminate for water-resistance, with a base of water-repellent heavy duty nylon. However the bomber construction doesn't result in a bulky pack, and instead the Commuter Roll Top Backpack feels sophisticated.
The face fabric is amazing for a commuter bag. Gone are the days of greasy patina on your everyday pack! The polyurethane is exceptionally easy to clean and still looks brand new, even after heavy use. Water rolls off easily, keeping your valuables safe if you find yourself outside in inclement weather. Water-resistance was an important consideration for me when I moved to the southwest, as the monsoons here roll in rapidly and dump water unforgivingly. I wanted to avoid potential damage to my books and laptop if caught in such weather. The Commuter Roll Top Backpack gives me peace of mind without sacrificing style.
The features on this bag are simple: buckle closures on the roll top and one side, compression straps on the exterior. However, these features are also thoughtful. A great example is the u-lock holder on the front. Two separate low-profile loops are perfect for stowing your u-lock while riding (my preferred method) or you can buckle it in on the side. Burly stitching on the webbing holds up to daily use, and also provides useful loops that I often clipped my keys onto. However be warned that if you want to use the discreet exterior pocket, it is very hard to access when the u-lock is attached to the front. The pocket is quite generous, and roomy enough for my iPhone and planner, but as soon as the u-lock is on the front those things are almost impossible to get out.
The Commuter Roll Top Backpack is structured in a drop-in bucket style. Unroll the top and access the entire pack. I love this style of pack because it offers a bit of flexibility not available with zippered closures. If you have less to haul on Wednesday than you did on Monday, all you have to do is roll the top down a bit more before securing. Trying to make room for some extra goodies you picked up midday? No need to squash them in, because the roll top can accommodate by rolling down just a little bit less. Bags with many zippers and pockets and hideaways certainly have their benefits. But there is something to be said about the simple ease of big bucket access.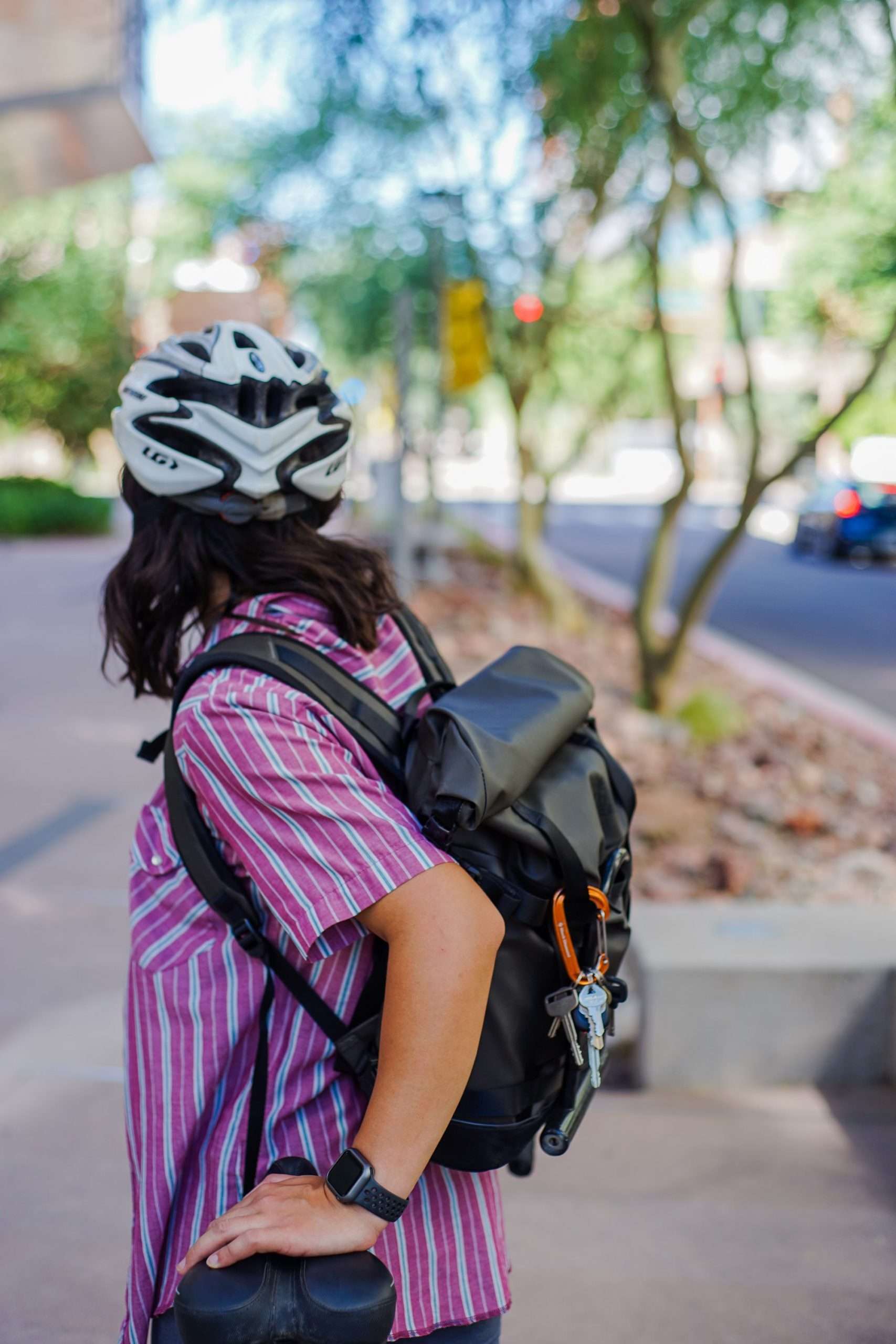 Inside, there is a simple laptop sleeve and mesh dividers to keep your belongings from becoming a mess at the bottom of your pack. My set up generally included having my MacBook Air in the sleeve, my wallet in one mesh pocket, and my charger + AirPods in the other. There was a little pocket just big enough to hold a pen in the middle, but I never used it. I did find that the simple organization was sufficient for my needs, as the rest of what I hauled was predominantly books and papers. If you prefer more internal organization from a commuter bag, this may not be the one for you (I'd instead consider the Commuter Backpack from The North Face). However, if you carry mostly a laptop with a few other essentials then the size and organization of the Commuter Roll Top Backpack is ideal.
A bit more on size: at 23 liters, the Commuter Roll Top Backpack is not very big. I could comfortably fit my computer and one or two of my thick textbooks. But this left very little space for anything else, such as my lunch. Thus, shortly after the semester began I switched from print textbooks to digital where possible, in part because I couldn't fit several classes worth of books inside. The structured design of the backpack is amazing, as I've already touched on. However, this structure also means that it can be unforgiving when trying to fit too much inside, as there's no stretch and little flexibility.
Additionally, the exterior water bottle holder's design cuts into the interior storage. Because there is no stretch in the material, and the water bottle holder is intended to be low profile and stow away with a snap, taking a water bottle necessitates reducing already limited interior storage. I found it spatially synonymous with throwing a water bottle inside my bag, undermining the usefulness of the exterior sleeve altogether.
The water bottle holder was my main quip with this backpack. I live in the desert, so staying amply hydrated is a non-negotiable. My everyday water bottle is a 36 oz. Yeti, just slightly larger in circumference than the 32 oz. Hydroflask or classic Nalgene. None of these water bottles fit easily in the water bottle sleeve. In fact, they were so snug that it started to stretch out the top seam of the sleeve a bit. The holder was a bit of an annoyance when loading up the pack, as I would have to make sure that my water bottle was put in the sleeve first, then add all my books. I would have preferred an exterior sleeve that either had some stretch or was designed to not encroach on any of the interior storage.
The Good:
Amazingly stylish and made to last
U-lock holder is a thoughtful and convenient feature
Drop-in style makes it easy to load and see what's inside
TPU laminate exterior is durable, easy to clean, and water repellent
Incredibly comfortable with lighter loads
The Bad:
Water bottle holder design takes up limited interior space and doesn't stretch
Straps are uncomfortable under heavier loads
Exterior pocket is inaccessible when u-lock is attached to the front, but the u-lock can be attached elsewhere to mitigate this
The Bottom Line: The North Face Commuter Roll Top Backpack
The North Face's Commuter Roll Top Backpack strikes a great balance of professional style and technical thoughtfulness. I would recommend it to anyone looking for a durable bag for every day use, particularly if one doesn't have several very large items to carry. The water bottle sleeve left a bit to be desired, but isn't a dealbreaker considering the many other benefits this bag offers.
Buy Now: Visit The North Face