Boy has the spring been awesome for trail running. Cool conditions and tacky trails have been the staple so far and the new Topo Terraventure trail runners have been my exclusive shoes for the whole of it.
Topo Terraventure Features:
Flexible ESS forefoot rock plate

Ghillie lacing system

3mm drop heel-to-toe
Mesh uppers with gusseted tongue
Weight: 21.4 oz (actual, size 11)
MSRP: $110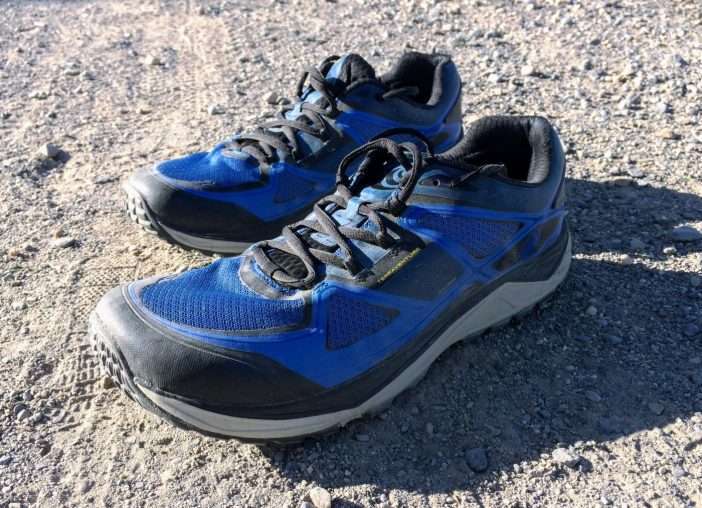 Low Drop, High Comfort
The hallmarks of Topo's shoe design include a squared toe box and minimal drop. The new Terraventure's feature an all-new design and are built around a low 3mm drop. That minimal drop puts these shoes into a spot where you can easily transition from higher-drop models without feeling it. I'd go so far as calling it the Goldilocks of shoe drop and absolutely love these shoes right out of the box.
Last year, I tested the Hydroventure and found it to be a fantastic cold and wet-weather trail runner. The new Terraventure is meant to be a long-distance trainer or even a race-day shoe for those who appreciate just the right amount of cushioning. They are not maximalist shoes, but do offer more cushioning than a standard midsole. The result is, again, that perfect balance between comfort, trail feel and protection all rolled into one.
The more I run in low and zero-drop shoes the more I like them. When running in shoes with a traditional heel/toe ramp, it now feels as if I'm wearing heels (not that I know that that feels like). Topo's approach with just 3mm drop is really the sweet spot and put the Terraventure's into a easy-to-love territory.
You'll notice that the uppers are quite porous and get nippy when running in cold, windy weather. On the other end of the spectrum, I've run comfortably up to 80-degrees and the breathability remains excellent. Durability is also stellar as the uppers have withstood months of abuse and remain like new.
Let's talk traction. The outsoles are an excellent design with mid-sized lugs that provide excellent traction uphill, downhill, wet, dry and even on pavement. Sometimes trail runners are wonky as all get-out on the pavement, but these are excellent crossover shoes that excel on the dirt as well as the tarmac approach.
I've found the Terraventure's to deliver a smooth stride on all terrain. Transitions are effortless and each step is met with a consistent feel from initial strike to push-off. I'll also add that toe-off traction is great with all those squared lugs digging into everything but loose, rocky stuff where nearly all shoes struggle.
The Good
Superb combination of cushioning and trail feel
Stable design
Great traction in all conditions
Does well on pavement when needed
Foot-cradling uppers
3mm drop is easy to love
Nice, smooth stride
The Bad
Mesh uppers are chilly in cold temps
The Bottom Line: Topo Terraventure
The honest truth is I've put these in the back of the Pathfinder in February and haven't thought about grabbing another pair since. Every mile has been comfortable and smooth and met with excellent traction and trail feel.
Buy Now: Visit REI.com