Insulated water bottles are a tricky prospect. On paper, they seem awesome, but in practice they just aren't. Trek aims to change that with their new Voda Ice Bottles. The Voda bottle is a new design that's available in both standard and insulated flavors. I've been testing the Voda Ice 20 oz and 28 oz bottles and I love the overall design, but it's not without flaws.
Trek Voda Ice Insulated Bottle Features
Available in 20 oz and 28 oz sizes
Leak-free closure
Claims to keep water colder twice as long as a standard botle
Flow Top cap offers easy squeeze hydration
No-Drop Grip Ring
Optimized for side load cages
Weight: 112 g (20 oz) or 141 g (28 oz)
MSRP: $19.99 – $24.99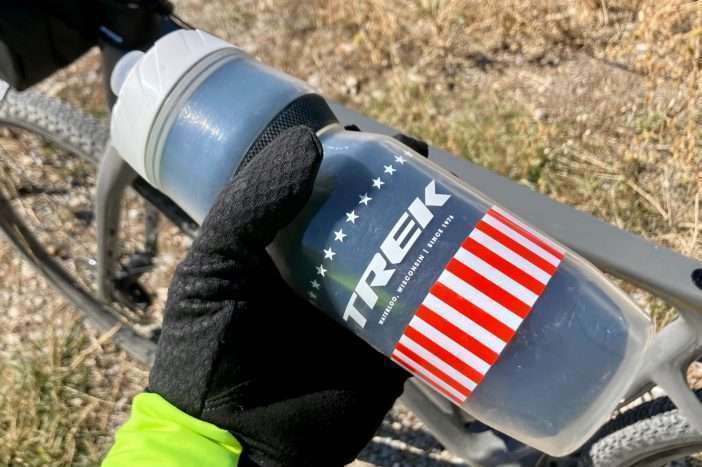 Ice, Ice Voda
I have a love/hate relationship with insulated water bottles. So much that I had my daughter do a science fair project on them. I even got some thoughts from former pro and current gravel champ, Ted King, on the subject. His stance is that liquid of either cold or ambient temperature is just fine and it's not worth carrying the extra clunk around to keep the water cold. I see your point, Ted, but I also appreciate a little colder water when it comes time to hydrate.
The concept isn't new and the Voda Ice follows the same pattern as other insulated bottles. Essentially, it's a bottle-in-a-bottle with a layer of insulation sandwiched in-between. With that, bottle lengths are an inch or more longer than the standard Trek Voda Flow bottles and hold a little less liquid on the 20 oz and a little more on the 28 oz.
I'm going to cut right to the chase on the 28 oz bottle — it's way too big for regular use. Yes, it fits and stays put in the Bontrager Bat Cage and others, but it's just too big. I can't easily squeeze water out of it and it's so top-heavy that grabbing it and drinking from it in the saddle is really cumbersome. But, if you don't plan to ride aggressively or want an off-bike insulated bottle, give the 28 oz a try. I have given it the old college try for science, but it's not my first choice to bring along.
So, let's focus on the 20 oz design because it's much more comfortable to use. My testing has been on all varieties of bikes (road, gravel, mountain). And, the bottle's design sits well in the Silca Sicuro, Bontrager Bat Cage, Specialized Carbon Zee cage and Fezzari's bottle cages. The notch around the middle thunks into place and helps maintain bottle security. Around that waistline is the No-Drop Grip Ring that aids in handling the bottle (taking in/out and while drinking). It's a great feature that helps avoid bottle drops and generally improves bottle handling.
Livability has been good overall. I can drop it into the dishwasher for cleaning, but the bottle's lining absorbs drink flavors (SIS Go Electrolyte) that becomes noticeable when used with plain water. Knowing this, I have continued using the 20 oz bottle for hydration mix and the 28 oz bottle for water only. It dissipates after several washings.
The Flow Top cap offers a nice, steady stream that's easy to drink. However, because you are squeezing a bottle-in-a-bottle, it becomes more difficult to get water out. The 28 oz is especially difficult, but the 20 oz is still harder than a single-wall bottle (which shouldn't come as much of a surprise). The soft, rubber nozzle is easy to open with your teeth and remains comfortable against your lips while drinking.
The graphics are fun and are said to be more durable than your typical bottle graphics. I haven't noticed any wear so far other than the after-effects of a mid-ride bottle drop (the No-Drop Grip Ring isn't 100% foolproof after all). I'll add that the base of the bottle is a tad narrow, so these tend to tip over more easily than other bottle designs.
The Good
Insulation does keep water cool
Nice nozzle flow
Fun designs with long-lasting graphics
Stays secure in a variety of cages
Grip ring is a nice touch
Soft rubber nozzle is comfortable to drink from on bumpy terrain
The Bad
28 oz model is impractical on the bike
Requires extra squeezing force
Inner lining can get deformed in the dishwasher (thus reducing capacity and making squeezing less effective)
Some lingering flavors from drink mixes
The Bottom Line: Trek Voda Ice Water Bottles
The Trek Voda Ice bottle is best served in 20 oz size. With it, you can enjoy cold drinks for far longer than a traditional bottle. They stay put — even on the roughest terrain — and the nozzle offers a nice stream that's easy to drink from.
Buy Now: Available from TrekBikes.com