This new knee-length parka from Patagonia is designed for the city, both in form and in function. Fantastically warm and very flattering, this jacket combines technical elements with an attractive silhouette. The City Storm Parka will keep you warm on the frigid city mornings, without compromising style.
Patagonia City Storm Parka Features:
Patagonia's H2No Performance Standard shell exterior, treated with DWR
700-fill insulation from recycled down
Detachable insulated hood with two-way drawcord adjustment
Two-way zipper with wind flap
4 exterior pockets, 2 interior pockets
Adjustable waist cinch
Snug fitting cuffs seal out drafts and cold
Average weight: 1069 g (37.7 oz)
MSRP: $499.00
All the features I didn't know I wanted (but now I really, really do).
To give this jacket a proper city testing, the City Storm parka and I boarded a plane to trade the chill of my Pacific Northwest hometown for that of New York City. For my entire trip, this coat was my must have. Not only did I feel attractive amidst the thousands of New Yorkers that always seem to look good (like, all the time), but the City Storm Parka also protected me from the varied weather I experienced on my explorations.
This jacket is loaded with thoughtful, useful features that seem to address everything desired in a lifestyle coat. The added pockets, drawcords, and adjustments are generous but not gratuitous.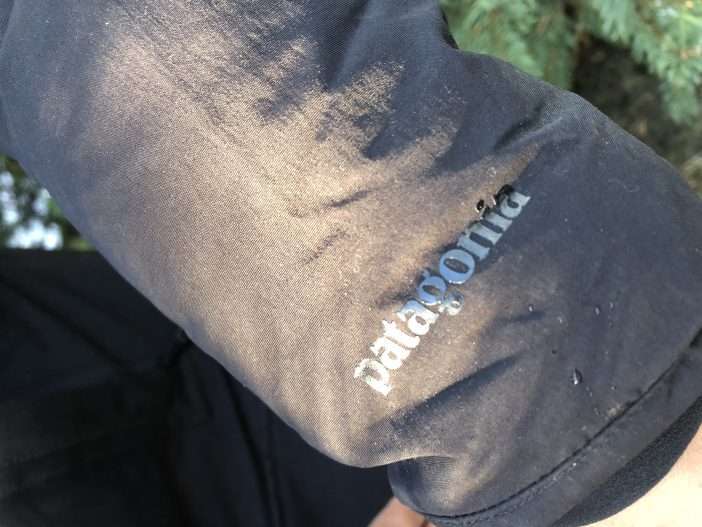 The face fabric is Patagonia's H2No, a 2-layer fabric designed to be windproof, waterproof, and breathable. This material is subjected to intense testing to ensure that it will remain durable for years to come. In order to be considered performance standard, it must withstand high pressure hydraulic testing and take a turn in a 24-hour wash machine cycle. This means that the shell is prepared to handle even the wettest of climes with style.
Arriving in NYC, I was greeted by chilly temperatures. A cold-weather system moved in, and I found myself exploring the city in sub-40 temperatures (with lows in the 20s). Throw in some wind chill and a little bit of that coastal misty rain, and I had a host of weather conditions to deal with while exploring the city. The H2No shell provides protection from the wind and wet, but the generous 700-fill down insulation is the real moneymaker. The full baffles kept the warmth in, the cold out, and I loved that the hood was also insulated.
While I loved the weather protection and the insulation of the City Storm Parka, I was a bit disappointed in the hood construction. The hood is both removable and insulated (yay!) but it sat rather uncomfortably when not in use. For sealing out the cold, there are two snaps under the chin to help the hood really hug the face. And this feature works incredibly well at keeping your noggin toasty when it's all buttoned up.
However, I personally found the hood uncomfortable unless it was buttoned up. It felt floppy, and seemed prone to falling off my head without the security of the snaps. Sometimes the flaps intended to sit under the chin would flap and hit me in the face, or I simply couldn't make the hood stay in place.
This was remedied somewhat by the adjustments in the hood. Two-way pull cords tighten down the hood from behind the head, as well as around the face. This ensures a comfortable fit and protection from cold gusts of wind. The pull cords are simple, adjustable, and not excessive. While it didn't completely solve the issues that I had with the hood's overall fit, it did help it stay on my head a little bit better. And these adjustments were fantastic when the hood was completely snapped closed.
Another drawcord is located at the waist, where a couple pulls of the elastic in the hand pockets result can cinch the waist a bit tighter. I loved the option of creating a more flattering, form-fitting shape with just a flick of the wrist (remember what I said about the ever-attractive New Yorkers?)
Speaking of the pockets, let's talk a bit more about them. First off: there's a lot. I feel like this jacket was designed to make it possible to ditch the purse and carry all the essentials (and then some) in various pockets. Two zipper pockets sit high on the parka, at about ribcage level. These were a comfortable height for when I wanted to warm up my hands, but they weren't quite deep enough to hold my phone securely. I once nearly lost my phone in a parking lot when it slipped out of one of these upper pockets while I got into my truck.
It spooked me enough that I didn't put my phone in those upper pockets anymore. Instead, I'd plop my phone (and practically everything else) into the cavernous lower pockets, which sealed shut with a handy magnetic flap. My items always felt secure, and these pockets were huge. I mean, I fit my 21 oz. Hydroflask in there at one point…and quite comfortably.
Now if those four external pockets aren't enough for you, there's more. An internal zippered pocket in the lapel for your small items–headphones, chapstick, and what not–and a giant mesh pocket that could probably fit a small dog.
Each of the external pockets are lined with a soft-to-the-touch microfiber fleece, which was much appreciated when burying my numbed fingers in my pockets at an outdoor market in December. However, I do wish this fleece would have been more generously integrated into the zipper garage near the chin.
After a while of burying my chin and cheeks into the cozy collar of this jacket, I found that my chin would get irritated and red from rubbing against the storm flap. While fuzzied up with a little bit of microfiber, overall it was not enough to provide the next-to-skin comfort I would have liked out of a lifestyle coat like this. I think more than anything else, it was just not wide enough; on either side is the more abrasive H2No material. So, inevitably, my chin would rub over those areas as well, resulting in minor discomfort after a long cold day with this jacket fully zipped.
At the end of the day, there were so many features on this jacket that I loved. The long construction, 2-way zipper, snug cuffs, and wind flap really ensure that you stay snug in the parka, regardless of the elements that may come your way in the cold. The 2-way zipper was useful while biking or sitting down while wearing the jacket. However, it's worth mentioning that because this jacket is incredibly warm and intended for lifestyle use, it won't breathe or do well during exertion or when the weather is a bit too nice.
The Good
Super warm, and great protection from cold, wet weather
Several pockets of all sizes
Flattering silhouette
The Bad
Hood construction feels a bit awkward
The inside of the collar isn't especially soft on the chin when fully-zipped
The Bottom Line: City Storm Parka
This jacket is a fantastic, well-thought out item, complete with a plethora of convenient features. In wet and cold weather, this jacket kept me warm. The folks at Patagonia paid close attention to the details, incorporating multiple pockets, clean lines, and every means of sealing out wind and rain. The City Storm Parka is a fantastic piece for those of you that find yourself in a variety of cold, wet weather types in the day-to-day bustle.
Buy Now: Available at Patagonia.com