The growth of road disc brakes has been followed by the widening waistlines of rims. Even though frame clearances have increased accordingly, rim widths (at least for drop bar bikes) seems to have a limit. For Zipp, that limit is currently set at 21mm internal width. The new Zipp 303 Firecrest Tubeless Disc Brake wheels are wider and even more gravel and CX-friendly than ever.
Zipp 303 Firecrest Tubeless Disc Brake Wheelset Features:
Firecrest dimpled pattern that's aero optimized for 28mm tires (40mm+ are fine, but optimized for 28's)
29.9mm max width with 21mm internal width
45mm rim depth for excellent all-around performance
Sapim® CX-Ray® straight-pull spokes with external nipples
Tubeless-ready out of the box
SRAM XDR body available separately
250 lb max rider weight
Weight: 1625 grams (actual – 745/880 grams f/r)
MSRP: $2400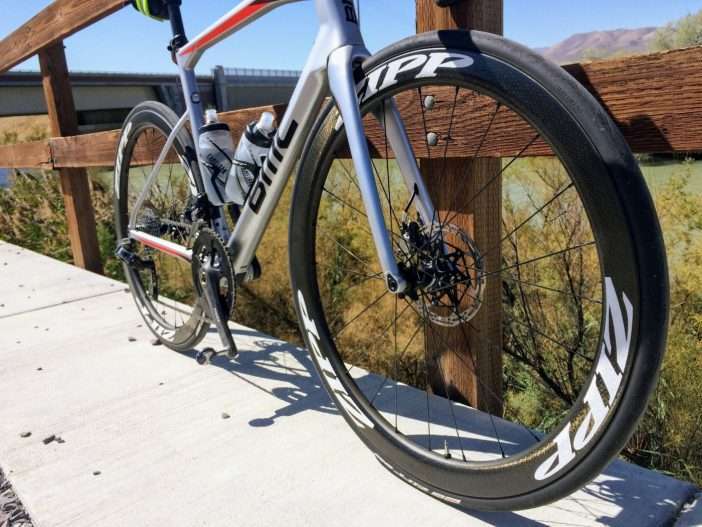 Disc brakes, wide profile, aero and tubeless
There's just no way getting around the fact that Zipp's wheelsets are considered the industry benchmark. The amount of time spent engineering their wheels is beyond question and their continued dedication to US-sourced and built wheelsets is remarkable.
For 2017, Zipp launched the all-new 303's in disc brake flavor with a wider, tubeless-ready profile. The extra width has these aero optimized for 28mm tires and capable of accepting today's wide treads for cyclocross and gravel riding. At 45mm deep, these are just deep enough to deliver a noticeable aero advantage without being so deep as to cause serious steering concerns with crosswinds. When looking for a do-it-all wheelset, the 303's depth is Goldilocks.
These 303's were the first of Zipp's tubeless-ready lineup. I've tested the alloy 30 Course tubeless-ready wheelset, but these are the first of their carbon clinchers that I've set up tubeless. I'm going to head there first.
The 303's are tubeless-easy
When the new 303 tubeless disc brake wheels were announced, Zipp curiously lacked a single tubeless-ready tire in their lineup. It certainly was a head-scratcher, but one that was remedied soon enough with the release of the new Tangente Course RT25 and RT28 tires. After hundreds of miles with tubes using Zipp's Tangente Course R28 and R30 tires, I switched to tubeless and wondered why the heck I didn't do that from the get-go.
Zipp's clincher tires are great and all, but their new RT25's have been absolutely outstanding. Mounting them was a breeze as I easily popped them onto the rim without even glancing at a tire lever. Then, all it took was a bit of soapy water and the Bontrager TLR Flash Charger to seat them up. I let them sit for a couple of days in the garage and when I pulled them from the rack, I don't think they had lost more than 5 psi. No doubt the tire/bead interface is supremely-optimized here. I then rode them on a quick ride without an ounce of sealant before adding Boyd's new Tickled Pink for good measure. A few hundred miles into them now and I'm sold. Road grip is amazing, comfort is superb and rolling resistance is nil.
They go clincher too
Earlier in the spring, the 303's were loaded up with both the Tangente Course R28 and R30 clincher tires. Aboard the BH G7 Disc, the combination of wide tires with wide rims turned the aero G7 into a comfortable ride and allowed me to eke out even more speed on flat and rolling terrain. That G7 is a harsh ride so the extra comfort provided by the 303's was welcomed by my lower back.
While running these wider tires, I took in some gravel miles too. While I wouldn't recommend even 30mm tires as a dedicated gravel setup, they are grippy and sure on the road and do allow you to venture into the loose stuff if it catches you're eye. The majority of my non-tubeless miles were with Tangente Course R28 tires, which measure out to 29mm on these rims. Aboard something like the Focus Paralane, you could get wider rolling stock and venture deeper into gravel bike terrain while still remaining road-worthy.
Fast rollers
Where I really appreciated the 303's was on rolling terrain. It was in these circumstances where the Firecrest profile came into play. I simply felt as if I could get up to and maintain higher speeds for longer distances. Strava segment times confirm those thoughts as I've set PR's on nearly every flat or rolling segment using these wheels aboard bikes that are in the 17lb. range (e.g. not lightweight bikes).
And, while I ascended plenty fast, there's no question that the 202's would still be my choice as dedicated climbing wheels aboard a lightweight climbing bike. That said, nobody in their right mind would ever call the 303's slow on climbs of any type. And, when it comes time to descend, having disc brakes is always something to celebrate. You never have to worry about excessive brake track wear and dirt and grime won't further reduce braking power or the lifespan of your expensive rims. With that, I'd gladly use these wheels year-round.
In my standard roll-to-stop test, these are among the best wheels tested and on par with both the 202 Firecrest and 303 NSW's. The 77/177D hubs are solid and proven. Between all the Zipp wheels I've tested with them, I've not had a single issue and have enjoyed smooth rolling for thousands of miles. My only caveat… I wish they used center lock instead of 6-bolt rotors.
Wind is your friend
Crosswinds can cause problems with some wheels — throwing you around and causing undue drag. On several occasions, I pedaled hard into blustery crosswinds and still ended up setting PR's. The profile of the rim, combined with the Firecrest dimple pattern really do allow these wheels to slip through the air in a way that can only be described as Zipp-like.
Severe crosswinds are common during the morning hours up American Fork Canyon. While the 303's do a great job of minimizing the wind's affect on steering. Using CFD models, Zipp says that the 303's deliver significantly less wind-induced steering torque by keeping the center of pressure directly over the steering axis. In the lab, it can be visibly seen, but how about real world conditions?
In the wild, these hoops are fast and seem to slice through the wind like a squeezing a watermelon seed between your fingers. But, alas, you're still not going to be invisible to strong crosswinds on mountainous descents. It is markedly reduced over non-Firecrest wheelsets, but you will still need a stable hand while descending at speed during blustery conditions.
After a full season of use and almost 1000 miles, these wheels have remained absolutely true and haven't required a lick of maintenance.
The Good
Tubeless setup is a breeze
All-rounder performance (if you choose one wheelset, this is it)
Firecrest dimples noticeably reduce wind
Extra internal width yields fuller tires
Road, gravel, cyclocross like a boss
Laterally stiff under load
Adds a touch of compliance for a better ride
Love that they are aero optimized for 28mm tires
The Bad
You won't be invisible to crosswinds (but torque is noticeably reduced)
I'd love to see all Zipp wheels with ImPress™ graphics instead of huge stickers
I still prefer center lock hubs over 6-bolt
The Bottom Line: 303 Firecrest Tubeless Disc Brake
Everyone aims to outdo Zipp and some have in various ways. But, no other wheel manufacturer has the depth and breadth of race-winning and race-proven designs from top-to-bottom. The 303 rim shape is Zipp's workhorse and the recent updates to the design to make them wider, tubeless-ready and disc brake optimized once again set a new benchmark.
Buy Now: Available at CompetitiveCyclist.com
In Summary
After a full season of road and gravel use, it's hard to imagine a better set of workhorse wheels. With all that extra width, tires are fuller and overall road feel is even better. With the Firecrest dimples, you'll experience increased speed and reduced steering torque from crosswinds. And, these are a cinch to set up tubeless. Darn near close to perfection here.