You know those days when you just need a little something for your run, ride, or hike? It's a little windy, or just a little chilly, or light drizzle that is enough to get you wet but not enough to need your full rain jacket? The Arc'teryx Incendo is the perfect layer for those days.
Arc'teryx Incendo Hoody Features:
Features: Adjustable Drawcord Hem, Internal Pockets, Media Pocket, Moisture Wicking, Water-resistant
Weight: 7.6 oz
Back Length: 28.7 in.
Hood Type: Fixed
Pockets: 2 external, 1 internal
Fabric: 100% Nylon
DWR Treated
Price: $139
Lightweight Protection with the Incendo
I got the Incendo out for a lot of days running, bike commuting, and mountain biking during the late winter and early spring. This is a great layer.
My first day in the Incendo was on a chilly morning bike commute. First thing I noticed is how well it cuts the wind. I usually layer down on my commute because I know I'll heat up. The first mile-and-a-half is downhill, which makes for a chilly start! I immediately appreciated the wind buffer that the Incendo brought. Then, my first MTB ride with the jacket had 30-40 MPH cross winds. It was brutal riding but once again I saw firsthand how well the Incendo blocks wind. On that first cold morning, it was enough to keep me from freezing.
Second thing I noticed is that the cuffs on the Incendo are cut longer than many jackets. I have long arms which can create issues. This is exacerbated when riding because of the reach to the handlebars, especially when riding on the hoods or in the drops of my Cross Check. The Incendo cuffs are long enough that they come up and over my gloves and keep my wrists from showing. No more rides with numb wrists!
With cycling in mind, Arc'teryx included a longer cut on the back of the jacket to help provide coverage when riding. This is crucial when riding when it's cold or muddy. Helps you stay warmer and helps to prevent mud flinging up your back.
The Incendo has now become my go-to jacket for chilly commutes. For cold commutes I'll pair it with a warmer baselayer. Outside of rain, I won't need another jacket.
As a running piece many of the features that I like so much when riding still come into play. Add to that a slim fit that keeps the Incendo from flapping around or excessive swishing when pumping your arms.
Running gave me the opportunity to test out the hood. All around, the hood is great but I have one nitpick with it. But, before we get there, let's chat about what makes it so good. First off, it's roomy enough to fit over a beanie without making you look like a speed skater. Second, it's brimmed, which is key to keeping water from dripping directly onto your face and keeps it from folding down the middle in the wind. Third, it stows away.
But this is where I nitpick. It stows by rolling up and then is held in place with a small, nondescript snap. The snap is centered on the hood and no matter how diligent I was in rolling up the hood, once I started running it would bounce and slip through toward one side or the other and then instead of bouncing evenly, it bounced lopsided. I know, I know, it seems very trivial but when it's bouncing with every step it gets annoying. This would be solved with a second snap and adjusting the placement. Even so, the Incendo is still a great jacket.
From a breathability perspective it does okay. For the record, I have yet to find a jacket that excels at it. The Incendo includes mesh that runs along the underarms from about mid-forearm all the way up to your pits and then down the length of the length of the jacket. This helps keep the sweats down a little. Where I found problem issues is in the crease of my elbow. No matter what, the sweat builds and doesn't have a chance to dry. I did sweat through the jacket in the arm crease.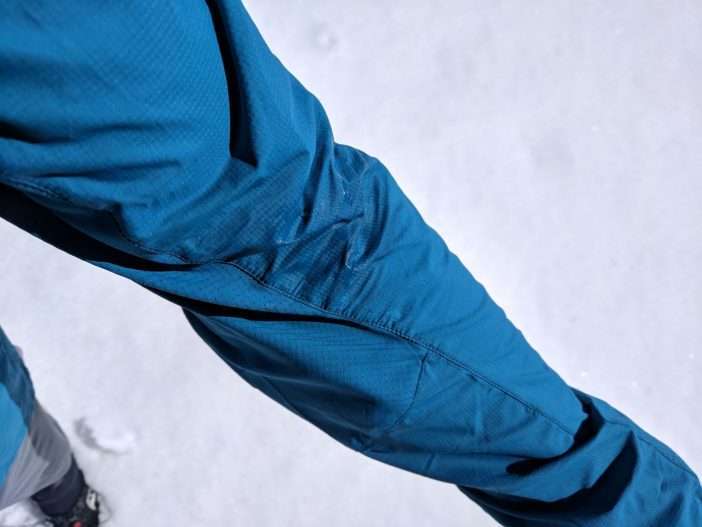 If you start to really heat up, there's a single chest snap. Unzip the jacket and the snap keeps it around your body. This is a great way to cool down without taking the jacket off, which is huge, especially when wearing a pack. Bonus: Using the chest snap makes you feel like you are running like the wind, even when you are not, because the jacket billows behind you.
There is a single pocket which is big enough to fit a plus-size phone (in my case the Pixel XL). Headphone port is standard. The pocket also doubles as a stuff sack for when you throw it in your pack (which you should do).
Like all Arc'teryx products it is a Euro cut (meaning slim). With this in mind, the Incendo does run true to size. I'm 6 feet and 185 lbs and the large fits me well as a "performance" fit.
The Good
Extremely versatile jacket
Good performance
Nice feature set without adding bulk
Lightweight and packable
The Bad
Needs two hood snaps to keep it in place
Sweat easily soaks through
Bottom Line: Arc'teryx Incendo Hoody
At just over 7 oz, the Incendo is extremely lightweight. It's an extremely versatile piece and should be in your pack for high-output adventures.
Buy now: Available at Backcountry.com