Gravel bikes always tout their 650b tire fitment, but I'm guessing most still ride 700c's. But, if you're only riding 700c's on your gravel bike, you're missing out unlocking some really fun times on that fancy new gravel bike. Roval's CLX 32 650b Disc wheels roll fast and add a hefty dose of fun on those dirt tracks.
Roval CLX 32 650b Disc Gravel Wheelset Features: 
Handbuilt 650b gravel or road wheelset
Carbon clincher wheel set that's 2Bliss ready out of the box
32mm rim depth with 20.7mm internal
DT Swiss Aerocomp (L)/Aerolite (R) T-head spokes with DT Swiss Pro Lock nipples
Roval hubs with DT Swiss internals (12mm thru axles standard)
CeramicSpeed bearings standard
XDR driver sold separately
Includes tubeless valves
Lifetime warranty (original owner), 2 years for subsequent owners
Weight: 1290g (stated) // 1380g with end caps, tape and valves (actual)
MSRP: $1700 — $1449.99 currently
Roll fast, little wheels!
With the rise of gravel, we all have to ask ourselves if we're squarely on the 700c or 650b side. So, which are you? I'm here to promote both because each is wicked-fun in unique ways. Want a cushy, carpet ride that's playful and fun on all things dirt, but still able to roll out on that local group ride? Well, clearly that would be 650b.
Yes, Roval's wheelsets are Specialized's house brand, but we should all think of them as much more than that. On the same token, I'm a huge fan of Bontrager's wheels — they are awesome. And, certainly, Roval's are worthy of those same accolades. Because both Trek and Specialized can leverage their economies of scale, consumers win — big time.
Honestly, it's easy to recommend a pair of Roval wheels if you're looking for the best bang-for-your-buck. Even at full price, the Roval CLX 32 650b's are $1700 and include DT Swiss internals rolling on CeramicSpeed bearings (yup, you read that right). Those ceramic bearings are fast (more on that later). So, almost 21mm internal width paired to a 32mm deep carbon, tubeless-ready clincher — these really do check all the gravel boxes.
All testing has been done with the stellar Specialized Pathfinder Pro 47's for the ultimate in all-road capability. I've found the CLX 32 650b's to perform like champs on gravel as well as all the local road routes. Before riding 650's, I had assumed they would be slower, but that really hasn't proven to be true. It's negligible on the road and this wheel/tire combo rolls almost as well as the best wheels I've tested in my standard roll-to-stop tests. Without question, those CeramicSpeed bearings give these a leg-up.
Setting these wheels up tubeless was straightforward. The Pathfinder Pro 47's mount up easily without levers. And, they inflate and seat up in a jiffy using the Blackburn Chamber Tubeless Pump. Tire removal is another story — I can't get them off the rims without tire levers. And, after one removal, I damaged the tubeless strip enough that it no longer held air (rookie move). No worries though. All it took was a few wraps of 24mm tubeless tape and I was back in business. They hold air like champs now.
Getting them dirty
Lateral stiffness is excellent, as they should be at this wheel diameter. They spin up quickly and I haven't had any issues with engagement. Direction-changes and track stands don't reveal any slowness in engagements whatsoever. I didn't think about it, which tells me it's quick and responsive.
Roval is smart to use proven DT Swiss internals and I was able to source the necessary XDR Driver for use with SRAM Red eTap AXS. It swapped out easily and has been smooth and reliable, as expected. I will say that the diminutive-looking front hub does seem on the small side, but its conical shape certainly keeps things stiff. I don't notice any rotor "tinging" on standing efforts aboard the Open UPPER, so the combination of thru-axle and Roval hubs are doing their job well.
Out on the gravel, I'm enjoying how fast these roll. I pushed myself pretty hard on two of my regular gravel segments and moved up a couple of spots in the top 10 — all without turning myself inside-out. I was pushing, but not flat-out. That was a pleasant surprise, but at some point I'll have to prep for a full-gas effort to see just how fast I can get. I'll definitely be grabbing the CLX 32 650b's for that. (I have subsequently shaved time off this segment and a few others using this wheel/tire combo.)
The rims have endured several rock dings that have yielded only superficial scratches. Other than that, they remain bomber and smooth. While these are "Win Tunnel Tested," it's hard to state much in the way of aero gains when you have 47mm rubber on there. Crosswinds to push on the large treads, but nothing egregious. Now, the quandary ahead is whether to roll 650b or 700c for upcoming SBT GRVL. Hmmm. 
Post SBT GRVL Update (8/19/2019): I chose to run these wheels and tires for the SBT GRVL Blue course and I could not have been happier. I was blown away by how fast they rolled on the course and that added tire width made quick work out of the many loose corners on the course. I'm a believer in 650b's for gravel racing.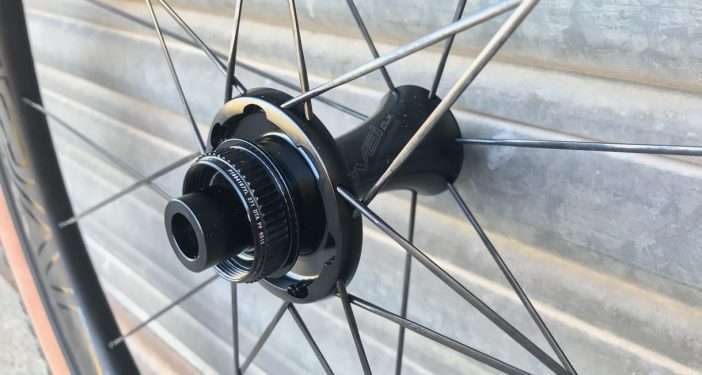 Note: At my 170 lb weight, I've been rolling the Pathfinder Pro's around 38 psi. front/rear on these wheels.
The Good
CeramicSpeed bearings help these roll fast
Easy tubeless out-of-the-box
Great internal width for bigger tires
Durable so far (more miles ahead)
DT Swiss internals
Proven rim shape for speed
Subtle, clean branding doesn't detract
Easily-serviced by any LBS (or yourself)
The Bad
Hooked bead makes tire removal difficult
Some may scoff at Roval brand (but you know better)
The Bottom Line: Roval CLX 32 650b Disc Wheelset
Roval's wheelsets have quietly gained traction among non-Specialized bikes and the CLX 32's are a fantastic buy. Rolling smaller wheels on gravel adds a dose of fun that makes gravel bikes feel more like a mountain bike. But, don't let that small size fool you because these wheels can roll fast on that local group ride. How's that for "baby wheels?"
Buy Now: Visit Specialized.com (or your local dealer)
In Summary
I hadn't anticipated just how much I would like these wheels, but they have won me over. With a nice internal width and fast-rolling hubs, the Roval CLX 32 650b wheels have quickly become my favorite wheels aboard the Open UPPER. They roll extremely well and feel natural and responsive in all conditions. Plus, getting some girthy tires on there can help turn any gravel bike into a monster truck.