sLong-sleeve base layers are great for year-round running, but particularly as a base layer or only layer during colder months. Runderwear is committed to making running-specific apparel for men and women and their long-sleeve Running Base Layer has been on tap this winter.
Runderwear Running Base Layer Features:
360 degree seamless design
Label-free design
Finger-warming mitts
Moisture-wicking fabric with mesh panels
MSRP: $60
Breathable comfort for winter training
It's been a mixed bag of trail running this winter, but for just about all of my runs, the Runderwear Long-sleeve Running Base Layer has been my friend. Layered up appropriately or just solo, there's a ton of comfort with this one. Let's start out with the woven fabric, which consists of 92% Polyamide and 8% Elastane (whatever that stuff is). So, that adds up to 100% soft and comfortable goodness.
Something that's nice about this base layer is the overall length and fit. At 5'11" and 170 lbs, the size medium is a good fit, but not as snug as a typical base layer. If you want body-hugging snug, size down. As mentioned, the cut is great, not oversized and with long enough sleeves to actually use the reversible hand mitts in a pinch. Overall hem length is great too for added coverage.
More on the fabric… the woven material is seamlessly spun in the body for a seamless design. But, it's not just a flat material, Runderwear has engineered dimple sections into the fabric at strategic locations down the middle of the back, sides and sleeves. The result is added moisture wicking and stretch for ultimate performance. Something that's interesting here, however, is that while it always feels controlled and comfortable during and after a run, it does take some time to fully dry when hung on a hook.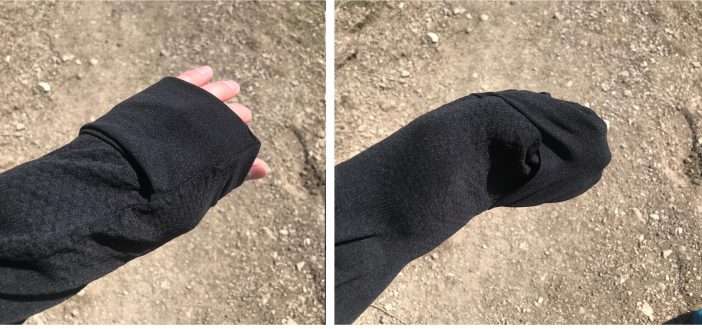 I love that the shirt is tag-free and it's also great at controlling odors. I can wear it multiple times before a wash is absolutely necessary. This is a great base layer as the foundation of your running outfit during cold weather.
The Good
Soft next-to-skin
Moisture wicking built-in
Overall cut is great for proper coverage
Stays stink-free
The Bad
Moisture management is good, but it takes awhile to dry when hung up
I'd prefer thumb loops over the mini mitts
The Bottom Line: Runderwear Running Base Layer
As a cold-weather base layer, there's little to complain about here. As a foundation piece, you can add the proper pieces to be warm enough or wear it alone on warmer days. Overall comfort is excellent and breathability is good.
Buy Now: Available from Runderwear.com