Now that there are roughly 5000 varieties of gravel tires on the market, how does one of the oldest ones in the business fare today? The Schwalbe G-One Allround 27.5×2.25 tire isn't a typical gravel tire size, but if your bike can roll with gravel plus wheels and tires, these treads are winners — offering superb traction and comfort at low pressures.
Schwabe G-One Allround 27.5 x 2.25 (650b) Features:
Unidirectional knobs
Addix Speedgrip compound
Durable Super Ground casing
Tubeless with folding bead
Inflate to 26-54 psi
Width: 56.2mm on 21mm internal rim
Weight: 740 grams (each, actual)
MSRP: $88
Allround hero treads
While gravel bikes have gotten more and more capable — with wider and wider 700c tire clearance — I'm still a fan of a good set of 650b wheels. The trick is that not as many manufacturers have continued to optimize their frames for 650b wheels. Luckily, I've been able to extensively test out the G-One Allround 650b tires aboard both the 3T Exploro RaceMax and Open WIDE. I've also mounted them to both the Zipp 303 Firecrest 650b wheels and the DT Swiss GRC 1400 650b wheels.
Of course, the G-One Allround tires are available in a variety of 700c sizes, should your needs dictate, but my goal was to go as big as possible for maximum versatility. Both test bikes and wheels were the perfect partners for monster truck capability. In this tire size, the round knobs are plentiful and grippy. In smaller tire sizes, your results may vary.
While I have had trouble getting other 650b tires mounted up, these were a breeze. Installation is straightforward and can be done without tools. Once dropped in place, they inflate quickly and seat right up with a simple floor pump. I pumped them up to 50 psi. and let them sit overnight before adding sealant through the valves. Alternatively, it's just as easy to drop in 3-4 oz. of sealant into the tire before seating. Either way, I've been impressed with how easy the G-One Allround tires function from a tubeless perspective. Schwalbe has certainly nailed the optimal tubeless bead and casing to maintain air between rides.
Speaking of air pressures, I've been rolling these at around 26 psi in the front and 28 psi in the rear. Even going a week or more between rides, I've found them to only lose 1-2 psi — very impressive. At those pressures, you'll feel a little more bounce on the road with every pedal stroke, but the treads conform to rough terrain like suction cups (which is what really matters for a gravel tire, right?). Think of an octopus slithering along the sea floor and that's pretty much what you get with these cup-like treads. And, they are much larger in diameter than those on their 700c counterparts.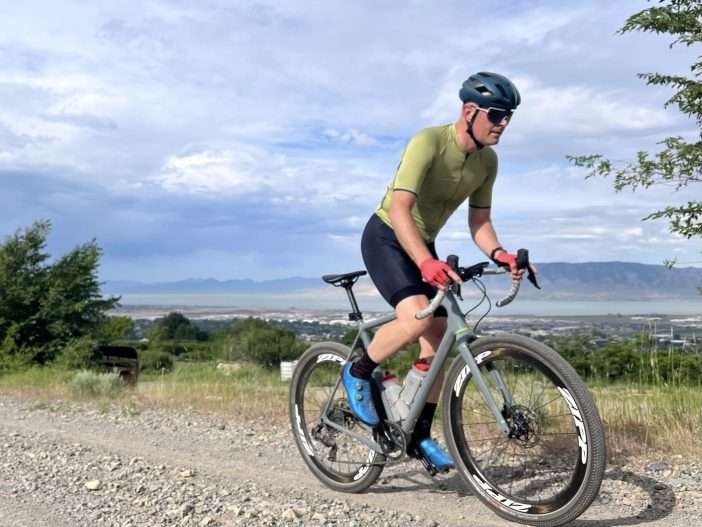 With tires this size, you may think it will turn your gravel bike into a slug, but I've actually achieved some of my fastest times on rolling gravel segments with these treads. With low-profile, circular knobs, efficiency is excellent and I wouldn't hesitate going with this setup on even the longest gravel rides or races.
Notably, the G-One Allround 650b tires provide superb traction on standing gravel climbs. With such a large contact patch, it's kind of expected. But, even with those expectations, it's always awesome to stand up and power through steep and loose gravel or singletrack in a way only possible with 2.25″ treads. When it comes to ripping through singletrack or curvy gravel roads, the sides adeptly hook up to confidently keep you on track. With such a round profile, you can lay into corners with gusto and they maintain traction.
I can't deny the added comfort these tires provide too. Rough terrain can take its toll on your body, but these take the edge off to a level only achievable with such a large-volume tire. I've got no problems rolling from road to gravel and appreciate the rolling efficiency these closely-spaced knobs provide. Tread wear has been excellent as well. The only negative with such a large tire is you do get a little understeer on the road.
The Good
Easy installation and seating
Holds air better than any tires I've tested
Climbing traction for days
Rolling efficiency is great
Capably venture into all sorts of challenging terrain
The Bad
Limited gravel bike compatibility
Large and heavy treads do result in understeer
The Bottom Line: Schwalbe G-One Allround 27.5×2.25  (650b)Gravel Tires
Switch your gravel bike into "Monster Mode' with the Schwalbe G-One Allround 2.25" tires. You'll enjoy excellent rolling efficiency with Velcro-like traction everywhere you go. Installation and seating is as easy as it gets. I'd call these tires the easiest and most reliable tubeless tires I've used.
Buy Now: Available on Amazon