You can always count on Shimano to take their time before releasing new products. But, with that extra time, you can usually also count on reliable results. When I grew up in the 1980's, the bastion of reliability was the "Maytag Man," snoozing at his desk. Shimano should have their version of the "Shimano Man" endlessly shifting gears all day long. So, with the release of the Shimano GRX RX810 groupset, mechanical gravel shifters are now on notice.
Shimano RX810 Groupset Features:
11-speed gravel-focused drivetrain
Alloy levers and bolts/cages
Available in 1×11 (tested) or 2×11
Optimized hood and lever shapes
Revised lever pivot position for added power
Integrated gravel-tuned clutch for a silent rear derailleur
Compatible with wide-range rear cassettes (11-42t tested)
Can add the ST-RX810-LA for dropper post (not tested)
MSRP: ~$1200 (depending on configuration)
1x mechanical perfection?
After several years of riding electronic groupsets, it was nice to get aboard a trusty Shimano mechanical drivetrain. Not that Ultegra Di2 or Red eTap AXS are bad (they are amazing), it's just that electronics on a bike can sometimes feel like you're hooking up to the Borg just to ride a bike. It's nice to kiss dead batteries and firmware updates goodbye and just ride. Trusty mechanical groupsets are popular for a reason and the all-new Shimano GRX RX810 has reminded me of just why that's the case.
With that though, I'm not going to let the opportunity pass without jabbing Shimano for taking so long to get a 1x gravel group on the market. It's well-known that Shimano is conservative with product launches, but SRAM has had 1x road since 2015. Shimano did take their own sweet time, but 1x GRX is here now and it has performed in true Shimano-like fashion.
On test has been the Argon 18 Dark Matter GRX gravel bike. It's a fun, race-oriented bike that has been the testing grounds for the GRX RX810 1x groupset. With it, you get the gravel-specific levers and hoods for more secure handling and feel. In the rough stuff, these hoods are fantastic. Going back to a set of Ultegra Di2's after the GRX's, for example, feels wimpy by comparison. Since I ride with gloves, the grippy rubber hoods are awesome. Even on demanding singletrack or the drone of gravel chatter, my hands stay put and are ready to shift or brake as needed. That said, if you ride without gloves, you may notice that the rubber pattern is pretty aggressive on those palms.
The provided gearing is a 40t chainring with the SLX 11-42 cassette. With that, you get a 40/42 gear ratio for steep climbs. I will say that even though the ratios are just over 1:1, a 40t front chainring doesn't quite feel as capable as a 33/33, for example (like I've had on the SRAM Red eTap AXS). But, it's plenty low and has allowed me to climb up winding singletrack and technical gravel pitches alike. On the higher-end, expect the 40/11 to top out around 28 mph. Just coast your way down those descents and enjoy the ride.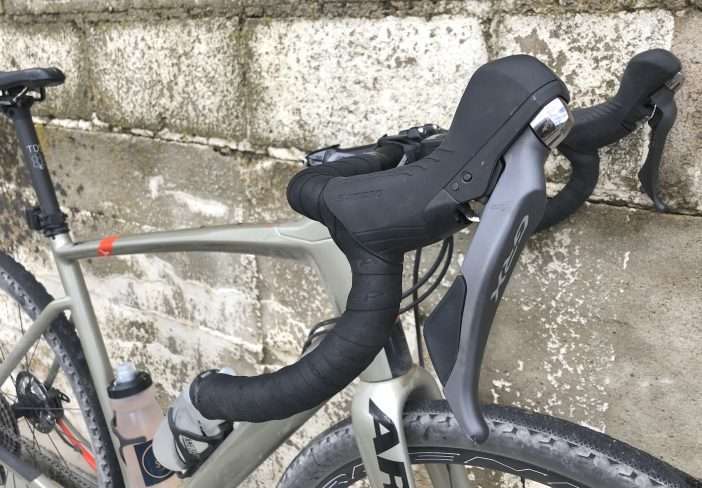 Shift quality has been outstanding overall. Again, that's what Shimano is known for. Both up and downshifts are instant and smooth. It's easy to pop up a single gear or dump a few at a time. Admittedly, I do miss Di2's ability to press-and-hold to dump gears, but a few flicks of the wrist is all it takes to travel up the cassette.
A little more on the advantages of mechanical. That little barrel adjuster at the rear derailleur is so nice. Instead of working through a series of beeps and boops to tweak the shifting performance, all it takes is a turn of the knob. And, as a PSA, don't forget to check the rear derailleur bolt every so often — this is particularly important with gravel bikes. Mine got a little loose and getting the shifting dialed in was vexing until I thought "let me check the bolt." Sure enough, it was a little loose. A quick tighten and shifting performance was again functioning like clockwork.
As far as braking goes, I love how Shimano's hydraulic systems perform. Actuation is always smooth with excellent lever feel and great modulation. In the hoods, it's easy to do even 3-finger braking, if necessary. And, the GRX levers feel amazing in-hand for that purpose. The pivot position is revised compared to Shimano's road levers, thus providing more leverage. When in the drops, braking power increases exponentially. That extra leverage comes in handy on singletrack descents. The test bike was outfitted with a 160/140 rotor combination and I would have liked to see a 160/160 for a little added power. And, non-toxic mineral oil is always a winner. I love that about Shimano's hydraulic brakes and the GRX's are no exception.
While I do like the lever shape and feel, the backsides do feel a little unfinished and sharp. No, they aren't going to slice my fingers, but it seems they could be a little more rounded. And, that left brake lever in a 1x system is just a brake lever, but it does move inward slightly as if to be able to shift a little. I get it… it's just a modified 2x lever, but I appreciate it when the levers are fixed (like Di2).
The Good
Precise mechanical shifting
Easily-adjusted
Reliable and quiet chain on rough terrain
A great value
Hoods offer excellent grip and feel
Braking is superb in the hoods and drops
Wide-range cassette for gravel, road and singletrack
The Bad
Backside of levers are a little sharp
Still difficult to shift with thick winter gloves (but better than prior designs)
The Bottom Line: Shimano GRX RX810 1x
Shimano is the undisputed king of mechanical drivetrains and the new GRX RX810 is awesome. In 1x form, you get the simplicity of a single shifter and can upgrade to get the dropper post for the left lever, if desired. I experienced reliable, fast shifting under all terrain. It's easy to breeze through the gears and braking is refined and smooth.
Buy Now: Available at JensonUSA
In Summary
It's been so good to get on a Shimano mechanical drivetrain. There's a reason why this stuff is so popular. And, that performance is now available in a gravel-specific drivetrain that's comfortable, reliable and affordable for today's gravel bikes. If you're looking at 1x systems, the 11-speed GRX RX810 is worth a look. And, if the off-the-shelf bike is decked out with it, you'll be stoked.