Shimano's S-Phyre lineup represents their best products. The all-new S-Phyre Magnetic Sunglasses not only have all the features you'd expect in the latest cycling sunglasses, they also have some tricks up their sleeves. I've been testing the GR lens, which is optimized for all-road optics (road, gravel, dirt) and the performance has been excellent on all roads and conditions.
Shimano S-Phyre Magnetic GR Sunglasses Features:
Grilamid TR 90 frame with magnetic lens swapping system
UV-400 protection
RIDESCAPE lens options for every riding condition (road, gravel or off-road)
GR lens tested with 21% VLT (included CL lens offers 82% VLT)
Oleophobic lens coating for reduced smudging and water-repellency
Durable anti-scratch coating
Straight temples with non-slip pattern
Available in a variety of lens tints and frame colors
Includes travel case, soft bag and XL nose piece
MSRP: $220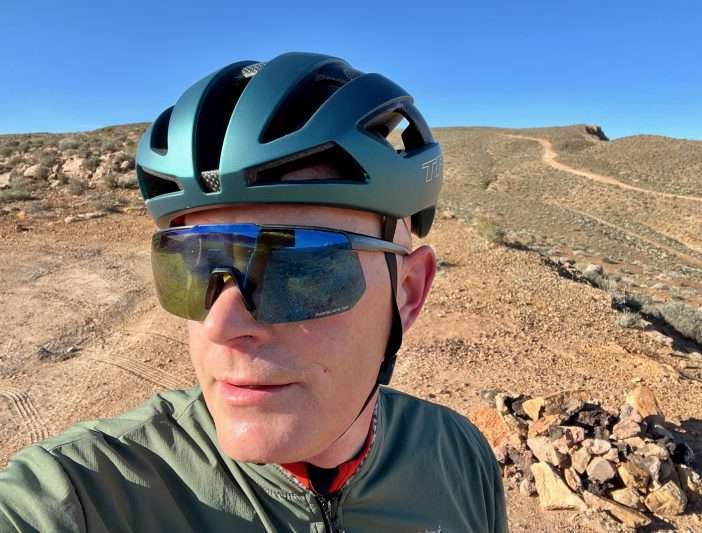 Gravel-tuned sunglasses? Well, yes.
When Shimano introduced their new S-Phyre Magnetic Sunglasses with a gravel-specific lens, many cyclists and pundits alike collectively rolled their eyes, wondering just how far we've pushed "gravel." Gravel-specific clothes, helmets, bags and now sunglasses. While there's some merit to that skepticism, anyone who is familiar with lens technology knows that each tint is best-suited for specific conditions. Some are all-rounders while others are best in deserts, roads, snow, etc. With that, I look at the new S-Phyre GR sunnies as an interesting and functional pair of sunglasses with a lens that should work for gravel, dirt and pavement. And, that's just what I intended to prove.
With the same 21% VLT as the road lens, the difference is in the tint and how it works with gravel landscapes. The grey/blue/purple lens features a subtle mirror to reduce reflections in harsh light conditions. Heavy mirrored lenses can be problematic when moving at high speeds in/out of sun and shade, so I'm glad to see it subtle with the RIDESCAPE GR and CL lenses included here.
Let's cover some of the nuts and bolts of the S-Phyre Magnetic sunglasses first. Today's standard lens size/shape is oversized and these fit that bill. What's not always common is a semi-rimless design. To maximize field-of-vision, Shimano chose semi-rimless and I love how uninterrupted my vision is with these on. Fit can be tweaked using the two included nose pads in standard or reversed orientation to cover various nose sizes. An XL nose piece is also included for further personalization. I found my proper fit with the small nose pads in their narrowest position (stock), but you can easily try all four variations to see what works best for your face. On this, I appreciate that they don't have pivoting nose pieces like the Koo Demos or flexible ones like the Tifosi Rail. Those designs are decent, but not as durable over time.
Changing out lenses is also a breeze with the strong magnets on either side of the lens. To pop a lens off, simply fold the arms in and gently tug the lens outward. It will pop out and make it easy to change to another lens. A quick pinch to the nose piece and it also slides out, but not usually without manhandling the lenses. The straight temples are short enough to not interfere with helmet fit systems, but long enough to keep things in place.
Hitting the road, ahem… gravel
After a few short days on the road, my first gravel testing was in the red dirt of Southern Utah. Not only is the large coverage perfect for keeping the rubber side down, they offer excellent wind protection at speed. This particularly shows up on cold descents where the S-Phyre Magnetic sunglasses keep my eyeballs from watering like a toddler missing his mommy. No matter the speeds, this wide coverage is keeping my vision clear and crisp.
While they do have excellent optical clarity and protection, that wide shield can tend to fog up on cold, humid mornings. There isn't a ton of airflow behind these lenses. They don't fog up completely, but just enough to get in the way. Respit comes by moving them forward on my nose, but they don't truly clear up until speeds increase to speed evaporation. Maybe a small vent cutout could help.
As mentioned, compatibility has been excellent with a variety of helmets (Bontrager Velocis MIPS, Kask Wasabi and Cannondale Dynam). I can dial in the fit systems on each one without worry. The straight temples are short enough so as not to get in the way.
Most importantly, the grippy temples and nose pieces keep these glasses locked solidly in place. I put them on and forget about them for the entire ride — a sign of a great pair of glasses. To further test their capability, I've also been trail running in them. I really enjoy how they fit and function for that purpose as well. Tops on that list is the wide field-of-vision which allows me to anticipate terrain changes and clearly see where to steer or step.
I generally take good care of my sunglasses, but don't always return them to their cases or sleeves when not in use. Instead, I usually just drop them inside a helmet and call it good. Before the next ride, I'll clean the lenses with a soft cloth or the cleaning bag. With that level of non-care, the lenses remain like new and they clean up nicely.
The included RIDESCAPE GR lenses do work great across all terrain. Do they make gravel riding amazing? Well, not specifically. But, I haven't had any complaints riding across road, gravel and dirt. And, if I'm heading out early in the morning or on a cloudy day, the RIDESCAPE CL lens is a fantastic option. Still, a photochromic option would be preferred.
The Good
Wide field-of-vision
Stay put — all ride long, even on rough terrain
Semi-rimless lenses are easily cleaned
Variety of nose pieces for personalized fit
Lens is easily-changed
A great shape and excellent coverage
Short temple length stays out of the way of helmet fit systems
The Bad
Can get fogged up on humid mornings
"Classic" styling may not be flashy enough for some
The Bottom Line: Shimano S-Phyre Magnetic Sunglasses
With tons of sunglasses on the market, the Shimano S-Phyre Magnetic sunglasses do stand out in a few ways. Tops on that list is the drop-dead-easy magnetic lens change system. Overall quality-of-vision is also right up there. Some may question the GR lenses, but I find them quite nice for every type of terrain (gravel, road, trail). The lenses remain scratch-free in spite of less-than-optimal care.
Buy Now: Available from Shimano