Bottle cages can be fickle partners. And, water bottle manufacturers don't do them any favors with their wide range of bottle diameters. With that, nothing is more classic than a titanium bottle cage and who better to make one than the artisans at Silca. Behold, the Silca Sicuro titanium bottle cage — it's beautiful, lightweight and just plain works.
Silca Sicuro Titanium Bottle Cage Features:
Seamless 3-2.5 titanium tubing
Extended adjustment mounting – up to 16mm fore/aft
Low-profile 6-4 titanium mounting screws (1.5 grams each)
Weight: 29 grams w/o screws
25-year SILCA Shield Warranty
MSRP: $70
A timeless titanium bottle cage
There's something about titanium that just feels premium. I love my titanium wedding ring and everyone drools over Moots, Mosaic or Eriksen titanium frames. And, titanium bits remain the top choice for weight weenies and purists. These days bottle cages are all over the place with material usage and design, but the titanium Silca Sicuro Bottle Cage follows a proven design and uses legendary material — with a few special features.
Silca is an Italian brand with over 100-years of history. In 2014, former Zipp engineer Joshua Poertner took the reigns and has continued to evolve the brand without losing the secret sauce that made Silica great. Titanium bottle cages are their latest canvas and the Sicuro has a great story to tell.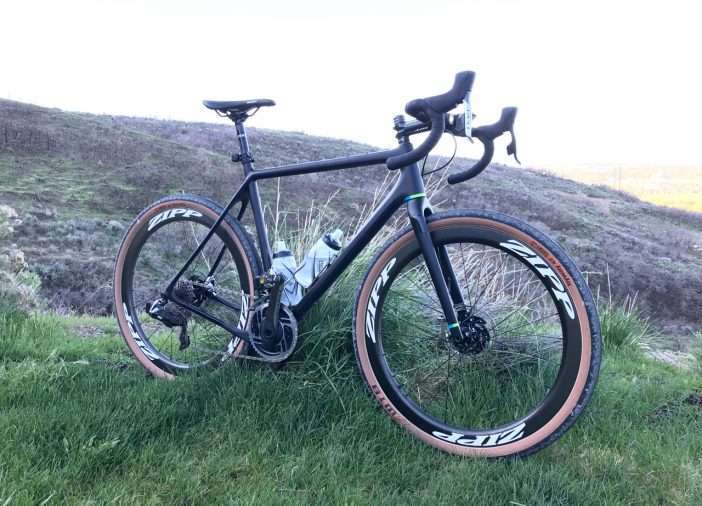 Using aerospace-grade titanium, Silca assembles every Sicuro using lasers to beautiful perfection. All that makes for fancy marketing-speak, but should tell you just what goes into every $70 cage.
One unique feature of the Silca is the 16mm of fore/aft adjustment. Some cages feature multiple mounting points, and Problem Solvers has even made a sliding mount. A simpler, more elegant solution was employed with the Silca Sicuro by making a 16mm channel. Mounted on the Niner RLT 9, I was able to slide the cage as low as possible. This then dropped the center-of-gravity and allowed for extra room on the seat tube mount (which is curiously-high on that bike).
Aboard the Open UPPER, however, mounting them as low as possible did fit with barely enough clearance. Actually, using two Camelbak Podium bottles, the downtube-mounted bottle touches the seattube-mounted bottle  just slightly and prevent the bottle from full insertion by 2-3mm. So, I simply raised the seatstay cage and the problem was solved. Additionally, it made for a slightly-easier reach to grab the bottle.
The classic look of titanium cages is fantastic on alloy, steel, titanium or carbon frames. They hold all bottles securely (Specialized, Elite and Camelbak tested) on even the roughest terrain. I've had trouble with some cages on my gravel routes with bottles flying out  — the Sicuro cage doesn't play that game. Every bottle was always secure, but the designs on the outside did tend to get rubbed off where the cage touches them.
A classic cage design looks great and holds bottles well, but does have one drawback — re-inserting it into the cage on rough terrain. With most modern cage designs, the entry angle is pretty forgiving, but the Sicuro requires a little more exact placement, so be aware. I've dropped a bottle or two on the road because I missed that entry window.
The Good
Classic looks of titanium cage is unmatched
16mm fore/aft adjustment comes in handy
Holds bottles securely — on even the roughest terrain
Still easy to grab and pull all bottles out
Super-clean
Includes titanium bolts
The Bad
Bottle insertion requires more exactness than with other cages
The Bottom Line: Silca Sicuro
As far as classic titanium components go, a bottle cage is up there. At $70, the Sicuro isn't cheap, but it's on par with the top carbon cages on the market and boasts a 25-year warranty. It's lightweight and oh-so-secure on all terrain. If you want bottle security in a lightweight, classy package, the Sicuro is definitely a great, timeless choice.
Buy Now: Available at CompetitiveCyclist.com