Though many riders like to go gloveless, I appreciate a good pair of gloves for added comfort and protection (just in case). Specialized has long developed their Body Geometry products for the three key touch points on the bike (gloves, saddles and shoes). The Specialized BG Grail gloves are available in both long and short-finger and I've been testing them all season.
Specialized BG Grail Gloves Features:
Uses a proprietary pad system designed by Dr. Kyle Bickel M.D.
Clarino synthetic leather palm
Body Geometry Equalizer™ gel pad to distribute pressure
Pad system designed by Dr. Kyle Bickel MD to enhance blood flow
Tapered, slip-on cuff
Pull tabs for easy removal
Breathable mesh upper
Soft and absorbent Microwipe™ thumb
MSRP: $35/$40 (+$5 for Hyprviz)
BG Grail Gloves — Best for road and gravel
I've had the Hyprviz short finger and red long-finger gloves for several months and hundreds of miles. I used the long-finger for mountain biking and the short-finger for road and gravel — including the 2021 SBT GRVL Blue Course. I'll cover the long-finger gloves first.
Both versions feature the same construction and materials but with or without finger tips. On the mountain bike side, I've used the long-finger versions on only a few rides, but they just don't jive with my preferred grips (Ergon GE1 Evo Factory). Why is that? Well, the GE1 already has an ulnar bump, which allows proper blood flow. Adding these on top of that was simply overkill and made for awkward handling. So, if you have grips with an ulnar bump, you just might not like the feel of the BG Grail.
In addition, the long-finger gloves aren't awesome for touchscreen use. I found them problematic and unreliable for use with my iPhone screen. You can get them to work, but I found myself just taking them off instead.
However, for road or gravel bikes, the short and long-finger gloves are fantastic. The Equalizer gel pad provides just the right amount of pressure relief to allow proper blood flow. I can move around the bars from the tops to the hoods and drops and they feel great. With the Clarino synthetic leather, nothing snags or grabs unnecessarily. For added breathability, the mesh uppers are about as porous as it gets. This is great for hot days, but can be a bit chilly on early spring rides.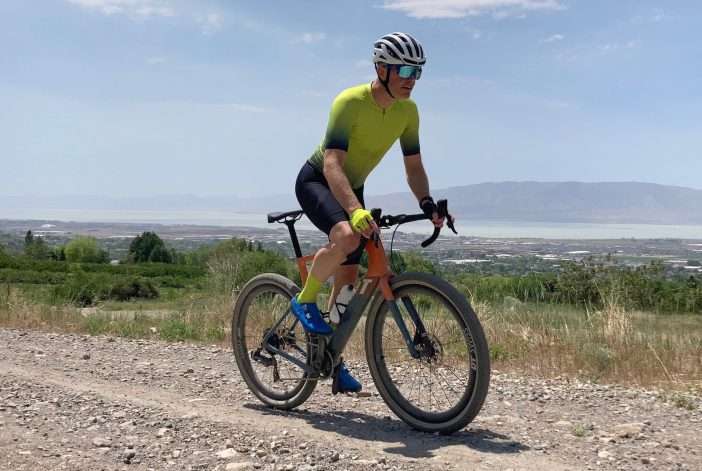 I have loved the Hyprviz products from Specialized — particularly the Hyprviz SL Air Jersey. The added visibility is always welcomed, but it does come with an added $5 price tag. Personally, I think it's worth it for maximum visibility points. When needed, the Microwipe thumb is great for wiping your sweaty brow or nose. After a few weeks, it's easy to wash them in the sink with soap and water.
The mesh fabric on the forefinger is getting worn after about 800 miles of use, but they are doing well elsewhere so far. The Equalizer pad is staying put on my test units, but it looks like many reviewers of the initial gloves had the pad curl up inside the pocket and fold onto itself. My Equalizer pads are glued and then stitched in place for added security (I believe that was a rolling change).
I appreciate not having any Velcro closure tabs to get caught on things. And, when it comes time to remove the short-finger gloves, the middle and ring fingers have hook loops to grab and pull. It's a great little feature that makes removal a breeze.
I had intended to continue using the short-finger gloves as my daily gravel and road gloves until my dog changed those plans by completely tearing up and eating the right glove. If you are in need of a large left BG Grail glove, hit me up.
The Good
Very breathable
Hook loops for easy removal
Equalizer pad provides good relief and added bloodflow
Soft Microwipe thumb is great for wiping your nose, etc.
The Bad
The Bottom Line: Specialized BG Grail Gloves
If you're in need of a new pair of MTB or road/gravel gloves, I've had good luck with the BG Grail line. I'm about 5 months and 800-1000 miles into them and they are holding up just fine. The Equalizer pad definitely aids in blood flow, but you still need to move around the bars or take your hands off every so often. I dig the Hyprviz color for added visibility.
Buy Now: Short finger or long finger gloves at Backcountry.com