Simple, comfortable, affordable and stylish — that's how I would classify the Specialized RBX Fern Jersey. It looks great, hides dirt well, has a generous fit and generally feels great for road, gravel or mountain biking.
Specialized RBX Fern Jersey Features:
Soft knit VaporRize™ fabric throughout
Breathable mesh on back and sides
Three standard rear pockets
Full-length front zipper
UPF 30+ rating for sun protection
Generous, regular fit
MSRP: $75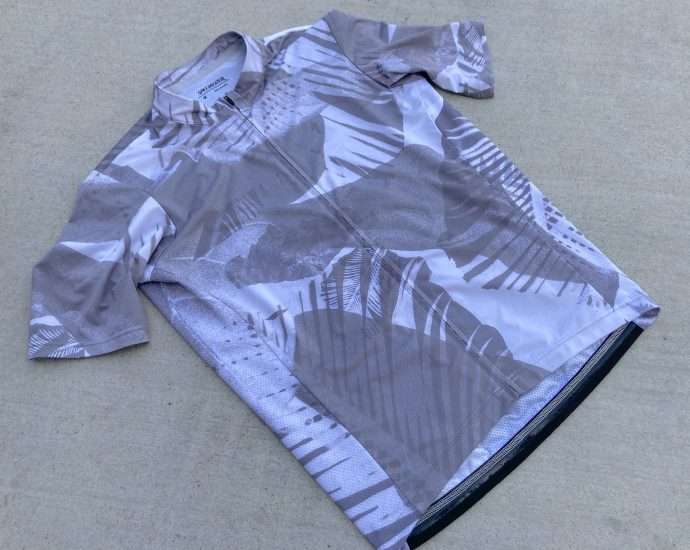 The RBX jersey is comfortable above all else
If you are in search of a comfortable jersey for everyday riding that doesn't have a tight, race fit and won't break the bank, the Specialized RBX Fern Jersey is a fantastic option. While it is part of the RBX line, the unique Fern color and mesh back/sides sets it apart from the RBX Classic Jersey and lends itself better to warm weather rides. Those two features take the price tag upwards to a still-affordable $75.
From the get-go, the RBX Fern Jersey is easy to love for the level of comfort it provides. No question, it is generously-sized. As I slipped the medium on, I had to take it off again to be sure it wasn't a large. After the wearing the race-fit SL Air HyprViz Jersey, this one is downright loose. But, you should know that already. That said, it surprised me. But, keep in mind that I'm very much used to race fit jerseys, so maybe most people will consider the "regular fit" of the RBX Fern Jersey to be just right? You know what you prefer and just be aware that the regular fit on this one may require sizing down if you need a racier fit.
Many times, budget jerseys skimp on little features that they shouldn't, but that's not so much the case here.  The only exception is the solid knit VaporRize fabric on the front panels. It's cozy, but doesn't allow much air to penetrate. Because of that, on hot rides, you'll be grateful that the front zipper is easily pulled up/down with a single hand. That has been the best way to encourage airflow with the RBX Fern Jersey. Once unzipped, the mesh back and side panels are more efficient.
Something that's great about the RBX is the size of the rear pockets. They feature pleated bottoms, so you can haul the kitchen sink around. But, because of the lack of structure, you'll want to keep things on the light side still. A spare jacket, some gels, a phone — stuff like that. Bulky multi-tools or bottles aren't going to carry very well.
To save costs, the sleeves aren't laser-cut, but I didn't mind. They are a good diameter and length. Plus, the flat-lock seams make them comfortable. The collar height is traditional. Nothing bad about that, but I personally prefer lower-cut collars for warm weather use. With silicone on the rear hem, the jersey stays put.
Because the RBX Fern Jersey is cut larger, you'll notice it flapping in the wind a little more than a race jersey. You can see that in the above photo as the fabric gets wavy. And, I've paired this jersey with a wide variety of bib shorts just fine. If you want to stick with Specialized, the SL Bib Shorts are a great option.
Fit: I'm 5'11" and 170 lbs and wore the size medium. It was comfortable and fairly loose overall, but never chaffed or made me feel like a sausage.
The Good
Very comfortable
Nice cut, with a modern sleeve length
Zipper is easily moved up/down with a single hand
Large pockets
Mesh back/sides aid in breathability
Subtle "S" branding
The Bad
Front panel doesn't allow much airflow on hot rides
Pockets carry a lot, but lack structure
Collar height makes things toasty
The Bottom Line: Specialized RBX Fern Jersey
Not only does the RBX Fern Jersey have a little more pizzaz than the regular RBX, it also features mesh fabric on the back and sides, which aids in breathability. It doesn't quite match an airy race jersey, but it helps. I love the comfortable fit and the wallet-friendly price on this one.
Buy Now: Available from CompetitiveCyclist.com