Everyone needs a good climber's jersey for the hottest days in the saddle. But, even the lightest jerseys need to have some utility to haul your necessities. The Sportful Light Pro Jersey is a great specimen for climbing or rolling in the heat and has been a perfect for Utah's warm, mid-summer mornings and afternoons.
2023 Sportful Light Pro Jersey Features:
Extra-breathable construction with new lightweight structured fabrics
Minimal stitching on collar for comfort and a clean look
3 open pockets with gusset for increased capacity and micromesh extra pocket for number holder
Highly stretchy fabrics on shoulders for perfect fit and laser-cut sleeve endings
MSRP: $140
The Light Pro feels like nothing
The Sportful Light Pro Jersey came into the testing mix just as the morning temperatures were starting to fluctuate their way into the 60's. During this time period, those low spots in elevation can be quite chilly and were very noticeable when wearing the Light Pro. I'm not kidding… that chill was real. But, all that airflow is exactly what I expect from a climber's jersey and that's what I got with this airy piece of kit.
Highlighting some of my favorite features, I dig the combination of two main materials used. The "super mesh" on the front and back is about as light and breathable as can reasonably be used in a jersey. For the shoulders and sleeves, it's not that much less airy, but is tight knit enough to better fit around your moving bits while adding durability into the mix. Then, the pockets have an even thicker (yet still meshy) material for structure and support. In all, these three fabrics are employed with precision to deliver the best of all worlds when it comes to warm temperatures and high-output climbing.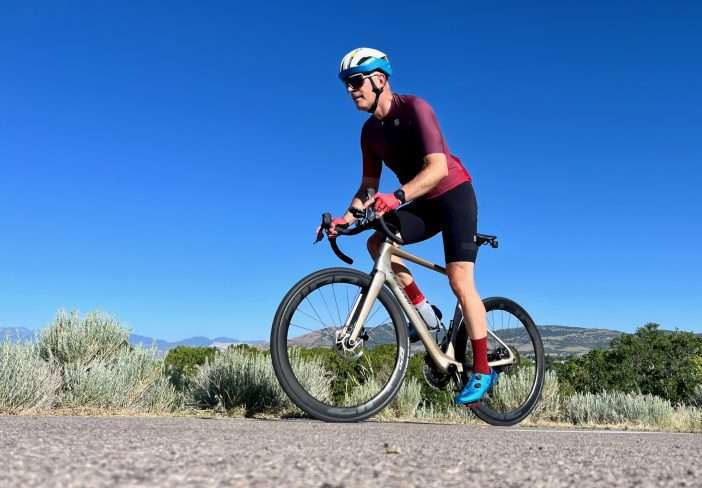 Of course, Sportful has chosen to use a collarless design, which eliminates any chimney-effect and yet still feels like a crew neck (as opposed to some designs that look like a V-neck). Zipping it up is a breeze and unzipping is too. But, I'll be honest that I never once felt the need to unzip it. I will say that the large-toothed zipper can be problematic when zipping it up for laundering as the ultralight fabric can be easily snagged. I never had issues when worn, but did for laundering, so just be careful when zipping it back up for cleaning.
The sleeve length is perfect and the diameter of the sleeves is great. In spite of being a light, meshy design, there's enough muscle support to keep a cohesive feel. And, I should mention that a long day in the sun would require some sunscreen with this jersey — so don't forget to add some before kitting up if that's your game.
With three good-sized pockets, you'll appreciate being able to bring things along. A light jacket and enough essentials can be fit in the bellowed pockets just fine, but heavier items will bounce a little. While I do appreciate a zippered sleeve, I rarely use them, so I'm glad they were omitted here. You will find a race-specific feature in the back with the Light Pro Jersey — mesh number sleeves. Yup, you can take your race number and stuff it in there, so it's visible to see. I haven't tested that with time chips on course to know if it would still be read okay, but I'd love to give it a whirl.
Overall durability has been good so far, with no snags or signs of use. I've loved wearing it for road, mountain and gravel riding on the warmest days. I can't imagine grabbing anything else for hot days in the saddle.
To make this jersey as lightweight as possible, the hem is simplified by using a silicone-dotted rear panel only. While it does keep the back in place, I did find that the front did creep upwards because of the lack of grippyness. Certainly a few ounces could be sacrificed to ensure better jersey security.
Fit: I'm 5'11" and 173 lbs, wearing the size large. 
The Good:
Maximum breathability
Great sleeve length and diameter
That crew-neck collar is perfectly-shaped
Zipper is easily pulled up/down
Large pockets can store sufficient items
Dries in a jiffy
Great mixture
The Bad:
Heavier items can bounce around in the pockets
Some minor silicone all the way around the hem would be helpful
Watch the zipper when zipping it up for laundering
The Bottom Line: 2023 Sportful Light Pro Jersey
The Light Pro Jersey is as airy of a jersey as you can possibly get without it being too delicate for actual use. Sportful has danced the line quite well and I love this jersey for its intended purpose — hot days in the saddle. Air flows right through it and it dries in a jiffy. I wish it had silicone grip all the way around the hem, but still, this is my new favorite warm-weather jersey.
Buy Now: Get One at Sportful.com or CompetitiveCyclist.com