As SRAM has refined their AXS ecosystem, a few variants have emerged to better serve the widest variety of cyclists. The latest Force eTap AXS Wide variant allows increased tire clearance and also accommodates their 10-36t cassette for maximum gear ratios. With that, a complete Force AXS 1x drivetrain has also become more viable. (Read our review of the 2023 Force AXS 2x groupset.)
SRAM Force eTap AXS Wide Features:
Wide-specific crankset, cassette and derailleurs
Works with 10-36t and 10-33t cassettes
Crankset features 43/30T chainrings (or go 1x)
Allows wider tire clearance (700x45c and 27.5×2.1")
5mm wider Q-factor (each pedal is 2.5mm outboard)
Works with AXS road shifters (Red, Force, Rival)
Can be configured 1x or 2x
MSRP: $770 (cranks, derailleurs and cassette only)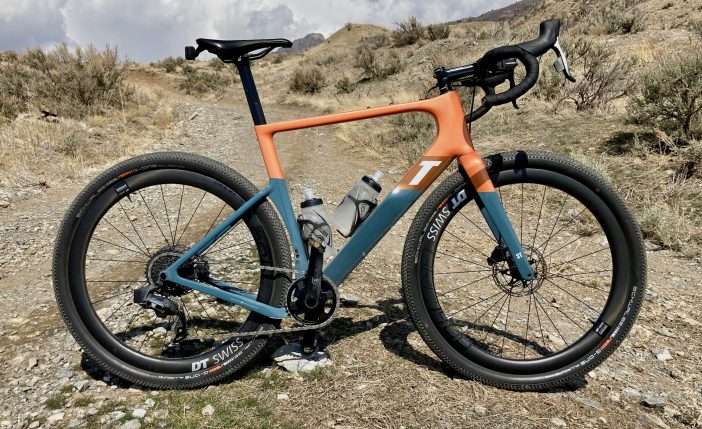 Versatility and clearance galore
I've reviewed both Red eTap AXS, Force eTap AXS and Red/XX1 AXS Mullet and have thousands of trouble-free miles on all of them. But, with the latest Force eTap AXS Wide, the gear ratios have been expanded to a mindblowing 516% range. And, because it's 12-speed, the gear jumps are all tight and smooth without massive gaps.
Comparing the tight spacing of the AXS 10-33t cassette to the 10-36t cassette, there's really only two major differences: no 14t cog and that 36t cog. See for yourself (differences in bold):
10-33t: 10-11-12-13-14-15-17-19-21-24-28-33
10-36t: 10-11-12-13-15-17-19-21-24-28-32–36
Gear jumps remain tight whether you go 1x or 2x and the beauty of that 10t cog really makes the AXS stand out from others. You have that high gear and start to max out around 31 mph on descents. That's plenty of top-end for all but the top racers. Most riders don't feel the need to be pedaling at higher speeds than that. On the 38T 1x side, pedaling maxes out around 28 mph.
Force eTap AXS Wide – 2x Mode
For half of my testing period, I rode the 3T Exploro RaceMax in 2x mode. The wider clearance afforded by the offset front derailleur and added crankset width made for easy clearance for 42mm tires. I did have issues with the RaceMax frame when the Zipp 30 Course wheels were mounted up with the Zipp Tangente Course G40 tires. It wasn't derailleur clearance that was the issue, but tight clearance behind the cutout seat tube. That limitation is unique to the RaceMax and the Force Wide system does its job by providing clearance for wider tires.
If you are installing Force eTap AXS Wide on a gravel bike with a dropped chainstays on the drive side, the 30T chainring may allow the chain to slap on the underside of the drive side stay. It is great to have that small of a chainring for the ultimate in low-end climbing, but it is so small that the chain will easily touch on rough terrain at that low point. Most gravel bike frames feature metal frame protection there because it's a common scenario but you will hear some rattling when in that smallest chainring.
In 2x mode, I had all the gears I could ever ask for. And, the gem of the AXS system (in my opinion) is "Compensating Mode" where the rear derailleur automatically adjusts up to three cogs to maintain cadence when shifting between chainrings. It's pretty slick and doesn't disrupt your rhythm. You can even choose to enable "Sequential Mode" if you want all front derailleur shifts to happen automagically.
If it weren't for the monster clearance afforded by going 1x, I would have stuck with 2x on the RaceMax. I have all the low gears I could ever need and that tight spacing makes it easy to find the right gear on long climbs or at tempo with friends.
Force eTap AXS Wide – 1x Mode
The biggest issue you'll need to solve when going 1x (and not going mullet mode) is just what size of front chainring to use. For my purposes and fitness, I chose to go with a 38T chainring because I know that a near 1:1 is just fine for all my riding needs. Yes, I do hit occasional rough, loose climbs where a 36T chainring would come in handy, but all I have to do is stand and push through it. And, with that 38T chainring, I get a bit more high-end gearing. Regardless, the lowest SRAM offers is a 36T, so if you need lower than that, you'll have to go with a mullet build (X01 cassette and rear derailleur).
If you ride really steep terrain, a 36T would give you proper 1:1 or going larger could give you even more high-end, if that's your jam. Full Force AXS 1x is a clean, road-like look since the 36t cassette doesn't look as much like a full dinner plate. The groupset looks sleek and performs quite well if the gravel rides you're hitting are accommodating.
Changing from 1x to 2x is a breeze, since there are no cables to remove. I just popped off the front derailleur, swapped out the right crank arm only and re-programmed everything using the SRAM AXS app. It took me a whole 20 minutes — you just need the proper tools.
Overall performance
As with all other AXS groupsets tested over the past two seasons, the entire AXS ecosystem has proven reliable and intuitive. Shifts are crisp and fast and braking is confident and smooth. I will say that the front brake calipers did rattle around a little until I figured out that the pad spreader needed a little more spring action. I pulled the pads and spreader apart and bent it outwards — problem solved.
Other than that, the paddle shifting remains the most intuitive on the market and allows easy use while wearing thick winter gloves. Honestly, it is a little cumbersome to have to deal with charging two batteries, but I have a third one that I always keep charged and swap it out as needed during my pre-ride flight check.
In addition, I've had the SRAM eTap MultiClics installed in the aft position on the tops and they are a thing of beauty! I much prefer the trigger action over Blips and when riding bikes without them, I find myself missing them greatly. With built-in wings, they are much easier to wrap and are compatible with both Red and Force AXS.
The Good
Viable 1x option with full Force Wide AXS
Oodles of tire clearance
Crisp, smooth shifting
Easy to change between 1x and 2x, if needed
MultiClics are a great add-on
SRAM AXS mobile app is straightforward
The Bad
1x may not be wide range enough for some
The Bottom Line: SRAM Force AXS Wide 2x and 1x Groupset
Going 1x or 2x with SRAM"s latest Force AXS Wide are both great options — depending on your terrain and gearing needs. I love the small gear jumps for such a wide-range drivetrain and it's easy to switch between 2x and 1x if you have a bike that can accept big, fat 650b tires.
Buy Now: Available from CompetitiveCyclist.com