Mullet drivetrains are quite awesome these days. Whether you're looking for simplicity, reliability or have a frame that is 1x only, the latest SRAM Rival and GX AXS components can be grouped together for the perfect wireless mullet build for your road or gravel bike.
SRAM Rival/GX AXS Mullet Kit Features:
Mixed Rival AXS mullet groupset with GX AXS rear derailleur
Choose any Eagle cassette (10-50t tested)
Available Quarq single-sided power meter
Smaller-profile Rival shifters than Force or Red
Easily pair and manage preferences and updates with AXS mobile app
Price: ~$1600 (depends on exact configuration)
Rival and GX AXS mullet for gravel
Bike component manufacturers are scrambling to meet demand, but that hasn't stopped SRAM from introducing their Rival and GX AXS kits this year. Both offer the same function as the more expensive Red, Force, XX1 and XX0 groupsets, but in a more affordable package. You definitely gain weight due to the lack of carbon and titanium bits, but that weight savings translates into significant price savings and allows riders to spend money elsewhere (like wheelsets or cockpits).
In August, SRAM also launched their gravel-specific 1x groupsets; Rival, Force and Red XPLR. This allows gravel cyclists to keep a cohesive groupset instead of crossing over into MTB land. But, while the gear ratios for the XPLR groups are wide enough for most terrain at 10-44t, it doesn't match the 10-52t range offered by SRAM's Eagle cassettes. So, while most gravelistas will love the XPLR gearing for everything, the 520% mullet range will allow super-low gearing for even the most technical or demanding terrain. In short… mullets aren't quite dead.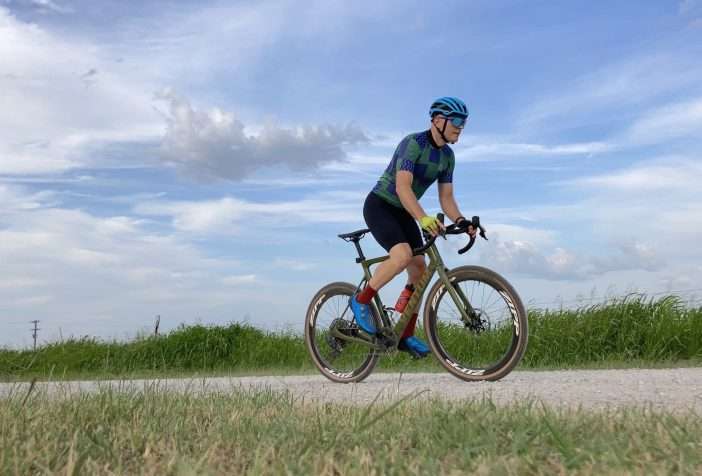 With that, the summer-long Rival/GX AXS mullet groupset testing began with a miracle bike build using the new Ventum GS1 gravel bike. I say "miracle" because parts availability requires the use of a Shaman and potentially blood sacrifices these days. Kidding aside, availability is improving, but it will be awhile before supply meets demand, not only for SRAM, but for every bike, frame and component right now.
Expanding AXS wireless electronic shifting down to the Rival and GX level was somewhat expected and, to get it to those price points, it comes with the obvious material compromises (alloys instead of titanium and carbon). That said, electronic shifting will always be more expensive than mechanical, but at around $1600, SRAM is now able to offer this kind of performance on more entry-level bikes. And, since the material changes don't affect performance, everything functions pretty much as well as their Force and Red counterparts (once dialed).
One of the primary features of Rival AXS is the redesigned hoods. They are notably smaller and fit even better for those with smaller hands. I didn't have any issues with Red or Force hoods previously and the Rival hoods are just dandy as well (only smaller). You don't get any ports for external shifters (MultiClics or Blips), but eliminating that feature makes sense at this price point. You do still get lever reach adjust, but no contact point adjustment here. Again, you get the table stakes that the average rider needs and nothing more.
On cold mornings, I do notice the chilly alloy levers on my fingers, which is something that doesn't happen with carbon brake levers. The feel and shape of the brake levers remains excellent for single or multi-finger braking in the hoods or drops. In the hoods, you will notice that one-finger braking will cause the shift paddles to hit your middle finger when depressed, so two-finger braking is recommended when additional force is anticipated. Of course, braking from the drops vs. hoods will result in improved leverage and finger clearance. One-finger braking is about all you need in the drops. Plus, if you're set up with a short drop bar, like the Zipp Service Course SL-70 XPLR, reaching deep into the drops is easy and comfortable for road, gravel or even singletrack adventures.
No question, one of the most anticipated options of the Rival AXS ecosystem is the single-sided Rival AXS Power Meter with Quarq's legendary reliability and accuracy. I'll post a detailed review of the power meter in the near future, but just know that for only $219 more (if building from scratch), you can go from the standard crank to power measurement, or for $249, you can upgrade your existing Rival crankset. A worthy upgrade, in my opinion and something that is invaluable for training and racing (I loved having it for the SBT GRVL Blue Course).
Overall performance (including some hiccups)
Pairing and setting up your AXS components with the SRAM AXS app is a breeze. Subsequent firmware updates are also easy — something I've come to expect from the AXS ecosystem. In my experience, that process is much, much better than Shimano Di2 updates (which have bricked my groupset on multiple occasions). Having a mobile app to zero the power meter and manage all the functions is superb and kudos to SRAM for meeting customer expectations with a great mobile experience!
As with all AXS components, your battery levels are easily seen with colored LED's. They go green to yellow/green, then red, depending on your battery level. The good and bad of a mullet groupset is that it only takes one battery. For travel and overall simplicity, it's awesome, but if you don't have a spare, you could be out of luck. Do yourself a favor and pick up a spare for long rides or races (just in case). Unlike the road group rear derailleurs, the LED on the GX AXS rear derailleur isn't as easily viewed from the saddle. My pro tip: always give it a pre-ride test shift. Also, the coin-cell batteries in the hoods will wear out after a couple of years. Those levels can be checked via the app and warnings will appear on Wahoo ELEMNT BOLT or other head units.
For gearing, I opted for a 40t front chainring mated with the SRAM XG-1275 10-50t Eagle cassette. The biggest two cogs are 42 and 50 teeth. If you're going with the XPLR group, your largest cogs will be 38 and 44 and may be best mated to a 38t chainring if you want the lowest gearing. Personaly, I would still prefer having 40t up front because I'm still pedaling at 31 mph. And with the mullet, that bailout gear comes in handy!
Most of my 800+ miles of testing has been on gravel and singletrack, which is just what the mullet setup is made for. No front derailleur and massive range is so sweet on rougher gravel and singletrack trails. And, the added clearance for bigger tires is a must (however, your frame clearance will still dictate tire size). Chain retention has been superb and the Roller Bearing Clutch keeps things super-quiet. The chainstay on the Ventum GS1 is as clean as a whistle — further evidence that chainslap is a thing of the past.
Unfortunately, achieving the smooth shifting I expected from this drivetrain took some time. I fiddled with the micro-adjust buttons for weeks and just settled for decent shifting for awhile (smooth everywhere but at either end of the spectrum). I didn't love the performance, with all the rasping and delayed shifts, but I thought that's just how it performed. After running out of ideas, I reached out to SRAM and ended up getting it looked at.
As it turned out, my B-Gap adjustment was out of wack and the chain was also bad. I still don't know how that chain passed factory spec, but after getting a brand new chain at 500 miles, shifting has remained absolutely golden. So, if your shifting isn't crisp, it may be either your B-Gap or the chain. I'm finally loving the smooth, quiet shifting and performance that I had anticipated.
Braking power has been good overall. I've noticed some extra squealing from the front brakes on extended gravel and singletrack descents, but that's kind of par for the course and nothing extraordinarily bad. I can easily adjust the calipers for rub-free performance and don't have any power issues with either one or two-finger braking.
Of course, mullet kits do sacrifice a little when it comes to gear gaps. With a 10-50t cassette, the gaps are bound to be wide and you'll often find yourself searching for the right gear for your tempo. That just comes with the territory and there's not much you can do about it. Yes, 2x is better for strict road duty or fast-paced group rides, but if you are cool setting your own tempo and embracing the gaps, the simplicity and wide range can't be beat.
The Good
AXS performance at a lower cost
Wide clearance for 650b tires
Easy in-the-saddle micro-adjustments
No signs of chainslap — even after rough terrain
Smaller hoods do have a great feel
Single battery adds simplicity
Affordable power option
Monster truck climbing ability
Paddle shifting wins for all-season simplicity
The Bad
Levers can be cold to the touch
Surprisingly, the original chain was faulty from the get-go (an easy fix once identified)
Watch that B-Gap
LED battery indicator isn't as visible from the saddle as road derailleurs
Replacement brake pads have caused some lingering clearance issues
The Bottom Line: SRAM Rival/GX AXS Mullet
For the widest tire clearance possible and up to 520% gear range, a mullet build is the way to go. During a summer of testing, I rode extensively with both 650b and 700c wheels/tires. The Rival/GX AXS setup gives the best of the AXS ecosystem at the lowest possible price. Shifting is intuitive and adjustments can usually be done in the saddle. Unfortunately, I did have to replace my chain to finally fix my shifting issues. That's an inexpensive fix, no question, but I'm still trying to figure out how this bum chain left the factory in the first place. I love how quiet the drivetrain is — even on the roughest terrain. And, monster truck climbing comes in handy when pitches get steep and technical.
Buy Now: Visit CompetitiveCyclist.com