After a series of pandemic-related worldwide lockdowns, indoor cycling has skyrocketed. But, even before that, many riders (myself included) had already adopted Zwift as the official training partner on cold, wintry days. Now that we're not all stuck inside, the role of indoor training has evolved, but continues on as a critical part of our training regimen. These days, stepping up to a dedicated smart bike, like the Stages SB20, is a great option to avoid unnecessarily wearing out your precious road bike's drivetrain.
Stages SB20 Smart Bike Features:
Wide-range electronic resistance
Ultra-quiet Gates belt drive
50 lb. flywheel for realistic feel
Built with the same durability as Stages studio bikes
Removable tablet holder and dedicated phone holder (with 2 USB ports)
Dual-sided Stages power meters and (+/- 1.5% accuracy)
ANT+ and Bluetooth connectivity
Fully-adjustable fit
Compatible with standard bars and saddles
10-year frame and drivetrain warranty (1-yr on components/power meters)
MSRP: $3149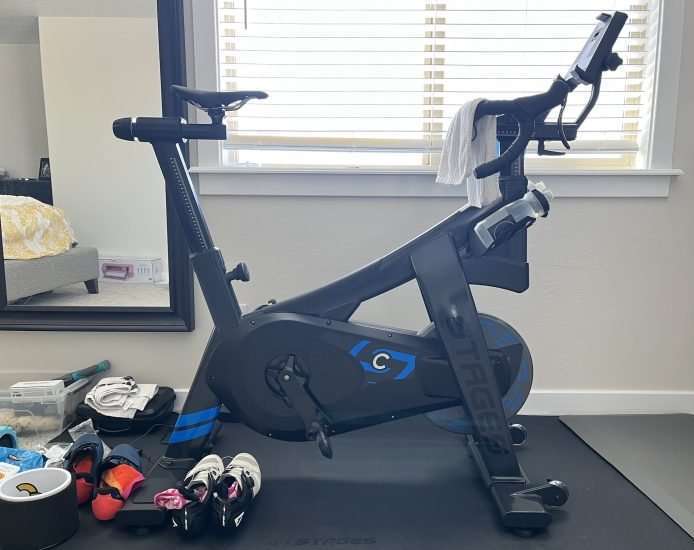 SB20 assembly and setup
In anticipation of the SB20's arrival, I was wondering just how big and bulky it would be. It arrived while I was at the office and I came home to a mini pallet with a substantial box in the garage. Be forewarned that this unit comes via freight carrier and will require a few people to get situated into its final destination.
I partially-assembled it in the garage, just to get the bases on for hand holds. We then hauled it upstairs without too much fuss, but make sure you lift carefully if you do need to ascend or descend stairs in your home. All wrenches and tools are provided for proper assembly.
As mentioned, tools are provided. And, no tool is more important than the short pedal wrench. Without it, there's no way to install pedals, unless they have a bolt-style spindle. Keep it in a safe place or you'll be in a tight spot when it comes time to change your pedals. Throughout my testing, I've used both the TIME XPro Carbon 10 and Wahoo POWRLINK Zero pedals. It's pretty slick that the cranks accommodate your chosen lengths from 165mm, 170mm, 172.5mm and 175mm.
All fit adjustments are easy and most can be done tool-free. The only exception is the bar rotation, which requires loosening 3 allen bolts at the stem (there are 5 total to completely remove the bars). Compared to other exercise bikes, the SB20 not only offers standard saddle compatibility, but also the ability to change out the bars for something more to your liking (triathlon, MTB or just a different shape).
Because it's possible to change the bars, I just had to do it. My current favorite bar shape is the Zipp SL-70 XPLR, so I picked up a set of the Zipp 70 XPLR bars (since weight and comfort don't matter — just shape). Swapping them out was pretty straightforward and I was even able to re-use the bar tape. But, like anytime I wrap bars, It's never quite as perfect as it is from the factory. The biggest challenge for me was wrapping around the remote buttons. Maybe I'll get some new tape and retry, but it hasn't been bad enough to really need to do that.
You will absolutely want to use the Stages floor mat to protect the floor where you'll use the bike. Our upstairs carpet is pretty thick and I knew it wouldn't be the best foundation for the bike, but it has settled in nicely and provides a solid feel under use. Due to the carpet thickness, the edges of the mat have curled up just next to each of the four feet. If you have the option of setting it up on hardwood or a low-pile carpet, that would be preferred.
Dialing in the proper fit is straightforward. Every consideration is covered — not just merely saddle height. Reach, drop and saddle placement and angle are all options. With that, it's easy to make all those adjustments without tools as everything has a lever or knob. I did notice some seatpost slippage and would typically re-tighten it before every ride. My wife and I share the bike, so we have a sticky note with all measurement changes for easy reference. Moving the seatpost does require some whacking with the palm of your hand, but it breaks loose. Bar reach is a little finicky too — especially for small changes. That said, it does adjust and, once properly tightened, remains secure and solid.
First rides and initial connectivity
As with any smart bike or trainer, each one has their own way of waking up and connecting to all necessary devices. For my initial Zwift sessions in March 2022, when connecting the SB20 to my 2018 MacBook Pro and 9th-gen iPad, things were a little finicky. I had to connect, then disconnect the controllable and power sources before each ride (it felt a little like entering a cheat code). It was a frustrating process, but luckily the combination of app and firmware updates has made those hoops a distant memory. Now, connecting with my iPad or a new M1 MacBook Pro is an absolute breeze. Power, cadence and control all now say "Stages Bike 0121" which provides all the needed data and control for the simplest setup. However, Stages does actually recommend using the left power meter as the power source and cadence.
To personalize the SB20 experience, your best bet is the Stages Cycling app for iOS/Android. While Wahoo and SRAM provide industry-leading mobile apps, the Stages Cycling app does the job, but with very little elegance. It's definitely functional and capable of managing every aspect of the SB20, but it lacks the polish of the top apps from the competition. Where Stages does shine is with their customer support. Any questions I have asked are answered thoroughly with US-based support.
With the app, you'll want to set up your preferred shifting and drivetrain type. Right now, Stages allows you to choose between Shimano and Campagnolo-style shifting and then a variety of chainring/cassette options. In all reality calling the shifting Shimano or Campagnolo is kind of misleading as it in no way feels like either brand. I think a better way would be to just set which shift buttons do what action (top or bottom harder or easier) and call it good. You can do just that by configuring each button individually, if you wish. That said, I settled with Shimano and the Dream Drive setup.
What is Dream Drive? It's essentially an endless cassette (up to 50 gears) and a virtual front derailleur that jumps a set amount of gears either way. My setup is 25 total gears and a 4-gear jump with that virtual front derailleur. In that configuration, I've had no issues on any Zwift courses or routes. It's also been great with cycling sessions using Apple Fitness+.
Long-term ride experience
After over six months of regular use, I'm still enjoying the SB20 over my road bike connected to a smart trainer. Admittedly, it's not perfect but accepting it as a dedicated smart bike and not your trusty road bike is something I've grown into. I'll be honest that the shift buttons are the least user-friendly I can imagine. They are teeny and never comfortable to press. They hit right on my thumb joint and aren't ergonomic. Do they do the job? For sure. But, for buttons that need to be pressed hundreds of times during the course of a workout, they leave something to be desired.
During rides, shifting response is excellent and the quiet Gates belt drive is outstanding. While electronic shifting is great with a smart trainer, belt drive is above and beyond chains and gears in every way. It rides quietly enough to not wake up my wife or the kids during early morning sessions. It's really quiet. All bikes ship with remote shifters and I can't say I like their ergonomics of those boxy buttons much either. They are placed on the inside of the drops (where they come from the factory) and I still can't reliably hit the correct button when standing and sprinting. I just wish the buttons were on the outside of the levers, like regular bikes.
Speaking of sprinting and climbing, the 50 lb. flywheel is amazing. With all that rotating mass, both momentum and resistance is as realistic as possible. No question, that design choice alone puts the SB20 into a unique spot among smart bikes. Interestingly, the levers do also stop the flywheel, but I can't figure out why that's even a feature, so I've turned off braking until there is a realistic use some day. (Stages let me know that the brakes can be used to increase resistance on-the-fly, so keep that in mind if that's something you might want to do.) 
The tablet holder is great and secures tablets and phones quite well. After a few weeks, I chose to remove it and use my larger computer monitors from my standing desk directly in front of the bike. If that wasn't an option, I'd continue using the tablet holder. The only knock on the tablet placement is it sits uncomfortably close to your face during hard sprints and you'll drip sweat all over it. With twin bottle holders, long rides are on the menu. I can't think of another place Stages could put the bottles, but grabbing larger bottles can result in nozzle dribbling with how you have to grab and rotate them for drinking.
Comparing power measurement of the SB20 with the Wahoo POWRLINK Zero pedals resulted in very similar metrics (Stages SB20 vs. POWRLINK). Watts do measure just a touch lower than data from Wahoo, but it's not out of bounds. Do keep in mind that no matter the system used, indoor power always measures lower than outdoor power. I just consider them two different disciplines and call it good.
As mentioned, I used the SB20 with Zwift and Apple Fitness+. With Zwift, gradient changes are reasonably in sync with the terrain. It's just a little delayed, but I can't clearly say that the CycleOps H2 I use is any better. I'll note that the larger gradient buttons are useless on everything except Stages training sessions. I wish the shifter buttons were as large as the gradient buttons.
With Apple Fitness+, I found it best to use the Stages Cycling app and an Apple Watch as my training companion. My iPhone sits on the separate phone holder in clear view. With that, I can monitor my watts for maintaining easy, moderate, hard and all-out efforts. You can configure the app to vibrate your phone or make audible beeps with every shift, but the bike doesn't otherwise provide any tactile or audible shifting feedback. Since there's no built-in screen, knowing which gear you're in does require using the app. I don't mind it as I can sense the proper gear just fine.
When using the Stages Cycling iOS app, the screen doesn't always remain active (a bug they could fix). Sometimes it does, sometimes it doesn't and I can't figure out the magic sauce — if anyone has any tips I'm all ears. With Android, however, it remains active and visible throughout the workout.
Something to note is that when one or both crank-based power meters run out of battery, things will start getting weird. I didn't get any low battery notifications from the Stages Cycling app, but at some point the left power meter battery died. When that happens, the SB20 no longer connects to anything reliably. As things started depleting, I did notice that power measurement became very low, then it went to half power (because only the right crank had battery). Depending on your usage, I'd say you should plan to replace the batteries every 6 months. They use CR2032 batteries, which are readily available and relatively inexpensive.
The Good
Stable and rock-solid under heavy use
Gates belt drive is super quiet
Nice not to have to wear out my road bike or bring it in/out of the house
Ability to use standard bars and saddles
Consistent app/firmware updates
Stages support has been very helpful and responsive
Good power measurement
Easily dial in your perfect fit
The Bad
Shift buttons are teeny
The iOS app doesn't remain active during workouts
Wish Zwift and Stages could figure out a way to display in-game gearing
Tablets can get in the way when sprinting hard
Initial connection issues with Zwift (that resolved themselves a couple of months later)
The Bottom Line: Stages SB20 Smart Bike
Ditching the smart trainer is so nice. No more hauling the bike around the house, pumping up tires and wearing out my drivetrain. With the SB20, I can easily ride indoors year-round at a moment's notice. In reality, that's the beauty of a dedicated smart bike. When schedules are tight, the SB20 is the perfect virtual getaway machine. I do wish that the shift buttons were bigger and more realistic of actual shifters on the market, but it's a tradeoff I'm willing to make to gain a sturdy and smooth training experience. I expect years of use and regular firmware updates to keep the SB20 spinning for years in the future.
Buy Now: Visit StagesCycling.com